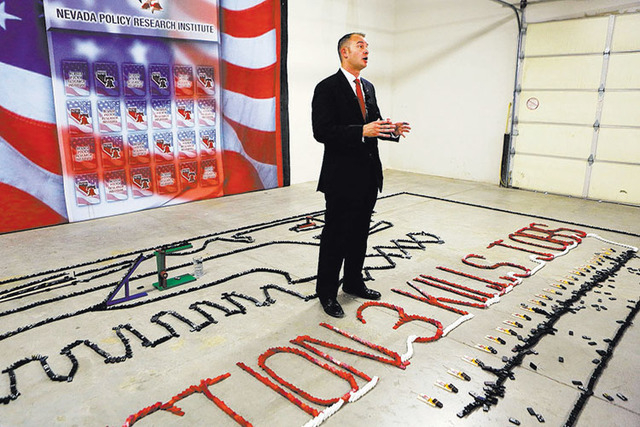 Talk about the hard sell.
Rarely in recent Nevada political history has the overkill been so complete, or poured in from so many diverse constituencies. When it comes to attempting to defeat Question 3, better known as the margin tax, the beat goes on and the hits keep coming.
In one form of contact or another, in recent weeks we've heard from restaurant owners and auto dealers, union bosses and tax experts — all singing in unison to decapitate the Nevada State Education Association's attempt to increase school funding by placing a 2-percent margin tax on all businesses that make more than $1 million in yearly revenue. Teachers union officials call it the "Education Initiative," but they're the ones getting schooled in the art of billy club politics.
We're not talking about Nevada Taxpayers Association president Carole Vilardo and the business crowd from the various chambers of commerce scoffing at the tax proposal. We're not talking about conservative corporate barons and diehard libertarians hitting it for chilling the business climate at a critical time in our recovery.
We're talking about most Democrats and union officials being on the record as opposed to the margin tax. We're talking about the Review-Journal, Sun and Reno Gazette-Journal editorializing with essentially one critical voice on the issue — and since when did those ink-stained curmudgeons ever agree on anything?
We're seeing liberal Democratic Party candidates on the ballot this year have been sprinting away from the tax like Olympians. And when your eyes grow wide and watch as no less a union stalwart than Nevada State AFL-CIO Executive Secretary Treasurer Danny Thompson harangue the proposal as a "deeply flawed" tax that doesn't "guarantee" increased funding or improved schools and will cost thousands of jobs, you've officially entered the political hard-sell Twilight Zone.
You expect executives from Sunrise Hospital to come out against a tax on their profits, but the casino-sensitive Culinary Union has also joined this eclectic chorus. And they've amplified their message in a substantial TV, radio and newspaper advertising blitz.
Consider the message delivered.
Nevada Gov. Brian Sandoval earlier this year took time out from his busy campaign schedule — insert laugh track here — to vilify Question 3 with strong language. That's not surprising. It's an easy ball to kick.
Just last month, Sandoval said improving Nevada's education system would be at the top of his legislative agenda in 2015 right next to broadening the current tax base. In an interview, Sandoval appeared to appreciate the challenges of overcrowding and under-performing schools in Clark County.
So, you see the state's top official has promised to try to improve public schools and work to correct Nevada's unbalanced tax strategy and promised a "comprehensive review." In his final term and able to sleep late on Election Day, Sandoval is wildly popular with Nevada's substantial percentage of mainstream voters. In other words, he has vast political capital to spend proving to us the degree of his sincerity and dedication to improving our tattered schools and lopsided tax structure.
In the end, maybe the critics are right on Question 3. There are so many of them, it's hard to argue otherwise.
But just for the sake of discussion, do you think it would have received a warmer reception from most of its critics if the tax had been born of another methodology?
The greater question isn't whether the margin tax is dependable or deeply flawed, but whether we will find a way to fund and fix our vital but deeply flawed public education system.
With a little luck, and a promise kept by Sandoval, that essential question will linger long after the broad-based coalition of critics has crushed the Education Initiative on Election Day.
John L. Smith's column appears Sunday, Tuesday, Wednesday, Friday and Saturday. E-mail him at jsmith@reviewjournal.com or call (702) 383-0295.