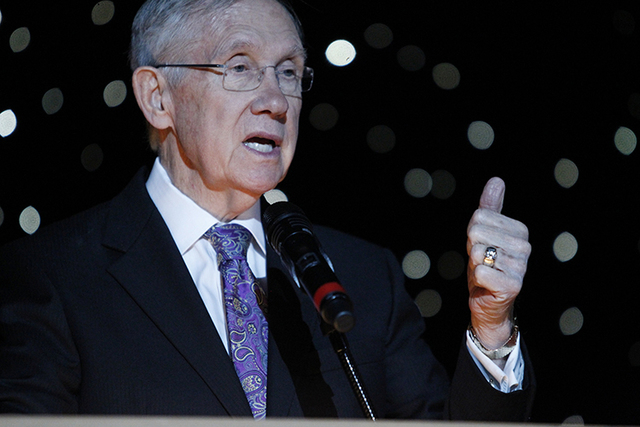 U.S. Sen. Harry Reid has accused the owner of the Washington Redskins of trying to bribe the Las Vegas Paiute Tribe, saying the team owner offered a free van in return for taking the team's side in a dispute over its nickname.
A spokesman for the Redskins didn't address the bribery allegation and instead slammed Reid for leading a campaign to get the team to change its name, which is seen by some as a racial slur.
"Apparently Sen. Reid continues to raise money from the big casino owner in" New York, said Redskins spokesman Tony Wyllie. "He is the only significant opponent to our name."
Wyllie was referring to the Oneida Indian Nation in New York, which operates a casino resort and is funding an all-out campaign, including TV ads, aimed at eradicating the Redskins name.
According to Open Secrets, the Oneida Indian Nation has contributed $553,000 in political donations over the years, with more than half going to party organizations. There's no record of a direct contribution to Reid.
The tribe has, however, donated $64,800 to the Democratic Senatorial Campaign this year as Reid tries to hang on to his Senate majority. The tribe also has given $97,200 to the National Republican Senatorial Committee.
Reid made the bribe allegation more than a week ago during a meeting with reporters in Reno.
Reid said Redskins owner Daniel Snyder tried to give members of the Las Vegas Paiutes gifts to win their support for the "Redskins" brand, the Reno Gazette-Journal reported.
"Redskins is a racist name, and native Americans believe that," Reid said. "They have tried to buy off some of my Nevada Indians and they have not been able to do that, giving them trucks and stuff like that.
"The Indians, they understand that this is an issue that deals with them," Reid added. "It is a moral issue with them. And he (Snyder) can hang on for a little while, but it is not going to go on forever."
Reid spokeswoman Kristen Orthman, in a statement, said the Las Vegas Paiute Tribe members "were approached about being given a van by Snyder's group and they declined the van."
"The tribe did receive an offer of a donation of a van, but the offer was declined for a variety of reasons," said Bill Marion, spokesman for the Las Vegas Paiute Tribe. He did not offer details.
Asked when the offer happened, Marion estimated three or four months ago.
Reid was also the center of attention at Southern Utah University this week, with university President Scott Wyatt saying he was pressed by conservatives to remove Reid's name from a campus academic building.
Reid's name was scrubbed from the school's Outdoor Engagement Center in Cedar City last week. Wyatt said Friday the 2011 naming of the center for the alumnus generated no donations and confused the purpose of the center because nobody associates Reid with the outdoors.
Reid issued a statement Friday saying he never pledged any fundraising.
"I was approached and asked to use my name and I was happy to, but there was no such agreement to have me raise funds for it," Reid said. "I'm not going to raise money to have my name placed on anything."
Contact Laura Myers at lmyers@reviewjournal.com or 702-387-2919. Follow @lmyerslvrj on Twitter. The Associated Press contributed to this report.