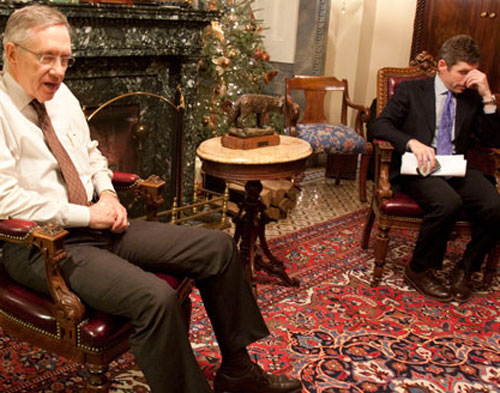 Sen. Harry Reid's new chief of staff was a newly hired young manager for Tele-Communications Inc., when he picked up Reid at the Denver airport for a company fundraiser late in 1992.
From there, David Krone, a native of the Philadelphia area, kept in touch with Reid and developed a friendship with the Nevadan that carried through the years as Krone climbed the business side of the cable industry.
Finally in 2008, Krone ditched a $5 million job as a senior executive at Comcast to join the Senate majority leader's staff at a huge pay cut to around $164,800. He was named chief of staff shortly before Thanksgiving.
In a profile this morning in Politico that charts their relationship, Krone, 44, says his job "is to throw himself in front of a bus" for Reid.
Reid "knows that he can say something to me and it's honest and brutal, and I can say something to him that's honest and brutal," Krone told Politico. "At the end of the day, I have his back."