Reno Assemblyman Randy Kirner loses cop association support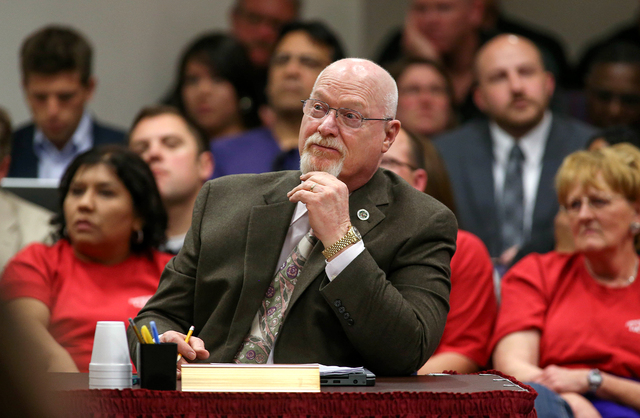 Reno Assemblyman Randy Kirner squeaked to an 11-vote victory in his District 26 seat in the November general election against a fellow Republican opponent, and support from a statewide law enforcement coalition might have helped him win another term.
But he won't be able to count on that support in the next go-round in 2016.
Kirner has introduced two bills this session, one to make major changes to the public employees retirement system and another seeking major changes to collective bargaining law, that have now cost him the endorsement of law enforcement.
The Nevada State Law Enforcement Officers' Association announced last week it is withdrawing its endorsement of Kirner provided to him in March 2014.
In a letter to Kirner dated March 31, association President Sean Giurlani stated: "Our support for you exactly one year ago currently appears on your website and we demand that it be removed immediately from all websites and other political or social media.
"At that time, our endorsement was made upon the assumption that you supported the hard working men and women of law enforcement," Giurlani said. "Sadly, you have violated those principles in immeasurable ways. You clearly do not support law enforcement or public safety in any manner as evidenced by your persistent efforts to destroy our members' health and retirement benefits.
"The lack of support you have shown for our members is unwarranted and is a personal attack upon the interests of those men and women who serve their communities with dignity, courage and passion, and who would risk their lives for you and your family at any time. Our past support of you is regrettable and will not be repeated."
Kirner's response was: "Fine. I've got to do what's right."
His collective bargaining bill will be reviewed in an Assembly Government Affairs Committee work session Wednesday. His PERS bill is set for a hearing in Ways and Means on April 15.
— Sean Whaley
TWITTER CAMPAIGNING AHEAD?
Clark County Commissioner Tom Collins' interest in running for mayor of North Las Vegas is no secret.
Collins, now in his third term as a commissioner, tweets broadly about his intent to run for mayor.
"I am getting more excited about the mayor's race everyday," Collins tweeted on Thursday. "I have been a resident of NLV over half my life. To post office its LV. not tax rolls."
Collins explained that his residence along North Decatur Boulevard has a Las Vegas address under the U.S. Postal Service system. But he actually is a North Las Vegas resident and lives within the city limits. Collins says he plans to run "if the city's still around."
That reference is to the city's financial health.
"If the city still exists, more things can be done for immediate relief," Collins said.
If Collins runs for mayor in 2017, he'd be facing first-term Mayor John Lee, who was elected in 2013.
On March 30, Collins' tweet made it clear he's more interested in running for mayor than the open seat of retiring U.S. Sen. Harry Reid, D-Nev.
"Love northern Nevada," Collins tweeted. "first three people I saw ask me if I was running for Senate. Ha ha. I will be mayor if my hometown is still around."
— Ben Botkin
SEN. SMITH RETURNS
State Sen. Debbie Smith will make her debut at the Nevada Legislature this week after undergoing treatment for an operable brain tumor.
Smith, D-Sparks, was diagnosed just before the 2015 legislative session began Feb. 2. The veteran lawmaker underwent surgery days later at M.D. Anderson Cancer Center in Houston.
Smith, 59, is assistant minority leader. She has been recovering at home and plans to resume her legislative duties Wednesday. She was assigned to the Senate Finance, Natural Resources and Health and Human Services committees.
A spokesman for the Senate Democratic Caucus said Smith plans at first to attend morning Senate Finance Committee meetings and Senate floor sessions, while judging her strength and stamina for the long days ahead as the session heads toward a June 1 deadline to adjourn.
Smith served five terms in the Assembly before being elected to the Senate in 2012.
— Sandra Chereb
Contact Sean Whaley at swhaley@reviewjournal.com or 775-687-3900. Find him on Twitter: @seanw801. Contact Ben Botkin at bbotkin@reviewjournal.com or 702-405-9781. Find him on Twitter: @BenBotkin1.