Rosen announces bid for Democratic nomination for 3rd Congressional District
January 26, 2016 - 12:03 pm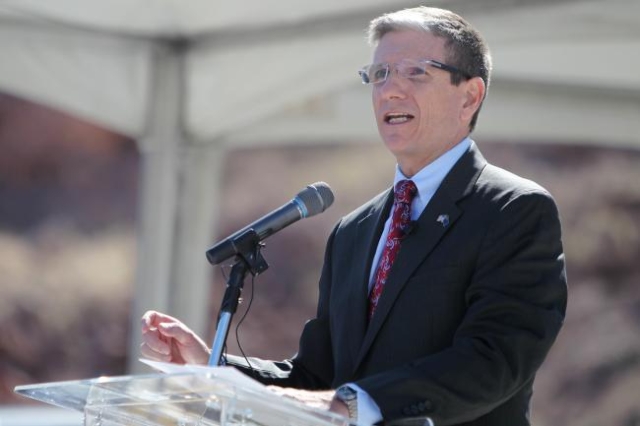 Jacky Rosen announced Tuesday she is running for the Democratic nomination for the 3rd Congressional District.
Rosen, 58, president of Congregation Ner Tamid in Henderson, is entering a competitive race for an open seat held by Republican U.S. Rep. Joe Heck. Heck is running for the seat of U.S. Sen. Harry Reid, D-Nev., who is retiring and not running for re-election.
The Henderson resident has a career that includes working as a computer programmer, designer and software developer for companies that include Summa Corp., Southwest Gas Corp. and Citibank.
This is her first run for public office.
A 35-year resident of the region, Rosen said in a statement that challenges are holding the district back, including low graduation rates and wages that don't keep up with the cost of living.
"I'm running for Congress because these challenges also present opportunities," Rosen said in the statement. "By investing in solar and renewable energy we can create good paying jobs while bringing down utility rates. Lower utility rates would especially help seniors living on a fixed income. And improving our graduation rates means a stronger workforce, attracting more employers."
Nine other candidates have filed to raise money for a run in the district, which includes parts of Las Vegas and Henderson. Seven are Republicans; two are Democrats.
Republican candidates are Kerry Bowers, a retired Air Force officer; Michele Fiore, a Nevada assemblywoman; Sami Khal, business manager; Andy Matthews, former president of Nevada Policy Research Institute; Michael Roberson, Nevada Senate majority leader; Danny Tarkanian, owner of an athletic facility; and Annette Teijeiro, a medical doctor.
Other Democratic candidates are Jesse Sbaih, an attorney, and Barry Michaels, a businessman who discloses on his campaign website that he pleaded guilty to a securities and tax violation nearly two decades ago and did 15 months in a federal prison camp.
The state's filing period to get on the primary ballot is March 7 to 18, and the primaries are June 14.
The general election is Nov. 8.
Annual starting salary is $174,000 for the two-year seat.
Contact Ben Botkin at bbotkin@reviewjournal.com or 702-387-2904. Find him on Twitter: @BenBotkin1