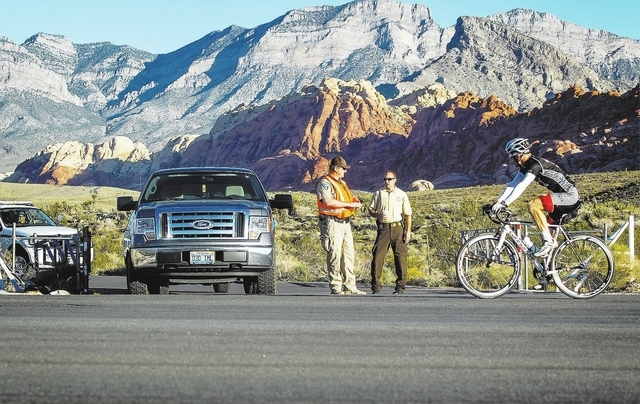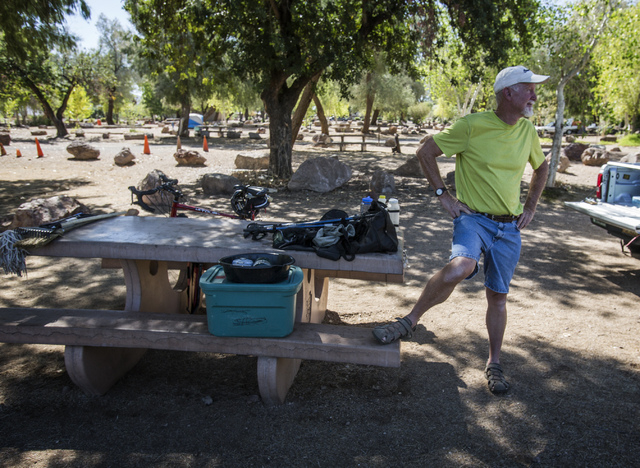 Less than 24 hours after budget bickering shut down the government, the ripple effects reached private businesses — and triggered a handful of layoffs — at Lake Mead.
Three people lost their jobs at Callville Bay Marina on Tuesday, and more workers could be let go today from at least one other boat operator at the now-closed reservoir. They join an untold number of private workers who stand to lose their jobs, at least temporarily, even though they aren't directly paid with federal tax dollars.
They include civilian contractors and construction laborers on certain federally funded public works projects.
Callville Bay Marina general manager Kim Roundtree said she had to lay off three of her boat instructors after Lake Mead National Recreation Area was closed.
"No boats are allowed on the water, so there's nothing to instruct," she explained.
Lake Mead Cruises, which offers paddle boat tours under a concession contract with the National Park Service, will have to start laying off workers today unless a quick solution can be found to the standoff in Congress.
"We are hoping for a miracle and that we will be back to cruising by the end of the week," said Lisa Stephens, general manager for Lake Mead Cruises.
The timing of the government shutdown is particularly bad for her business. "This is considered our high season," Stephens said. "Our dinner cruises are sold out through the month of October, and we have charters and school trips scheduled."
Roundtree said October tends to be "decent" for marinas at Lake Mead because the weather is generally good and the water is still warm enough for swimming. "It was beautiful out here today," she said.
As of Tuesday afternoon, she had eight rented houseboats still on the water, including one that wasn't due back until the end of the week. The Park Service gave boaters and campers 48 hours to clear out of the recreation area, which normally draws about 450,000 visitors in October.
Park spokeswoman Christie Vanover said Lake Mead and Lake Mohave are in the process of being cleared, its campgrounds emptied and barricades put up on all the roads leading into the recreation area until the shutdown ends. The only people allowed in are the essential park employees still on the job, people with boats or other private property within the park or construction and maintenance workers associated with the water and power infrastructure in the area.
"We just have to sit by and wait just like you do," Roundtree said. "Let's cross our fingers that this doesn't last very long and doesn't stick in people's minds."
The shutdown was more immediate at Red Rock Canyon National Conservation Area, where orange cones and a pair of law enforcement officers from the Bureau of Land Management blocked the entrance to the scenic loop first thing Tuesday morning.
The closure didn't seem to deter visitors so much as channel them to other trails and access points along state Route 159.
Randy Rivera and Kara Bade parked on a rise next to the highway to take in the view after being turned away by the BLM.
They weren't pleased that congressional gridlock had spoiled their plans for a leisurely drive through Red Rock.
"We're disgruntled customers of America right now, if you want to put it that way," Bade said.
Austrian tourists Walter and Gabriele Danzer seemed baffled by the whole thing.
The avid rock climbers scouted a few spots along the Red Rock loop Monday only to find the place closed because of a lack of funds when they returned with their gear the next morning.
Not knowing where else to go, they drove to nearby Calico Basin and parked beside the locked gate at the Red Spring picnic area to consult their guide book.
It was the latest setback for the Danzers, whose six-week climbing tour of the American West has been marred by rain, restrictions and now red ink.
They said they couldn't imagine something like a government shutdown happening back home.
"It's incredible to us," Gabriele Danzer said with a laugh. "It's not really possible for us to climb in the United States."
A short time later, three men parked at the First Creek trail head on Route 159 and started unloading their ropes and packs after being waved away from the scenic loop. They had driven three hours to get here, so they still planned to go climbing, even if they had to hike a bit farther to get to the canyon's world class rock.
The men wouldn't give their names or say where they worked, but all three said they were federal employees on their normal days off. None of them knew exactly when or if they might be going back to work.
As countries go, said one of the men, "you don't expect us to be this dysfunctional."
Reporters Jeff German, Keith Rogers, Steve Tetreault and Ed Vogel contributed to this report. Contact reporter Henry Brean at hbrean@reviewjournal.com or 702-383-0350.
Government Shutdown
Related Stories
Popular Nevada recreation sites to close if government shuts down
Government shutdown begins over health care feud
or see a roundup of all our coverage:
Everything you need to know about the government shutdown
Nevada Representatives
On each website, click on Contact for locations of offices in Nevada and to send a message.