Silhouette home prices start in the $200,000s
February 22, 2014 - 5:00 am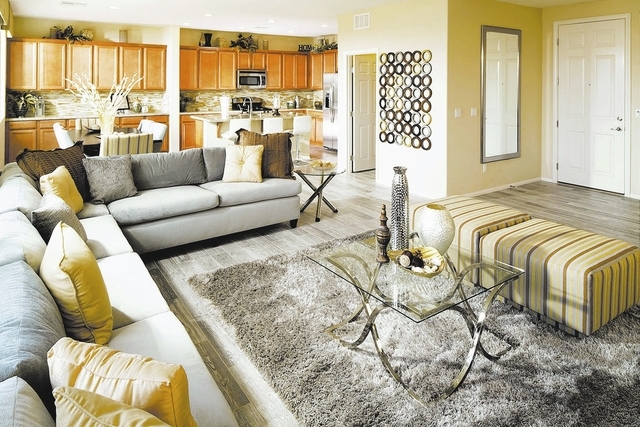 Harmony Homes' Silhouette features nine floor plans and six models. Located near the intersection of South Fort Apache and Blue Diamond roads in the southwest valley, Silhouette's home designs range from 1,706 square feet to 2,939 square feet with prices starting about $210,000.
"We found that Silhouette appeals to a wide range of buyers," said Harmony Homes President Robert Beville. "They're not all looking for the same square footage, and they have different overall needs and wants, but they all say they're drawn to Harmony Homes because of our high quality and value, and they love the variety they find at Silhouette. "We're proud to incorporate little touches of luxury in our homes that you won't find in others homes at the same price point, like our beautiful kitchens with luxurious, oversized islands and our eye-catching paver driveways."
Silhouette's open floor plans offer kitchens with granite countertop space, and the 2,799-square-foot plan includes up to six bedrooms.
All of the floor plans offer second-floor loft spaces, and many offer upstairs laundry rooms. Other features include dual master bedroom closets in some of the floor plans and an option for a mirador or small patio area off the master bedroom in the 2,436-square-foot plan.
"The combination of high quality and amazing prices has really appealed to buyers, and the location has only made this community even more popular," Beville said. "The outdoor recreation options near Silhouette are some of the best you'll find anywhere in the Las Vegas Valley. Wet 'n' Wild Las Vegas, Rhodes Ranch Golf Club and Exploration Peak Park are all just down the street from Silhouette, and it's just a short drive to Red Rock Canyon National Conservation Area, Spring Mountain Ranch State Park and Bonnie Springs. This community absolutely has one of the best locations in town for everyone from a young family to retirees."
All homes built by Harmony Homes are part of the builder's five-star energy certification, which includes energy-efficient features like radiant barriers to help reduce heat transfer through the roof and attic; windows that help reflect heat away from the glass; vinyl window frames for insulation; and heating, ventilation and cooling systems that use less energy. All homes also feature sealed ducts to help reduce energy consumption.
Harmony Homes, which was included in the 2012 Builder's 100, recognizing the nation's best-selling homebuilders, has sold more than 1,600 homes since it was formed in Southern Nevada in late 2008. It has 10 neighborhoods throughout Southern Nevada, with one- and two-story homes priced from $150,000 and ranging from 1,479 square feet to 3,758 square feet.
Sales offices are open daily from 10 a.m. to 5 p.m., except on Monday when they open at noon, until March 8. Beginning March 10, sales offices will be open daily until 6 p.m. For more information about Silhouette, visit harmonyhomes.com or call 702-201-1955.