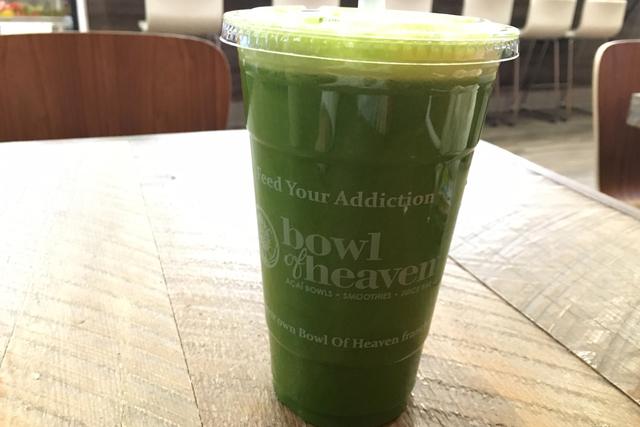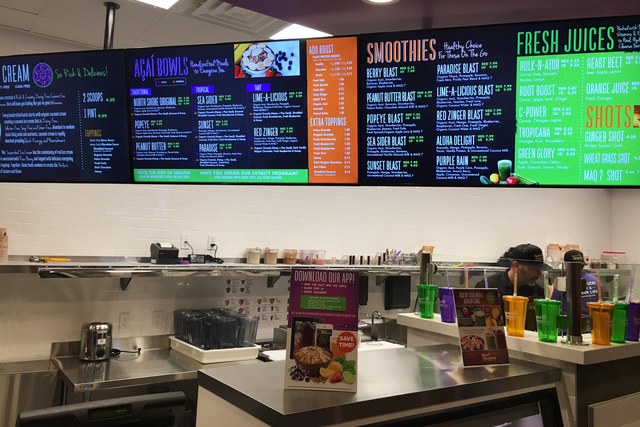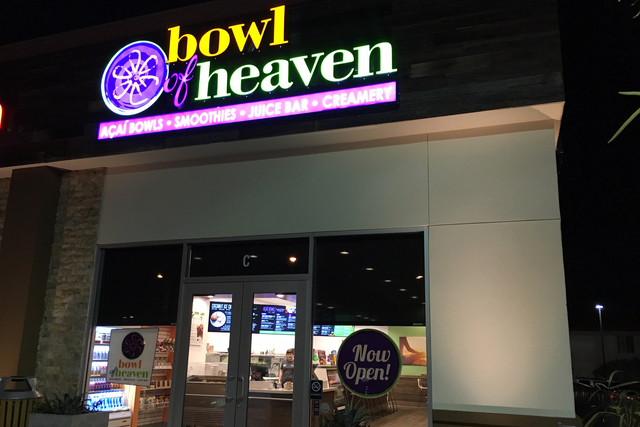 Las Vegas may be better known for its sinful ways, but something heavenly just entered its atmosphere.
Southern California-based franchise Bowl of Heaven recently opened its second location at 3400 S. Hualapai Way in the Summerlin area (the other one is near UNLV), offering acai bowls, smoothies and juices made with plant protein and superfood ingredients.
It shouldn't come as a surprise that the business is focused on health and nutrition and prides itself on the fact that it doesn't use dairy or processed sugars.
For those who are not familiar with acai bowls, they look like thick smoothies made with the acai berry (an antioxidant-rich fruit) and topped with granola, honey, shredded coconut and fresh fruit. Bowl of Heaven offers eight varieties, divided by traditional, tropical and tart flavors.
The North Shore Original (starts at $4.50) is blended with organic acai, strawberries, bananas, blueberries, apple juice and MAQ7 (a superfoods juice) and topped with organic granola made of hemp and flax seeds, bananas and honey. This sweet bowl almost feels like having dessert for breakfast.
Added boosts include plant protein, fresh kale, spinach, mint, ginger, avocado and peanut butter, while extra toppings vary from dark Belgian chocolate to bee pollen and other fresh fruits.
Perhaps just as delectable as the acai bowls are the freshly made smoothies and juices.
The Green Glory ($5.85 for the regular and $8.25 for a large) is made with apple, cucumber, celery, kale, spinach, lemon and parsley. The apple complements the vegetables so well that it adds the perfect amount of sweetness to its savory counterparts.
The juice bar also offers shots of fresh wheatgrass, ginger and MAQ7 for an energy lift.
For a creamier and thicker taste, try the smoothies, which flirt with most taste buds — whether you're looking for something made with chocolate, coconut water or almond milk.
The Aloha Delight ($7.99 for a regular and $9.99 for a large) is made with avocado, mango, pineapple, banana, yacon (a large perennial plant grown and cultivated mainly for its tuberous roots), vanilla protein and unsweetened coconut milk.
Fruits and vegetables are displayed near the counter so that customers can rest assured that their drinks or bowls are made with fresh ingredients.
Bowl of Heaven offers a relaxing and colorful atmosphere with plenty of seats and tables, including a counter where patrons can watch their order being made.
Grab-and-go snacks and health drinks are also available.
Bowl of Heaven on Hualapai Way is open from 8 a.m. to 8 p.m. Monday through Saturday and 9 a.m. to 6 p.m. Sunday.
Visit bowlofheaven.com or call 702-255-2533.