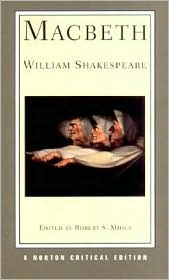 Inspiration for reading comes from the oddest places. Earlier this week, I tuned into KNPR and landed in the middle of a discussion on whether Shakespeare should be taught in high school. The language is a problem, someone said. Reading materials need to be more relevant to teenager lives.
Hmmm, I thought. When I got home later that night, I pulled my copy of '"MacBeth" off the shelf and jumped in.
Naked ambition — check.
Greed — check.
War — check.
Twisted love and murder — check, check.
In other words, ripped from the headlines. Shakespeare wrote "MacBeth" in the early 1600s, and yet the themes are so universally human that seminal 20th-century authors continue to draw inspiration from the darkling story about the overreaching Thane of Cawdor. Perhaps it wouldn't be such a gripping read if we'd mastered all the lessons "MacBeth" has to teach. But now, as then, conscience can still be overcome by ambition. The inclination to do the right thing can still be stifled by those closest to us. (Teenagers probably call that peer pressure.)
I single out "MacBeth" because I first made his acquaintance when I was a teenager, attending a rural Kentucky high school with just one English section per grade level. It wasn't an easy meeting, but in the company of a teacher who elevated story over language and who advised us to look up the words we didn't know, it was an unforgettable one.