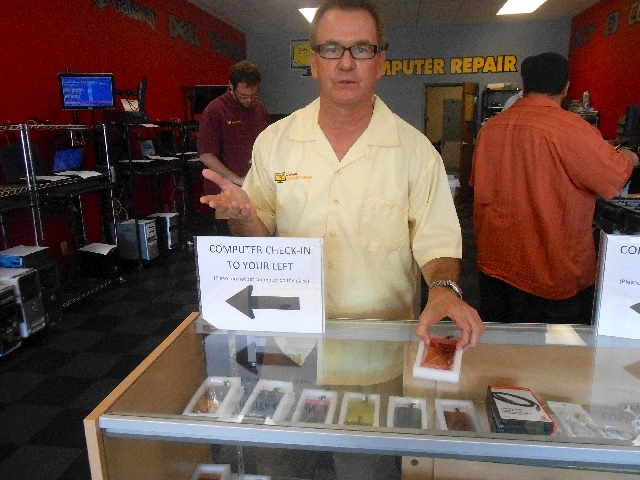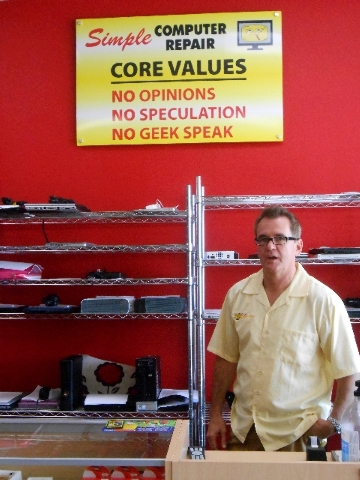 Jim Brock remembered hearing the clunky and complicated language the computer repairman used when handing back his broken computer.
However, understanding, what the guy was saying was another thing.
"It was like he was speaking another language," Brock said.
This was the last straw in a series of negative experiences Brock faced while getting his laptop serviced. But the silver lining of the ordeal was that it made Brock realize the need to have more computer service businesses.
"There are more computers per household than cars," he said. "But look at the auto industry. On every corner you have places to change your oil or brakes or get new tires. There is a vast industry for that but nothing like it for computers."
Brock has been operating Simple Computer Repair, 1000 N. Green Valley Parkway, for nearly five years and plans to franchise the business.
Before Simple Computer Repair, he spent 18 years in the wireless telecommunication industry. His career afforded him the opportunity to retire at 38.
"I got very much bored with that," he said.
A few years ago, Brock remembered having computer trouble with his laptop. He took it to a large electronic store to have it looked at.
"I remember I brought my computer in and gave it to one of the guys," he said. "It was closed and turned off. Without even opening it, he began diagnosing the problem."
Brock said the guy was speaking "geek," meaning he was talking in computer terms the average customer might not know.
While he waited for the repairman to come back after running diagnostics, Brock watched other employees deal with customers.
He saw another woman go through a similar ordeal — she brought in a closed, powered-down laptop and had the technician immediately diagnose the problem.
"He told her she needed to get a new computer," he said. "It was kind of appalling. He had no empathy for her. He didn't take into account if she could even afford a new one."
That's when Brock began to realize there was a demand for a different type of computer repair service.
It wasn't until a year later when he had a problem with his desktop — this time he used a mom-and-pop service — that he started to assess the need for a repair shop.
At the time, larger electronic stores, such as Circuit City or CompUSA, were beginning to disappear. Brock figured it was time to fill the void.
He wrote a business plan fine-tuning his ideas and hired an analyst to take on the repairs.
Simple Computer Repair was open for business.
"I put a sign holder out and started getting clients," he said.
The store's guarantee was simple — no repair, no charge.
One thing Brock noticed at repair shops, which he wanted to fix, was that people were charged by the hour.
"So you get back your computer in six hours, and you don't know if it should have taken six or if it should have taken two," he said.
One aspect he wanted at his business was a flat rate.
He also centered the store around three core values.
"The first thing is there is no speculation," he said.
Brock said other repair services, such as the ones he experienced, speculated and diagnosed before looking at the problem.
"We diagnose it and say exactly what is what and how much it will cost," he said.
His second core value is that specialists don't offer opinions on electronic brands. Another issue Brock saw was that if the person helping a customer didn't like a certain brand, he would recommend his preferred electronic as a replacement.
"You know what you need to meet your needs," he said.
His last tenet was no "geek speak."
"For example, people don't know where files are stored or what a memory stick is," Brock said.
Instead of using complicated terms, he trains his employees to use analogies to explain computer language.
The core values and service have helped increase business, Brock said.
Simple Computer Repair has expanded to work not only on computers but also on other electronics such as iPhones, game consoles and televisions.
He moved the store from its first location on Eastern Avenue to its current spot about three years ago.
"The one thing I've learned is it's about location, location, location," he said.
In the new shopping center, there are restaurants, banks and a grocery store.
"We are highly visible," he said.
Since then, Simple Computer Repair has opened in Phoenix.
In December 2012, it expanded to a Summerlin location to meet demand.
"People had been asking for it for a while," Brock said.
He added that will probably be his last store. Now, Brock hopes to focus on franchising the business regionally and nationally.
He spent the last year putting together an operating manual and marketing plans for people interested in franchising.
Brock said he is in negotiations with people in the Seattle area and Colorado who are interested in opening a franchise.
He has learned a little more about repairs, but for the most part he leaves it up to his employees.
"I want to be able to see this business from a customer's standpoint," he said.
To this day, Brock still can't tell what was originally wrong with his laptop that started him on the business path.
But he does know if someone has a similar problem, he will make sure they get the treatment he feels he didn't receive.
For more information, visit
simplecomputerrepair.com.
Contact Henderson/Anthem View reporter Michael Lyle at mlyle@viewnews.com or 702-387-5201.