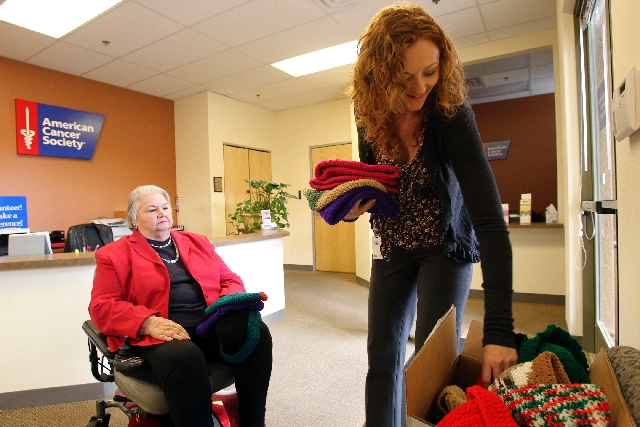 LVLT PLANS OPEN AUDITIONS
Auditions for "Good People," by David lindsay-Abaire, are set for 7 p.m. Monday and March 12 at the Las Vegas Little Theatre, 3920 Schiff Drive. Performances are set in May.
Set in Boston's Southie neighborhood, this comedy involves Margaret Wals, who is facing eviction and scrambling to catch a break. When a friend from the old neighborhood, who is now very successful, moves back to town, Margaret hopes he may be the ticket to turning her life around. All roles are non-paying. LVLT is a nonprofit company and all roles are on a volunteer basis. For more information, visit lvlt.org.
NEW WATER PARK ACCEPTING
SEASONAL EMPLOYMENT APPLICATIONS
Wet 'n' Wild Las Vegas has begun the hiring process for seasonal employment for its upcoming inaugural season, set for Memorial Day weekend through September. The park is accepting applications to fill more than 300 positions in the following areas: lifeguards, admissions, guest services, emergency medical technicians, maintenance, food and beverage, and security. Several supervisory positions also are available within these operating departments. No year-round positions are available. Following online submission, the Wet 'n' Wild management team will review applications and contact select applicants over the next few months to participate in an interview and hiring fair leading up to Memorial Day weekend.
For more information, visit wetnwildlasvegas.com and select the employment tab.
HADASSAH SOUTHERN NEVADA TO MEET
AT LADY SILVIA MARCH 12
The Hadassah Southern Nevada chapter plans a meeting at 7 p.m. March 12 at Lady Silvia, 900 Las Vegas Blvd. South, to form a special interest group of women age 20s through 40s.
For more information, call 702-265-8991 or email metarnow@gmail.com.
CAMP SOLARI TO OFFER
FREE BEREAVEMENT CAMP
Camp Solari, a weekend-long bereavement camp sponsored by the Solari Hospice Foundation, 5550 S. Jones Blvd., plans to offer children ages 6 to 17 and their surviving caregivers a free opportunity to learn healthy coping strategies and honor the memories of their loved ones. The next camp is scheduled for May 3-5 at the Mt. Charleston Lodge at the end of state Route 157. Applications for Camp Solari must be completed by March 11 to be considered for the spring camp. Planned activities include art, music, talk therapy, drumming, dancing and nature walks.
Camp Solari attendees are chosen based on need. To request an application, call 702-870-0000 or visit solarihospicefoundation.org.
WOMEN'S CLUB OF SUMMERLIN TAKING APPLICATIONS FOR DARE TO DREAM GRANTS
The Women's Club of Summerlin is taking applications through May 16 for its Dare To Dream grant program. Grants of up to $3,000 are offered to women who need assistance with educational opportunities, learning new skills or endeavouring to improve their lives in a responsible manner. Women who apply must be at least 21 and live in Las Vegas.
For applications, visit womensclubofsummerlin.org. For more information, call 702-804-5188.
GOLDEN RAINBOW ANNOUNCES SUCCESSFUL FUNDRAISING EFFORT
Golden Rainbow raised $265,793 and helped more than 500 clients in Southern Nevada in 2012, according to the nonprofit group. The organization provided assistance to those affected by and infected with HIV/AIDS, as well as spreading education and awareness about the disease.
The group also reported collecting nearly $40,000 more compared to the previous year, providing 8,184 nights of shelter, 527 days of utility assistance, 1,054 days of transportation and medical and dental assistance to more than 500 households.
For more information, visit goldenrainbow.org call 702-384-2899.
DONATIONS INCREASE FOR CANCER GROUP
The Southern Nevada office of The Leukemia & Lymphoma Society's said its 13th annual Light The Night Walk resulted in record donation totals. The event, held in November at Kellogg Zaher Park, raised more than $275,000, almost $15,000 more than in 2011.
To learn more, visit lls.org or call 800-955-4572.
E BUNNY COLLECTING EASTER BASKETS
FOR VALLEY CHILDREN
The E Bunny plans to begin delivering Easter baskets to agencies and shelters as early as March 18, as Easter is March 31. On March 29, E Bunny plans to "take it to the streets" with its annual Easter basket giveaway in some of the poorest neighborhoods in the Las Vegas Valley.
To help the effort, plan to purchase an Easter basket by March 21 and deliver it to an E Bunny drop-off site.
For more information, email ebunnylv@gmail or call 702-498-9808.
NV ENERGY GIVES BACK
NV Energy and its foundation contributed $6.1 million last year, including multi-year commitments, to support more than 400 nonprofits statewide. Its employees volunteered 39,500 hours to help nonprofits statewide.
Grants and sponsorships were given to more than 225 Southern Nevada nonprofits, including The Rape Crisis Center, Heaven Can Wait Animal Society, Goodie Two Shoes, Junior Achievement and 100 Black Men of Las Vegas.
For more information, visit nvenergy.com/community.
WALGREENS COLLECTING FOR AFAN
Aid for AIDS of Nevada encourages Walgreens customers to shop for a cause and make a donation during checkout through March 30. All donations made during this period will help raise money for AFAN's largest annual fundraising event, the 23rd annual AIDS Walk Las Vegas, which is scheduled for April 14.
People of all ages are encouraged to participate in the walk. Registration is free, but a minimum donation of $50 per person is encouraged and includes an official AIDS Walk T-shirt.
For more information or to register for a team, visit afanlv.donordrive.com.
UNITED WAY OFFERING FREE TAX PREPARATION
United Way of Southern Nevada, 5830 W. Flamingo Road, has opened its Volunteer Income Tax Assistance sites.
Households with an income of less than $51,000 in 2012 can receive free tax preparation and may be eligible for an Earned Income Tax Credit refund of up to $5,891. The EITC is one of the nation's most effective anti-poverty programs for low-income, working taxpayers.
In addition to more than 30 VITA sites across the Las Vegas Valley that will be open through April 15, United Way has planned one more large-scale tax preparation day open to the public:
n 9 a.m. to 5 p.m. March 16 at the Bill & Lillie Heinrich YMCA, 4141 Meadows Lane.
For more information, visit uwsn.org/free-tax-help.
AARP TAX PREPARATION TO BE AVAILABLE
AARP plans to prepare tax returns for free by appointment from 10 a.m. to 3 p.m. Mondays, through April 8 and from 10 a.m. to 3 p.m. Thursdays through April 11.
To make an appointment, call 702-229-1702.
KOHL'S ACCEPTING YOUNG VOLUNTEERS NOMINATIONS until march 15
The Kohl's Department Stores scholarship, Kohl's Cares Scholarship Program, is accepting nominations for kids ages 6 to 18 until March 15 at kohlskids.com. The program plans to award more than $425,000 in scholarships and prizes in 2013 ranging from $50 gift cards to $10,000 scholarships to more than 2,300 young volunteers who have made a positive impact in their communities. The nominators must be 21 or older.
Two nominees from each of the more than 1,100 Kohl's stores nationwide will win a $50 Kohl's gift card, and more than 200 will win regional scholarships worth $1,000 toward post-secondary education. Ten national winners will be awarded a total of $10,000 in scholarships for post-secondary education, and Kohl's will donate $1,000 to a nonprofit organization on each national winner's behalf.
Since the Kohl's Cares Scholarship Program began in 2001, Kohl's has recognized more than 17,000 kids with more than $3.4 million in scholarships and prizes.
RAPE CRISIS CENTER INCREASES
FACE-TO-FACE HOSPITAL VISITS
The Rape Crisis Center, 6375 W. Charleston Blvd., made nearly 40 percent more face-to-face hospital visits with victims in 2012. Advocates for the center made 421 hospital visits in 2011 and 588 in 2012. Bill Thomas, the center's chairman of the board, said the increase in services is a result of better and stronger community relationships and community outreach and not necessarily an increase in the number of sexual assaults. The Rape Crisis Center hotline number is 888-366-1640. For more information, visit therapecrisiscenter.org.
LIBRARY DISTRICT HAS FREE RESOURCE
FOR BUSINESSES
BusinessDecision, a new free web-based service, is available to Las Vegas-Clark County Library District cardholders.
It allows local businesses access to the same consumer and demographic data as top companies to help find prospective customers, analyze trade areas, evaluate competitors and target media buys.
Library cardholders can access BusinessDecision at the district's library branches or from any remote desktop computer through the library's website under the "Find Information" link. Library cards can be obtained online at lvccld.org or at any branch.
BUSINESS ALLIANCE WORKSHOP PLANNED
Marlon Call is offering free 90-minute workshops for business owners in January at his office, 6069 S. Fort Apache Road, Suite 121. The workshop schedule is on an appointment basis. Entitled Breakthrough Business Alliance, the workshops' goal is to teach business owners how to align with their employees; how to create strategic alliances by turning acquaintances into business partners; and how to align a business with a personal brand. To schedule, sign up online at theinsurancecowboy.com or call 702-203-5954.
MEN'S CHORAL GROUP PLANS
WEEKLY MEETINGS
The Silver Statesmen Chorus invites men of all ages to join its group. The chorus rehearses at 7 p.m. each Thursday at Christ The King Catholic Community, 4925 S. Torrey Pines Drive.
For more information, visit silverstatesmen.com.
DEPARTMENT OF FAMILY SERVICES SEEKS FOSTER HOMES
The Clark County Department of Family Services is seeking members of the public willing to become foster parents. The program involves individuals and families providing safe, stable and loving environments for children in need of temporary out-of-home care.
Information packets are available and include an overview of the program and the latest session schedule. For more information or to request a packet, call 702-455-0181.
HOSPITAL NEEDS VOLUNTEERS
Spring Valley Hospital Medical Center, 5400 S. Rainbow Blvd., is looking for volunteers to help at its facility. For more information, contact marketing director Naomi Jones at 702-853-3308 or naomi.jones@uhsinc.com.
NONPROFIT IT'S ALL ABOUT KIDZ
RUNNING SPONSORSHIP CAMPAIGN
Nonprofit It's All About Kidz launched a sponsorship campaign calling for any company, organization or individual to sponsor a mother and child who is enrolled in the sober living program. The southwest-area group focuses on providing a sober living environment to women and their children while providing services for them to become self-sufficient. The nonprofit also serves as a foster care agency to provide temporary living arrangements for children. September marked the organization's one-year anniversary, and people looking to get involved can participate by becoming a foster parent, offering financial support and/or participating in the New Beginnings Coat and Shoe Drive started Dec. 1 at the Behavioral Treatment and Foster Care Agency at 3450 W. Cheyenne Ave., Suite 500. For more information, call 702-631-0230 or visit aakidz.org.