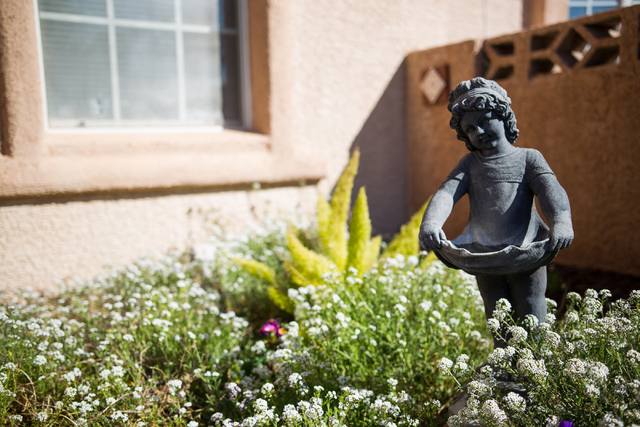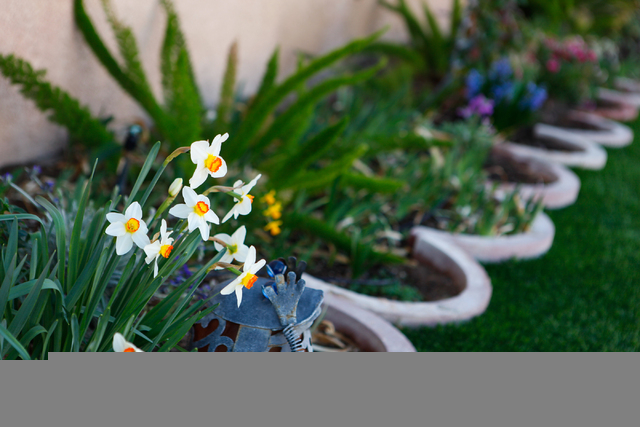 Growing up in Michigan, Southwest resident Julie Gardner always dreamed of tending her own flower beds and lawn. It was only fitting when she married into her last name almost 37 years ago.
"We would walk by houses with the pretty little flowers out front, and I always admired that," she said. "When I finally got my own house, I went a little crazy."
Gardner maintains three "ecosystems" at her Las Vegas home: desert in the front yard, savannah grass in the backyard and tropical around her pool. Last year, she said she counted more than 50 different types of plants on her property, from apple trees to jasmine vines, honeysuckle and bearded irises.
"Gardening is my hobby," Gardner said. "Some people sew; some people gamble. I just love to garden."
When Gardner moved from Richmond, Mich., to Las Vegas in 2000, she left behind 20 acres of luscious trees, fragrant flowers and vibrant plants.
"It was cheaper for our kids to come to college here than in Michigan," Gardner said. "During an Easter vacation, we visited our kids in Las Vegas. We drove by (the house) and saw a for sale sign, and with all the pine trees, it reminded us of our property back home."
Gardner couldn't stand to leave all her plants behind, so many bulbs, tubers and cuttings made the 2,000-mile journey to the desert in the back of Gardner's U-Haul.
"People must think I'm crazy for bringing plants with me," she said, "I have lamb's ear that I planted 30 years ago, and every house we moved to, I took a patch. To this day, it's still growing."
While most buy flowers and trees to plant in their garden, Gardner takes pride in exchanging plants with friends and family.
"A lot of them are transplants that people have given to me," she said. "I love the idea of trading plants because when I plant it and look at it, I think of the person who gave it to me."
When Gardner isn't trading plants, she's raising them from tiny seedlings.
"Anybody can buy plants, but it's so much better if you plant them yourself," Gardner said. "It's a sense of pride when you can just put a little seed into the ground and see it come up and bloom. I find that amazing."
Although Gardner has three ecosystems on her property, most of her plants bloom in the spring and summer. She said she spends about four days a week gardening during the warmer seasons.
"I'm out here before the sun comes up, and I'm back out when it goes down," Gardner said. "I feel like a vampire."
Pentas, lantanas, zucchinis and cucumbers are a few popular plants and vegetables that do well in warm weather, according to Brian Adams, manager of Plant World Nursery, 5301 W. Charleston Blvd. Pansies and ground vegetables, such as beets, carrots, lettuce and cabbage, are popular during the cooler months.
"It's important in the first few weeks to keep new plants damp because it's so dry here in the desert," Adams said. "People get excited and like to let them sit out on the patio, but the dry winds will get to them quick. It's important to get them into the ground as soon as possible and keep them damp so they can get rooted."
Though Adams considers it a little early to plant for summer, he said now is the perfect time to start preparing.
"You should be getting everything fertilized and ready for the summer," Adams said. "You should check the irrigation, clean things up and prepare for the winds and warm weather."
Now retired, Gardner spends most afternoons in her gardens, maintaining her plants and trying new ones.
"You can attempt to grow anything you want," Gardner said. "Sometimes it takes, and sometimes it doesn't. I guess I am a gambler in that sense."
Contact Southwest/Spring Valley View reporter Caitlyn Belcher at cbelcher@viewnews.com or 702-383-0403.
Library to host summer vegetables lecture
The West Charleston Library, 6301 W. Charleston Blvd., plans to host a lecture on growing summer vegetables from 2 to 4 p.m. March 23.
For more information, call 702-507-3964.