Special agent advises fifth-graders how to avoid online predators
November 13, 2015 - 1:30 pm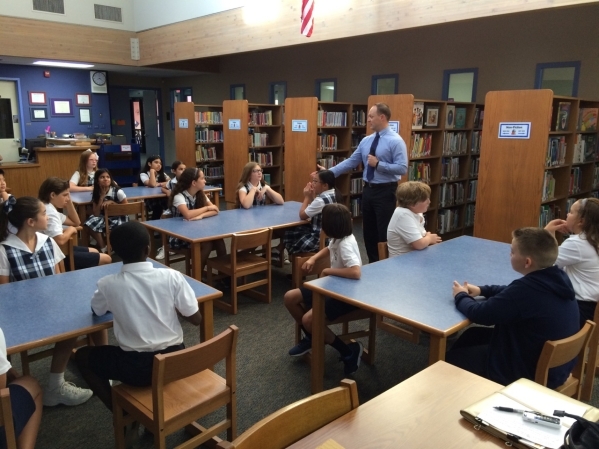 Many children have cellphones, and many use them to chat or play video games online. Many also need to be aware of cyber safety.
To educate their Lower School students on the potential dangers of the Internet, The Meadows School hosted a talk Sept. 28 by Al Giangregorio, a special agent with the U.S. Department of Homeland Security, who focuses on combating child exploitation.
He spoke with about 20 fifth-graders, ages 10 and 11, in the library at the school, 8601 Scholar Lane.
"Facebook, Pinterest, Instagram — all these things keep us connected," he told the students. "But would you believe the Internet can be a scary place at times? … If you were at the park and a strange man is in the corner, would you ever go up and talk to that strange man and tell him your name and where you go to school? No way. You'd never do that, right? So, why would you do it online?"
He said it was risky to post inappropriate pictures, give out your address, full name, age and school information. It's best to make up a username that doesn't include your real name or that points to anything specific about you.
"Online predators want to meet kids like you for bad reasons," he warned them. "… If you come across someone online who likes everything the same as you, is that normal? Even with your best friends, you're going to have some differences, right? And what do we tell Mom and Dad when we want something? We give them compliments, right? We do our chores or whatever that will result in going to Yogurtland or a friend's house, or whatever, right? That's exactly what online predators do. They'll tell you what you want to hear."
There are false perceptions about those who try to engage with children online, he said. The truth about online predators is that it's not common, they don't lie about their age, it happens to both boys and girls, certain things attract their attention, and it's not the child's fault, he noted.
Giangregorio addressed cyberbullying and cited the case of Amanda Todd, a 10th-grader from British Columbia who flashed a friend during a web chat. The video went viral with more than 17 million views, and the Royal Canadian Mounted Police and British Columbia Coroners Service investigated whether it led to her committing suicide.
He said while the students might not flash someone, they should think ahead before posting even silly things on the web, as something posted now can be used to determine whether a student should be accepted into civic clubs, join future organizations and, ultimately, apply for college.
"Everything you do is out there," he said about being online.
Giangregorio also addressed pop-up ads that, when clicked, ask for your information.
"And what's the No. 1 thing they offer? … A cellphone," he said, explaining how those phones can be used without one's parent being aware. "They give you your own phone so they can talk to you exclusively. Then they'll try to turn you away from your parents."
The students had heard warnings from their parents already. They spoke on the condition that their last names not be used.
Jordyn said her parents had found a simple way to ensure no one was hacking their laptops to see what was going on inside their home.
"My parents put Band-Aids on all our computers because they saw something on the news that some hacker was watching (a family's) every move, like, where they were sleeping and stuff, so they don't want that to happen to us. If we want to FaceTime, we have to rip it off," she said.
Cody said his parents had talked to him about being safe online.
"They said you don't want to talk to people who you don't know, and you have to be very careful," he said.
Giangregorio played videos from NetSmartz, netsmartz.org, a program of the National Center for Missing & Exploited Children.
"Parenting wired kids can be difficult, especially if you didn't grow up with the same technologies. These resources can help," the site says.
The cartoons on the site feature typical teens in typical situations and show how easy it can be to inadvertently put out information, like someone reading aloud a love note and it going viral.
Giangregorio ended his talk with a warning.
"If you're chatting online with someone, and they start asking you (personal information) questions, let someone know (like) your mom or dad," he said. "Anybody who asks for a picture of you, that's a red flag."
— To reach Summerlin Area View reporter Jan Hogan, email her at jhogan@viewnews.com or call 702-387-2949.