Stayin' cool: How to beat the heat in North Las Vegas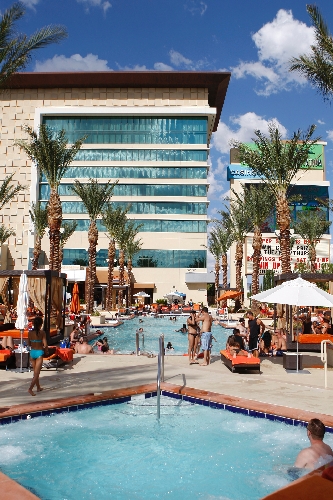 It's the kind of hot outside that welds your legs to the car seat.
It forces you to play "hot potato" with your steering wheel and makes you second-guess who decided it was a good idea to build a civilization in the middle of the desert.
Thankfully, in North Las Vegas, there are pools, ice cream shops and an ice arena, among other cool distractions, to help you forget about living in an oven.
Despite the city's financial woes that shut down some municipal swimming pools, the public open swim season is in full swing at the Silver Mesa pool, 4025 Allen Lane. Aaron Turnier , recreation coordinator, said the program, which runs from 1 to 6 p.m. Fridays and Saturdays and 1 to 5 p.m. on Sundays, is averaging 600 swimmers per day.
"We're looking at 1,800 right there," Turnier said.
That's about 200 more than when the program was running for four hours each day of the week .
Pool fees are $3 for adults 18 to 54, $2 for children 3 to 17 and seniors 55 or older.
"It has been difficult because of the shortfall we've had with the city," Turnier said. "We've been fairly creative in trying to offer the swimming services to the community. It's less than what we're used to, but at least we're able to offer something to them."
The North Las Vegas City Council raised the price for the city's learn-to-swim two-week program to $35 — a $10 increase — but it's still just as popular as before, Turnier added. The third session of the program is scheduled to run July 18 to 28 with a morning session from 9 a.m. to 1 p.m. and an afternoon session from 4 to 8 p.m.
"Even though things are difficult right now, we're still trying to get out there and provide services the best way we can," Turnier said.
The city anticipates opening the Hartke pool, 1638 N. Bruce St., this month, which could serve as an additional open swim location, Turnier added.
Don't feel like trying to escape the heat outdoors?
Cool off at the SoBe Ice Arena inside the Fiesta Rancho, 2400 N. Rancho Drive. Programs include skate school, figure skating and birthday party packages.
The skate school program targets children ages 3 to 15 who learn from expert ice skaters from the Las Vegas Academy of Skating. The 45-minute classes run Tuesdays, Wednesdays and Saturdays for the more experienced participants.
Rob Pallin , director of the ice arena, said the arena temperature averages 56-60 degrees despite the triple-digit heat.
The 17,000-square-foot National Hockey League-sized arena is cooled by the cement underneath the ice, which is kept at 20 degrees.
"It's a great place for kids to get out of the heat," Pallin said.
There also are Cosmic DJ Skate Nights from 8 to 11 p.m. Friday and Saturday nights. The event is open to all ages and features a disc jockey spinning music, karaoke, games and drawings for special prizes.
Cooler temperatures can be found at Left of Center Art Gallery, 2207 W. Gowan Road, in the exhibit "Quietude: A Study of Shadow and Light." Gallery director Marylou Evans said Colorado artist William Miller ties his oil paintings of aspen trees and cowboys together with the element of shadows and light.
The exhibit is scheduled to run through Aug. 13. Gallery hours are noon to 5 p.m. Tuesday through Friday and 10 a.m. to 3 p.m. Saturday. The event is free.
The gallery also offers a permanent collection of African art that includes masks, dolls and musical instruments collected by the owners of the years.
Around noon Saturdays, artists work in the studio space, Evans said.
"That's always open if they want to come in and watch the artists work," she said. "They're willing to let everybody come talk. If parents want to bring their kids in if they have an interest in oil painting, we'd love to have them come in and ask questions."
The group also is trying to put together painting classes, Evans added.
For more information about the gallery, exhibits or classes, visit leftofcenter.org or call 647-7378.
Contact Downtown and North Las Vegas View reporter Kristi Jourdan at kjourdan@viewnews.com or 383-0492.