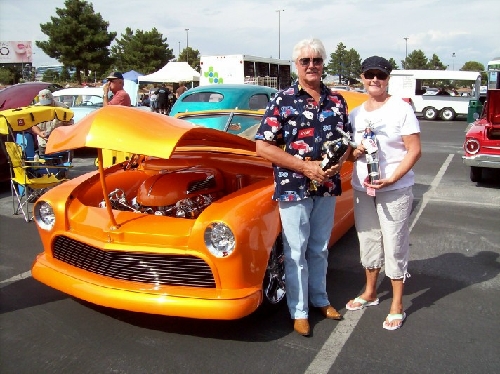 With nearly 75 classic vehicles on hand for the inaugural University of Nevada, Las Vegas Howard R. Hughes College of Engineering/Department of Mechanical Engineering car show and the skies getting more ominous by the minute, Dawn Barlow-Curtis, the department's director of communications and special events, decided it was probably a good idea to wrap things up and announce award winners.
"We had a great turnout today and a wide range of vehicles," Barlow-Curtis said. Proceeds from Sunday's car show registrations and other donations, which amounted to about $5,000, will help UNLV mechanical engineering students with travel expenses to conferences and supplies for their studies.
Category winners were presented with a fire extinguisher "trophy," with two of the unique awards going to Henderson's Dee and Carolyn Barnes in Best Mechanical and Special Interest for their 1949 Ford Convertible.
"This was a lot of fun for a good cause," said Carolyn Barnes, as she helped her husband pack chairs and coolers into the '49 Ford so they could try and get home before it rained. "We always meet a lot of nice people."
Other award winners included Dean's Choice, Jerrold Robinson, 1941 Cadillac; Best Paint, Dave Revens, 1986 Dodge Daytona; Best Interior, Tracy Bilyeu, 2003 SSR; Best Motorcycle, Kevin Murphy 1972 XLC; Fan Favorite Car, Sam D'Andrea, 1963 Ford Falcon; Fan Favorite Truck, Jeff Harmon, 1949 Studebaker pickup; Classic Car, Tom Spalla, 1954 Chevy Corvette; and Classic Truck, Jim Arnold, 1953½  F100.
For more information, please contact Barlow-Curtis at 895-3965 or dawn.barlow-curtis@unlv.edu.