Students with autism participate in card-making process, garning skills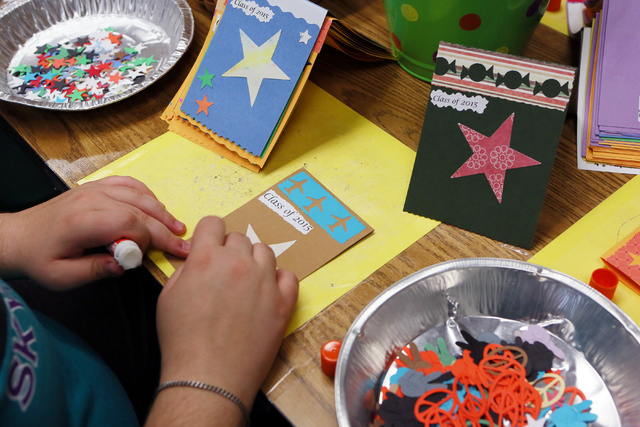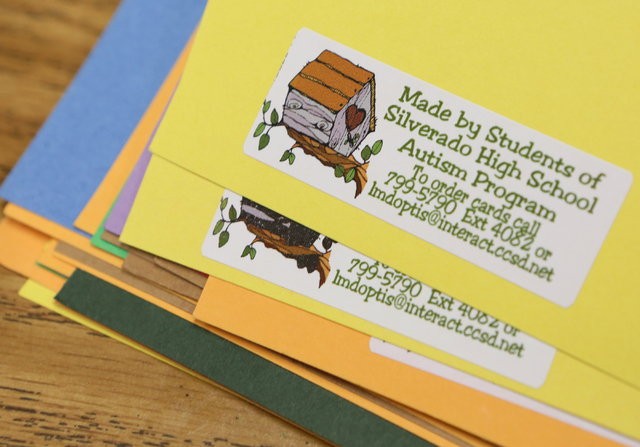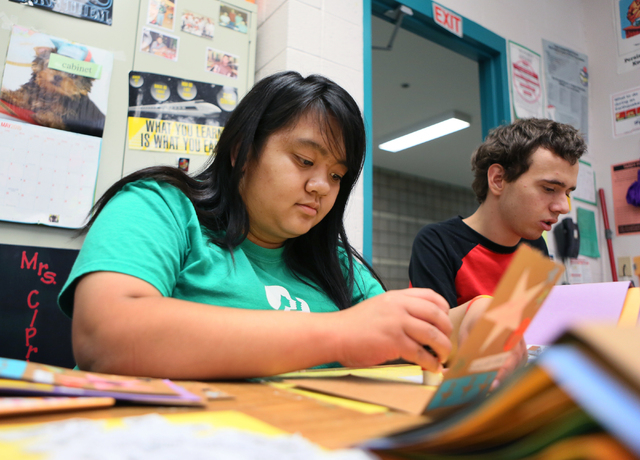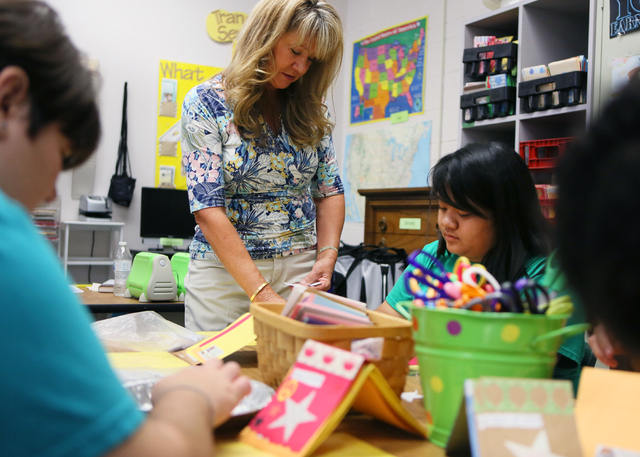 Like a mini-factory, Silverado High School autism impaired teacher Lisa Cipriano's students create thousands of cards every school year.
With groups of students assigned to specific tasks, the classroom runs as an assembly line as each card is cut, folded and decorated.
Student Kealani Buenaventura said she prefers to glue and decorate the cards because it's creative.
"I like making all cards, but Christmas is my favorite," she said. "I like to glue the words inside the card."
Under Cipriano's direction, the students sell their handmade cards to their peers, the school staff and community members for 50 cents each.
"We work on the cards about three times a week on average," Cipriano said. "We try to make about 1,000 cards for each occasion, and each year, the cards are different because their creativity and ideas are different."
All proceeds benefit the autism students' community-based instruction, Cipriano said.
"On Fridays, we usually go shopping and cook a meal," she said. "On Tuesdays, we take the city bus to go bowling, to the library or to get haircuts."
The program operates mostly on donations from other school departments and the community, such as a die cutter from the school's library, card envelopes from Smith's and cardstock from a Utah-based paper company.
"We get our paper from Smead because they don't use the ends of their paper rolls; they just recycle them," Cipriano said. "I drive to Cedar City about every other year and pick up the stacks of paper."
Through cardmaking, the students learn how to communicate with others to advertise and sell their product. They also brush up on their math skills while collecting money and giving change.
In addition, the activity covers some of the class' objectives, including mastering "a functional skill to contribute to a more independent life" and demonstrating "an understanding of self-directed goal setting and tracking."
"We work on our writing skills when we write about what we've done with the funds in our interactive notebook," Cipriano said. "There's also a lot of focus on fine motor skills while they make cards."
Due to the Individuals with Disabilities Education Improvement Act of 2004, the Clark County School District provides free appropriate public education to all students ages 3 to 21 with disabilities.
Although former student Haydn Ream, 22, recently aged out of the program, he doesn't plan on going too far.
"Haydn has been with me for eight years, and through this kind of repetition, he's gained job skills training," Cipriano said. "He's worked in our school cafeteria for the last four years earning a competitive wage, and next year, he'll continue working in a school cafeteria."
Cipriano has taught in the school district for more than 20 years and has worked at Silverado for the past eight. She has a bachelor's degree in special education and a master's in autism.
"It can be very rewarding," she said. "We're just trying to prepare them to lead the best life they can."
Cards can be purchased by calling the school or visiting the UPS Store, 1445 American Pacific Drive, Suite 110.
For more information, visit schools.ccsd.net/silverado or call 702-799-5790.
To reach Henderson View reporter Caitlyn Belcher, email cbelcher@viewnews.com or call 702-383-0403. Find her on twitter: @caitlynbelcher