Summerlin Area Neighborhood News, Nov. 6-12, 2014
October 31, 2014 - 9:00 am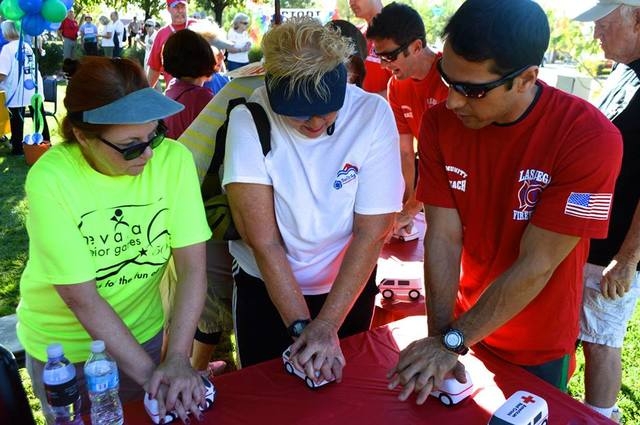 ATRIA SEVILLE PLANS FACILITY TOURS NOV. 6
Atria Seville, 2000 N. Rampart Blvd., plans to mark its 15th anniversary starting at 2 p.m. Nov. 6 by opening its doors to seniors and/or their families to meet staff members and directors and tour the community.
Each department will present the happenings within their respective areas. Happy hour refreshments and live entertainment are planned starting at 3 p.m.
For more information, visit atriaseville.com or call Karen Gaines at 702-804-6800.
DRESS FOR SUCCESS PLANS FALL SUIT DRIVE NOV. 7
A women's fall suit drive is planned from 7 a.m. to 2 p.m. Nov. 7 at NV Energy, 6226 W. Sahara Ave. Drive-through donations can be made at the parking lot.
Hosted by the United Way of Southern Nevada's Women's Leadership Council, the annual drive collects suits and other business attire for women in need to help them prepare for career opportunities and gain confidence to succeed during job interviews and in the workplace. Last year's drive collected more than 7,000 professional items, including suits, dresses, shoes, handbags and jewelry.
Gently used and/or professional attire should be cleaned and on a hanger.
For more information, contact Lawrel K. Larsen at lawrell@uwsn.org or 702-892-2319.
NOV. 8 CASINO NIGHT TO BENEFIT CHILDREN'S HEART FOUNDATION
The Children's Heart Foundation's annual Operation Cards for Kids — Casino Night is planned from 6 to 10 p.m. Nov. 8 at the Red Rock Country Club, 2250 Red Springs Drive.
The evening is set to include blackjack, food, specialty cocktails and silent and live auctions. Attendees must be 21 or older.
Tickets are $75 for general admission and $125 for VIP admission at operationcardsforkids.com.
VICTORIAN RAILROAD LADIES TO MEET AT TIVOLI VILLAGE NOV. 10
The Victorian Railroad Ladies, the Las Vegas Railroad Society Museum women's club, plans to meet from 6 to 8 p.m. Nov. 10 at Cafe Leone inside Tivoli Village, 302 S. Rampart Blvd.
The club supports children's education in Las Vegas and offers monthly activities and hobby classes. Look for women wearing hats.
Membership is free. For more information, visit lasvegasrailroadsociety.org or call 702-656-9705.
SPORTS CLIPS OFFERS $1 HAIRCUTS TO SUPPORT VETERAN SCHOLARSHIPS
Sport Clips Haircuts locations in the Las Vegas Valley plan to offer $1 haircuts to support the Help A Hero scholarships for service members and veterans. They also will be giving free haircuts to active-duty military members and veterans on Veterans Day, Nov. 11, with valid proof of service.
To find locations, visit sportsclip.com/hero.
CROSSFIT PLANS SMA BENEFIT
The fundraiser Crossfit to Cure SMA is scheduled from 10 a.m. to 3 p.m. Nov. 15 at Crossfit 702, 7520 W. Washington Ave., Suite 180.
The event will help local organization Falynn's Wings, which provides medical equipment to newly diagnosed families of Spinal Muscular Atrophy, a muscular degenerative disease that leaves children unable to walk, eat, speak and eventually breath. The average lifespan for children with SMA is two years.
The cost is $40. To register, visit falynnswings.org.
PUPPY UP WALK SET FOR NOV. 15 AT BRUCE TRENT PARK
The third annual Puppy Up Walk is set for 10 a.m. Nov. 15 at Bruce Trent Park, 8851 Vegas Drive. The walk is set to start at noon and benefits the 2 Million Dogs Foundation, which is committed to discovering the common links between canine and human cancers and the causes of these cancers through comparative oncology research.
Online preregistration is $20 through Nov. 13. Pregistration is $25 Nov. 14 and 15, and youth registration for walkers 14 or younger is free. Participants who raise $100 or more will receive a free event T-shirt.
To sign up, visit puppyuplasvegas.kintera.org. For more information about the 2 Million Dogs Foundation, visit 2milliondogs.org.
COMMODORE COMPUTER CLUB TO MEET NOV. 15
The Clark County Commodore Computer Club plans to meet from 9 to 11 a.m. Nov. 15 in the Business Center inside Total Wine & More at Boca Park, 730 S. Rampart Blvd. The club is for enthusiasts of the Commodore line of computers as well as users of all computer platforms and tablets.
The public is welcome to attend. Free door prizes for all attendees will include a Gear Head wireless mouse and LoJack laptop security and recovery system.
Meetings are set to resume in January as the club will be on break during December. For more information, contact Forrest Nettles at flnettles@hotmail.com.
JEWISH GENEALOGY SOCIETY TO MEET NOV. 16 AT SAHARA WEST LIBRARY
The Jewish Genealogy Society of Southern Nevada plans to meet at 1 p.m. Nov. 16 at the Sahara West Library, 9600 W. Sahara Ave.
The topic is scheduled to be "Social Media for the Genealogist," regarding what is available and how to make use of Facebook and other sites.
The society is set to meet at 1 p.m. the third Sunday of each month. Meetings are free and open to the public.
For more information, visit jgssn.org or contact president Abe Simon at abe_simon@cox.net or 702-523-9874.
RETIRED RAILROAD WORKERS SET TO GATHER AT MAD MATTY'S NOV. 18
The National Association of Retired and Veteran Railroad Workers plans to meet at 10 a.m. Nov. 18 at Mad Matty's, 8100 W. Sahara Ave.
One of the group's goals is to keep people knowledgeable about political actions that affect their pensions. Meetings are a good way to say connected, meet others who worked in the industry and share tales from days on the job.
For more information, visit narvre.info.
TEMPLE SINAI PLANS HOLIDAY BAZAAR DEC. 7
Temple Sinai has scheduled its first Holiday Bazaar from 9 a.m. to 2:30 p.m. Dec. 7 at its facility, 9001 Hillpointe Road.
Vendors, food trucks, face painting and children's activities are planned.
For vendor inquiries, email tsholidaybazaar@gmail.com. For more information, call 702-254-5110.
ARTHRITIS FOUNDATION TO HOST JINGLE BELL RUN DEC. 13
The Arthritis Foundation's Jingle Bell Run is planned for 8 a.m. Dec. 13 at Tivoli Village, 302 S. Rampart Blvd.
Runners can wear holiday-themed costumes and tie jingle bells to their shoelaces to get in the holiday spirit while raising funds to find a cure for arthritis. Live entertainment, vendors providing breakfast and a Reindeer Dash to Kidville also are planned.
To register, visit bit.ly/VKXj7g. For more information, visit tivolivillagelv.com.
AARP SEEKS VOLUNTEERS FOR FREE TAX PREPARATION PROGRAM
The AARP Foundation's Tax-Aide program plans to offer free tax assistance and preparation for taxpayers with low to moderate income. In its 46th year, the program is the nation's largest free tax assistance and preparation service, giving special attention to the older population. The service is offered in conjunction with the IRS and is open to anyone, not just AARP members.
Last year in Nevada, 260 volunteers helped more than 12,700 people file federal tax returns and answered tax-related questions. The program is offered at senior centers, libraries and other convenient locations.
The program needs volunteers. Tax volunteers must complete a tax preparation workshop from the IRS before working with taxpayers. There is also a need for grass-roots leadership, on-site greeters and those who can provide language assistance in Spanish, Mandarin or Cantonese.
For more information, visit tinyurl.com/4r34r8v or call 888-227-7669.