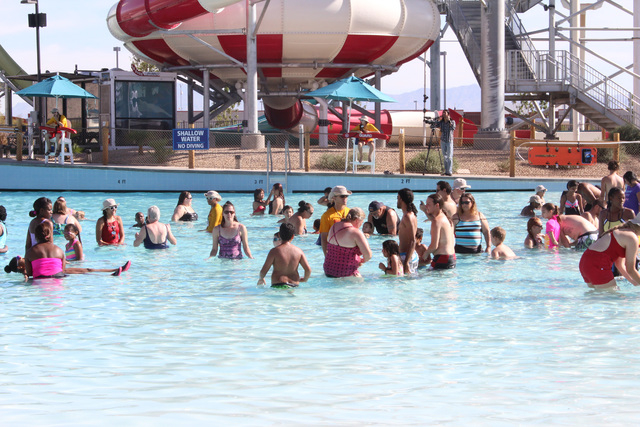 COMMODORE COMPUTER CLUB TO MEET OCT. 18
The Clark County Commodore Computer Club plans to meet from 9 to 11 a.m. Oct. 18 in the Business Center inside Total Wine & More at Boca Park, 730 S. Rampart Blvd. The club is for enthusiasts of the Commodore line of computers as well as users of all computer platforms and tablets. Planned demonstrations include Amiga Forever 2014, an Amiga emulator for Windows PCs.
For more information, contact Forrest Nettles at flnettles@hotmail.com.
SMILES FOR SURVIVORS PLANS OCT. 18 FUNDRAISER
The Smiles for Survivors Foundation, a Las Vegas-based nonprofit that provides dental treatment to breast cancer patients and survivors, has slated its fourth Blow Out Breast Cancer fundraising event for Oct. 18 at Square Colour Salon + Spa, 1225 S. Fort Apache Road, Suite 160.
Beauty treatments are scheduled from 2 to 6 p.m. Evening festivities are set from 7 to 11 p.m., including food, cocktails, live entertainment and a silent auction.
Advance tickets are $75, including party admission, a blow out and a Kerastase conditioning hair treatment, or $50 for the party only. Services such as lash and nail treatments are an additional $20. Tickets at the door will be $60. For tickets, call the salon at 702-255-7050 or Hillcrest Dental at 702-395-1088.
For more information, visit smilesforsurvivors.org.
JEWISH GENEALOGY SOCIETY TO MEET OCT. 19 AT SAHARA WEST LIBRARY
The Jewish Genealogy Society of Southern Nevada plans to meet at 1 p.m. Oct. 19 at the Sahara West Library, 9600 W. Sahara Ave.
Programs are co-sponsored by the Las Vegas-Clark County Library District. Meetings are free and open to the public.
After a short business meeting, Joanne D. Gilbert is slated to present Bringing Genealogy to Life! An Introductory Memoir-Writing Workshop.
For more information, contact Abe Simon at abe_simon@cox.net or 702-523-9874.
LAS VENTANAS PLANS SENIOR DAY AT SHRINERS OPEN
Las Ventanas, 10401 W. Charleston Blvd., plans to host Senior Day Oct. 16 during The Shriners Hospitals for Children Open, scheduled through Oct. 19 at TPC Summerlin, 1700 Village Center Circle. Those 55 or older will receive free tournament admission, and Las Ventanas will host the Las Ventanas Lounge, a tent across from the first tee, with activities and amenities for seniors and guests of all ages.
Two complimentary shuttles are planned every half hour to and from the course on Senior Day only. Following Senior Day, the Las Ventanas Lounge plans a free happy hour from noon to 2 p.m. through Oct. 19.
For more information, visit lasventanaslv.com.
SUN CITY SUMMERLIN TO HOST COMMUNITY GARAGE SALE OCT. 24-26
The Sun City Summerlin Community Garage Sale is slated from 8 a.m. to 3 p.m. Oct. 24-26 throughout the development. Look for advertising signs on major cross streets or just drive the area to locate participating homeowners. Sun City Summerlin's general boundaries are west of Rampart Boulevard to the 215 Beltway, north of Summerlin Parkway and south of Cheyenne Avenue.
For a general map or more information, visit scscai.com.
ALS OF NEVADA PLANS RUN, WALK & ROLL FOR OCT. 25
The ALS of Nevada's 14th annual Run, Walk & Roll event is slated for 6 a.m. Oct. 25 at Police Memorial Park, 3250 Metro Academy Way.
The event will feature family activities, including a superhero costume contest for individuals and teams. Awards will be presented for the best costumes, top runners and top fundraisers.
The 5K starting time is 8 a.m., with the walk portion to start immediately after the runners.
To register, visit alsofnevada.org or call 702-777-0500.
MAKING STRIDES AGAINST BREAST CANCER 5K COMING OCT. 26 TO RED ROCK RESORT
The American Cancer Society's annual Making Strides Against Breast Cancer 5K walk is scheduled for 7:30 a.m. Oct. 26 at Red Rock Resort, 11011 W. Charleston Blvd. On-site registration and packet pickup for the event is set to begin at 7 a.m., with a rolling start time of 7:30 a.m.
The event will raise funds for breast cancer awareness and research. The local chapter of American Cancer Society has set goals this year for attracting 15,000 walkers to raise $500,000.
The walk coincides with Station Casinos' fifth annual Project Pink, an initiative to raise funds for the fight against breast cancer. In addition to several pink menu items being sold throughout its restaurants, the company also will donate gaming winnings from designated pink gaming areas, including blackjack, poker and bingo and new loyalty memberships. To date, more than $200,000 has been raised.
Participants may sign up for the noncompetitive 5K (3.1-mile) walk, which begins at Red Rock Resort and travels though the newly opened Downtown Summerlin shopping center and back to the resort. Individual walkers and teams are encouraged to participate.
Online registration is available at makingstrideswalk.org/lasvegasnv. There is no fee to register for the walk.
RED ROCK COUNTRY CLUB TO HOST GOLF AND TENNIS CLASSIC
The Las Vegas Golf & Tennis Classic is scheduled for Oct. 27 at Red Rock Country Club, 2250 Red Springs Drive. Golf is set to start at 8 a.m., with a 7 a.m. check-in for the scramble. Tennis is set to begin at 9 a.m. with an 8 a.m. check-in for round-robin format.
It will benefit the nonprofit Crohn's & Colitis Foundation of America's Las Vegas chapter, which works to cure Crohn's and ulcerative colitis and help improve the quality of life of children and adults affected by these diseases.
Registration includes breakfast, lunch, auction and raffles. Played as a scramble, the golf event uses the private AKA Mountain course, and guests have a chance to win a new Lexus, courtesy of Lexus of Las Vegas, at the hole-in-one-competition. Tennis is played in a round-robin format, with tennis coach to Andre Agassi and ESPN analyst Darren Cahill hosting a private clinic.
Registration is $200 for golf and $75 for tennis with individual lunch tickets available for $40. To register, visit online.ccfa.org/lvgolfandtennisclassic.
WORKFORCE CONNECTIONS PLANS SUPER HIRING EVENT OCT. 29
Workforce Connections plans to host its second annual Nevada Day Super Hiring Event from 10 a.m. to 3 p.m. Oct. 29 at the One-Stop Career Center, 6330 W. Charleston Blvd., Suite 190.
More than 24 employers with hundreds of open positions are set to interview potential hires on-site during the event. Participating is free, but all applicants will be pre-screened before seeing an employer. Job seekers should bring several resumes and dress professionally.
Walk-ins are welcome. However, to expedite the pre-screening process and minimize wait time, job seekers are encouraged to apply for open job positions at nvcareercenter.org.
IKEA PLANS SUMMER 2016 OPENING
Ikea plans to open its first Las Vegas Valley location in summer 2016, with a proposed 351,000-square-foot store and nearly 1,300 parking spaces on 26 acres along the northern side of the 215 Beltway at Durango Drive near Sunset Road. In addition to the more than 500 jobs that are expected to be created during construction, approximately 300 workers would be hired when the store opens.
For more information, visit ikea-usa.com.
DRESS FOR SUCCESS PLANS FALL SUIT DRIVE NOV. 7
A women's fall suit drive is planned from 7 a.m. to 2 p.m. Nov. 7 at NV Energy, 6226 W. Sahara Ave. Drive-through donations can be made at the parking lot.
Hosted by the United Way of Southern Nevada's Women's Leadership Council, the annual drive collects suits and other business attire for women in nee to help them prepare for career opportunities and gain confidence to succeed during job interviews and in the workplace. Last year's drive collected more than 7,000 professional items, including suits, dresses, shoes, handbags and jewelry.
Gently used and/or professional attire should be cleaned and on a hanger.
For more information, contact Lawrel K. Larsen at lawrell@uwsn.org or 702-892-2319.
AARP SEEKS VOLUNTEERS FOR FREE TAX PREPARATION PROGRAM
The AARP Foundation's Tax-Aide program plans to offer free tax assistance and preparation for taxpayers with low to moderate income. In its 46th year, the program is the nation's largest free tax assistance and preparation service, giving special attention to the older population. The service is offered in conjunction with the IRS and is open to anyone, not just AARP members.
Last year in Nevada, 260 volunteers helped more than 12,700 people file federal tax returns and answered tax-related questions. The program is offered at senior centers, libraries and other convenient locations.
The program needs volunteers. Tax volunteers must complete a tax preparation workshop from the IRS prior to working with taxpayers. There is also a need for grass-roots leadership, on-site greeters and those who can provide language assistance in Spanish, Mandarin or Cantonese.
For more information, visit tinyurl.com/4r34r8v or call 888-227-7669.
NOV. 8 CASINO NIGHT TO BENEFIT CHILDREN'S HEART FOUNDATION
The Children's Heart Foundation's annual Operation Cards for Kids — Casino Night is planned from 6 to 10 p.m. Nov. 8 at the Red Rock Country Club, 2250 Red Springs Drive.
The evening is set to include blackjack, food, specialty cocktails and silent and live auctions. Attendees must be 21 or older.
Tickets are $75 for general admission and $125 for VIP admission at operationcardsforkids.com.
TEMPLE SINAI PLANS HOLIDAY BAZAAR DEC. 7
Temple Sinai has scheduled its first Holiday Bazaar from 9 a.m. to 2:30 p.m. Dec. 7 at its facility, 9001 Hillpointe Road.
Vendors, food trucks, face painting and children's activities are planned.
For vendor inquiries, email tsholidaybazaar@gmail.com. For more information, call 702-254-5110.
ARTHRITIS FOUNDATION TO HOST JINGLE BELL RUN DEC. 13
The Arthritis Foundation's Jingle Bell Run is planned for 8 a.m. Dec. 13 at Tivoli Village, 302 S. Rampart Blvd.
Runners can wear holiday-themed costumes and tie jingle bells to their shoelaces to get in the holiday spirit while raising funds to find a cure for arthritis. Live entertainment, vendors providing breakfast and a Reindeer Dash to Kidville also are planned.
To register, visit bit.ly/VKXj7g. For more information, visit tivolivillagelv.com.
COATS FOR KIDS SEEKS DONATIONS
Harriet's Coats for Kids is seeking donations of new or gently used children's coats, to be distributed in the Las Vegas Valley through The Salvation Army.
Donation boxes can be found at area Albertsons stores. Everyone who donates a coat has an opportunity to win two tickets to the "Million Dollar Quartet" show.
Coats will be picked up by Aramark Uniform Services and cleaned free by Al Phillips The Cleaner. Adults' coats also can be donated.
For more information, visit salvationarmysouthernnevada.org or call 702-870-4430.