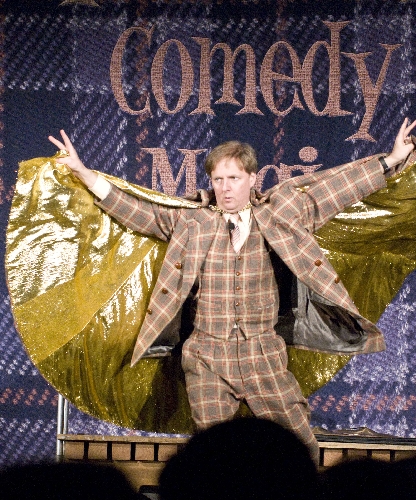 Tony Bennett is one of a handful of artists to have had hit albums in the 1950s, '60s, '70s, '80s, '90s and into the millennium. There's no one like this 85-year-old American icon, who is performing at the Palms on July 24.
Starting with a number of Columbia singles 60 years ago, Bennett quickly gained fame with chart-toppers such as "Because of You" and "Rags to Riches."
One of Bennett's greatest successes has been his ability to connect with a younger crowd. It began when he appeared with the Red Hot Chili Peppers at the MTV Video Music Awards in 1993 and was later featured on "MTV Unplugged." He has sold more than 50 million records worldwide. Showtime is 8 p.m. Tickets begin at $66. Call 942-6888 for more information.
He's Only 10 years old
I'm always mentioning entertainers who are our age and thought it would be appropriate to comment on Ethan Bortnick, the 10-year-old who is about to become the youngest entertainer to headline his own show in Las Vegas at the Las Vegas Hilton on July 22-23.
Ethan already has made history as the youngest musician, composer and entertainer to headline a national concert tour. He has appeared four times on "The Tonight Show with Jay Leno" and twice on Oprah. If that isn't enough, Ethan created and hosted his own award-winning, nationally televised concert special on PBS. Want more? Ethan has become one of the world's youngest philanthropists, helping raise more than $30 million for nonprofits around the world. In fact, a portion of ticket sales for his shows here will go to Children's Miracle Network Hospitals. Showtime is 8 p.m. Tickets start at $39. For more information, call 732-5755 or visit lvhilton.com.
So Excited
Back in the '80s when I was running half-marathons, I used to train listening to the Pointer Sisters. Their music was up-tempo, and it made my running up-tempo. I'll be up-tempo again July 16-17 when the sisters perform their hits at The Orleans Showroom. Showtime is 8 p.m. Tickets begin at $29.95. For more information, call 365-7075 or visit orleanscasino.com.
Before recording their first album in 1973, the Pointer Sisters honed their singing skills in their father's church, The Church of God in West Oakland, Calif. The self-titled debut album produced the Billboard No. 11 single, "Yes We Can, Can." The '80s brought hits such as "He's So Shy," "Slow Hand," "I'm So Excited," "Jump (For My Love)" and "Neutron Dance."
Mermaids and more
When the weather gets like this, all thoughts turn to staying indoors. When you do need to get out, the aquarium at the Silverton with its mermaids and free interactive fish feeding shows is cool. The 117,000-gallon reef aquarium has more than 4,000 tropical fish and three species each of stingrays and sharks. Feeding shows are daily at 1:30, 4:30 and 7:30 p.m. The mermaids swim Thursday through Saturday, with the first swim at 2:15 p.m., and at 11:30 a.m. Sunday. Call 263-7777 for more information.
Mac King VIP
Here's an indoor afternoon activity that will make you feel special. Mac King, who has welcomed more than 1 million audience members to the Harrah's Showroom over the last 11 years, is offering a VIP ticket ($39.95) to his Comedy Magic Show that allows guests to go to the head of the line for some of the best seats in the house. Additionally, VIP ticket holders will receive a free autographed souvenir photo.
King's show has been so successful that he recently signed a contract extension with Harrah's, extending his run through 2015. King takes the stage at 1 and 3 p.m. Tuesday through Saturday. Call 369-5222 for more information.
And finally …
An elderly lady walked into a lawyer's office and asked for help in arranging a divorce.
"A divorce?" asked the unbelieving lawyer. "Tell me, how old are you?"
"I'm 84," she answered.
"And how old is your husband?"
"He's 87."
"Oh, my," said the lawyer. "How long have you been married?"
"Next September will be 62 years."
"Sixty-two years! Why would you want a divorce now?"
"Because," the woman answered calmly, "enough is enough."
Jack Bulavsky is a 35-year Nevadan and has covered the entertainment, dining and gaming industries for local and national publications. Contact him at jackbulavsky@yahoo.com.