Trucker caught cheating tolls with James Bond-style device
February 26, 2015 - 9:50 am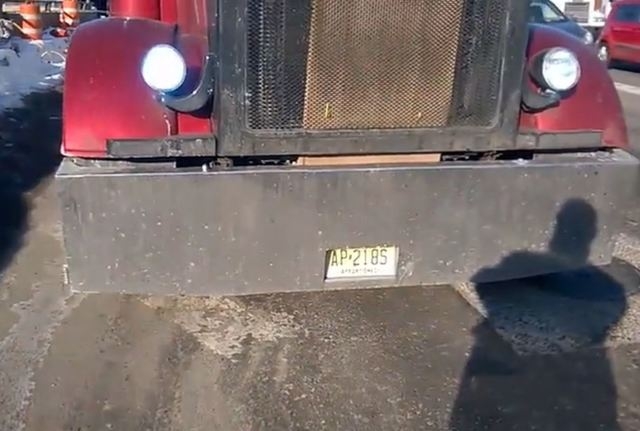 NEW YORK — A trucker accused of using a James Bond-style retractable bumper to evade a $95 toll on the George Washington Bridge has been charged with using burglary tools, police said on Thursday.
Hauling a load of candy across the bridge toward New York City on Wednesday, Pablo Ortega flipped a switch on his dashboard as he approached the toll gates over the Hudson River. That engaged a device that tilted up the truck's bumper and attached license plate, said Joseph Pentangelo, a spokesman for the Port Authority of New York and New Jersey Police.
"The officer positioned at the toll booth sees the bumper lift to a 90-degree angle. This makes it unreadable to the EZ-Pass reader," Pentangelo said, referring to the electronic device that collects the toll from vehicles at the bridge entrance at Fort Lee, New Jersey.
The Port Authority, which operates the bridge, charges a $95 toll for an 18-wheeler crossing the Hudson into upper Manhattan.
Authorities also found the rear license plate of the red 1997 Peterbilt tractor-trailer was obscured with grease and unreadable.
Ortega, 45, of the New York borough of Queens is the owner-operator of the big rig. He was charged with tampering with public records and possession of burglary tools. It was not known how many times he had used the device.
"He did volunteer that the kit cost him about $2,500," said Pentangelo, noting its legal use is to protect bumpers from getting scraped at construction sites and other places with uneven pavement.
The device is the most sophisticated used so far by a toll scofflaw, said Pentangelo, noting others have created homemade devices to lift up the license plate itself or have used tape to obscure the plate.