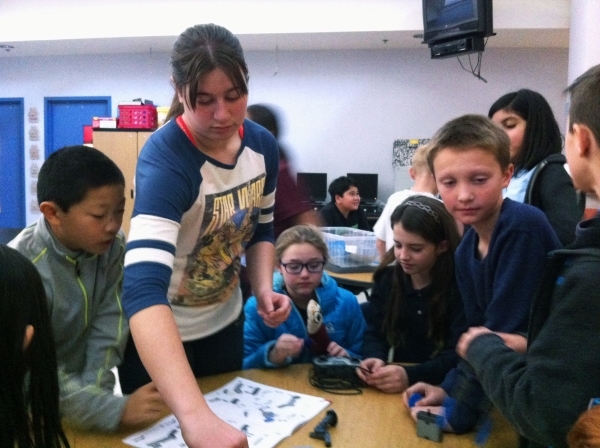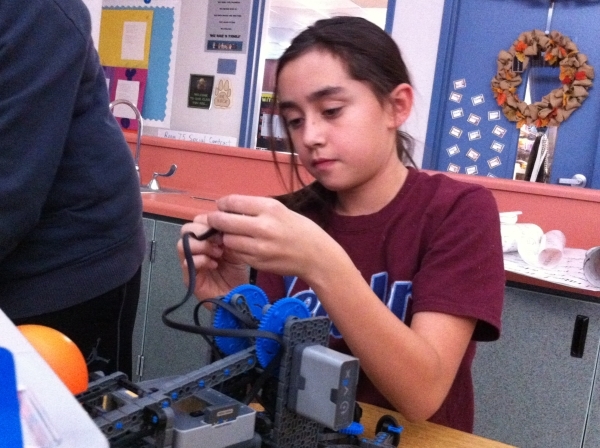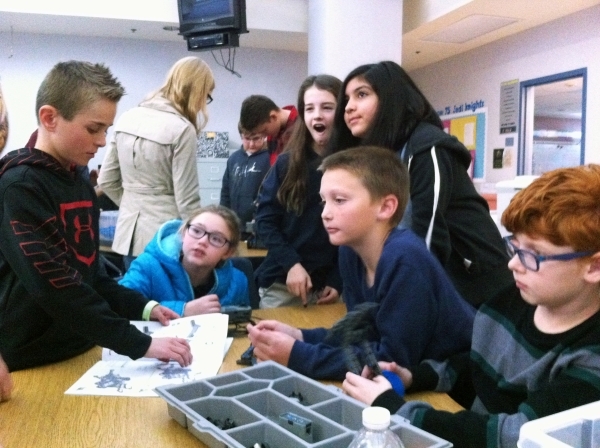 Twitchell Elementary School students rummaged through boxes of plastic mechanical parts and referred to user guides recently while getting a feel for designing robots.
The fourth- and fifth-graders in the new robotics program at the school, 2060 Desert Shadow Trail, were in the final stages of building pre-designed robots and were scheduled to begin designing their own in mid-December for the Vex IQ Las Vegas Championship set for Feb. 20 at Greenspun Middle School, 140 N. Valle Verde Drive. The event is presented by the Robotics Education and Competition Foundation, and similar competitions take place year-round worldwide.
"They're just learning the materials and how the materials work," said Stacy Carpenter Dec. 2. She is a fourth-grade teacher at Twitchell and co-chairwoman of the robotics program.
The roughly 20 program participants at the facility meet weekly to work on their two robots and have been receiving assistance from students in the award-winning robotics program at Coronado High School, 1001 Coronado Center Drive.
"We couldn't do it without them," Carpenter said. "It's a big learning curve for me, and they could relate to the kids."
Connor Graves, a senior at Coronado, said one of the hurdles was teaching the children to work together toward a common goal.
"The main thing right now is kind of learning how to work on a team — teaching them that everybody needs to have input," Graves said.
Fellow Coronado senior Justine Olshan and juniors Sarah Litto and Chacen Carpenter also were at Twitchell Dec. 2 to lend a hand.
The Twitchell program was launched this school year with the aid of a grant for $500, with the goal of offering a challenging activity for students who excel academically but are ineligible for the school's Gifted and Talented program, Carpenter said.
"Our school also is working toward a focus in STEM (science, technology, engineering and math) education," she said. "We have a really high-intelligence, high-achieving student population."
Graves said he got involved with robotics because it's fun and offers camaraderie. He said participants also gain experience that can come in handy while pursuing a career.
"You learn a lot of good skills that can transfer over to jobs in the future," he said.
Olshan said that's one of the reasons she got involved with robotics at her school, too.
"I want to do some sort of career in computer science or engineering, so getting hands-on experience is really helpful," she said. "There's definitely a lot of careers out there right now with these sorts of skill sets."
The Twitchell program is set to form two teams for the upcoming state competition. Robots are set to be judged on performing autonomous and user-controlled tasks and functions.
Visit robotevents.com.
— To reach Henderson View reporter Cassandra Keenan, email ckeenan@viewnews.com or call 702-383-0278. Find her on Twitter: @CassandraKNews.