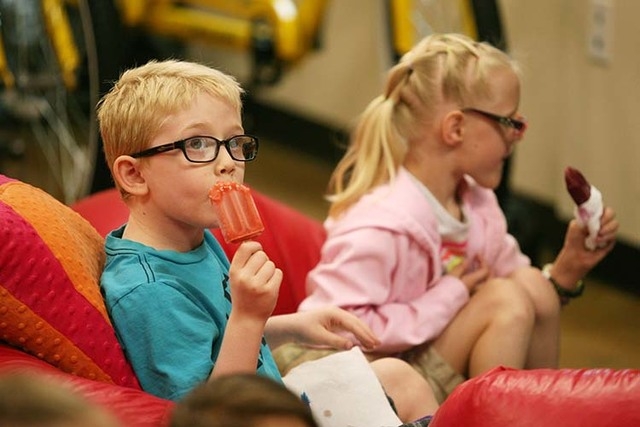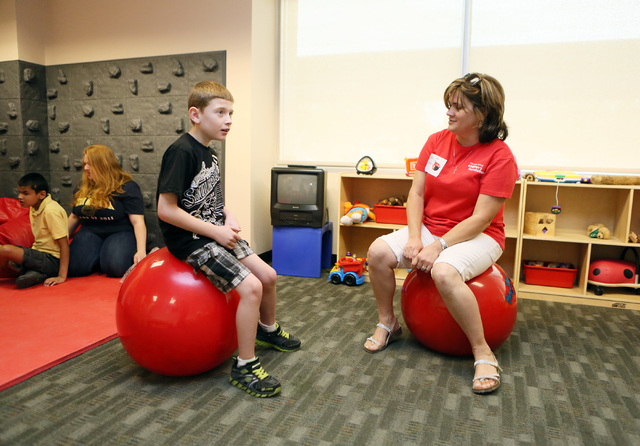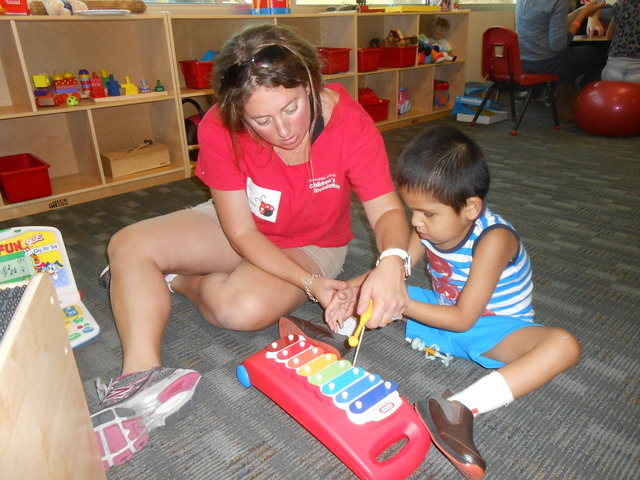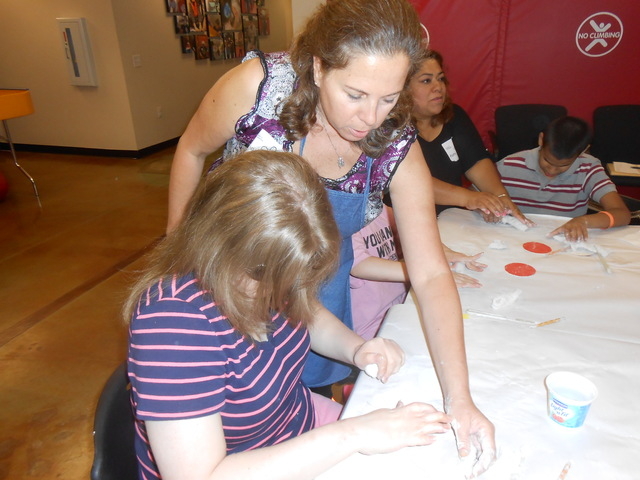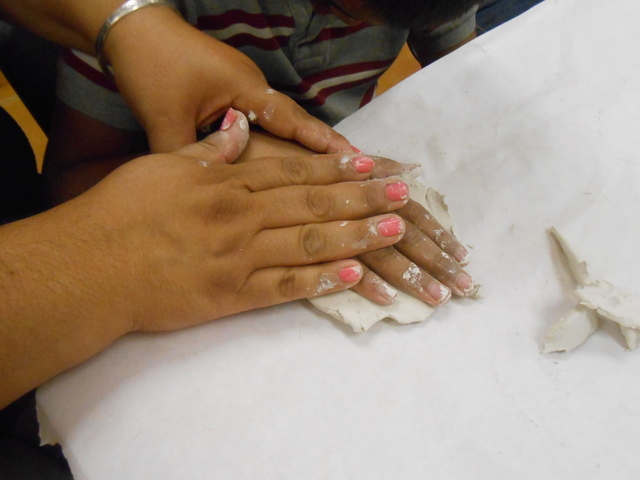 For the fourth year, the Nevada Blind Children's Foundation, 9330 W. Martin Ave., offered Summer Discovery Days, a five-day summer camp in late June for its students.
About 22 blind or visually impaired children arrived each day and were facilitated by 10 volunteers — many of them Clark County School District teachers — plus foundation staff members. A variety of activities were planned each day, with the children rotating through them.
"We run the gamut from 4 years old to 22 years old, low vision to totally blind, those that are 'on grade level' to those who are profoundly mentally retarded," said Lori Moroz-White, executive director. "So, you talk about a spectrum of autism, this is much bigger than that spectrum."
Many of the children have a condition called familial exudative vitreoretinopathy, a genetic defect that results in blindness. She told of one child who came to the center at age 3. He didn't walk, talk or interact. Now, just a few years later, he's doing all three.
"A parent finding a spot in a summer camp for a child like him is nearly impossible. There really is no place for them to go," Moroz-White said.
Introducing children to activities meant being mindful of verbal instruction. For art class, instructor Lea Lucibella used descriptive words as she passed out blocks of modeling clay.
"Smoosh it between your fingers — it's going to feel mushy — then flatten it on the table with your palm," she told them. "Your hands will get a little sticky."
She followed that up with describing how to make "ropes" of modeling clay, then coil them into bowls. Each child took turns at the pottery wheel, shaping their design.
Not all the camp's fun took place at the center. Four older students were off site, receiving judo lessons from Las Vegas Kung Fu Academy, 11165 S. Eastern Ave. in Henderson, which offered them a week of free lessons. Positively Kids donated sessions with occupational therapists. A sign language expert, Cynthia Mejia, donated her time.
One day, Exotic Pets Las Vegas, 2410 N. Decatur Blvd., Suite 160, stopped in with small animals for the children to experience — lizards, frogs, snakes, a hedgehog and a tarantula. The presentation of the latter caused Leslie Jones, director of development for the foundation, to have a visceral reaction.
"I took one look at the tarantula, and I had to leave the room," she said with a shiver.
Staff members were quick to point out that children who are blind enjoy many of the same activities as sighted children. They play baseball and air hockey, ride tandem bikes with a sighted person in the pilot seat and even run in foot races, strapped to a sighted runner. Baseball used a T-ball stand with a pinging ball and soft, foam pillars for bases, which emit their own auditory signal on command, making them easier to locate.
"When they hit the ball, a person behind home plate flips a switch and decides which base the runner has to go to," Jones said. "So, the runner has to listen. They (switch on) the base that's away from the ball, so not everybody collides together while the outfielders are searching for the ball. When they find it, they hold it up high, like this, and that's the 'out.' "
Once in a while, parents and siblings get to play baseball with the blind children, wearing blindfolds for the full experience.
Children who are blind can do something most people can't do. Just ask Rocco, 6.
"I can read in the dark," he said. "I read with my fingers."
A special treat is the therapy room, outfitted with chair backs that incorporate vibrations with music. A facilitator massaged their feet with oil while the scent of citrus filled the air for aromatherapy.
The nearly 3,000-square-foot space includes a Braille library and DVDs. Some of the Braille books include written words in case parents want to read with their child. In a nearby room, tactile toys are geared toward younger children.
Without the summer camp, the children would be at home, most left to their own devices while parents worked from home or brought in baby sitters, Smith said.
Asked what she'd be doing if she were at home, a student who asked to not be identified said, "Nothing."
Because she's now 18, Megan Bolton is no longer in the public school system, but she is welcome at the blind school.
"I like hanging out with my friends," she said. "And I love the activities, like the music."
What does the executive director wish the public understood?
"Numbers. You go to the Boys & Girls Club, and they have hundred of kids," Moroz-White said. "You come here, there are 23. But the problem is, for these 23 kids, there is nothing else. There's no opportunity for these kids anywhere else. Don't think of the numbers. Think of the kids. Here, you're not going to get your name on the side of a building like The Smith Center. Here, you're going to make a difference in a child's life, which is huge. "
Moroz-White said she hopes to expand the program next year to four weeks, each week for a different age/cognitive ability level.
For more information, visit nvblindchildren.org.
Contact Summerlin Area View reporter Jan Hogan at jhogan@viewnews.com or 702-387-2949.