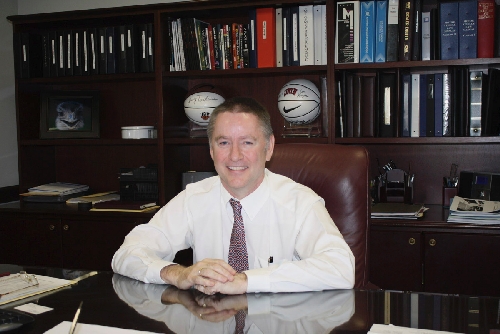 A lot can change in a decade and a half. Nobody knows that better the Findlay Automotive Group, which opened its first dealership inside the Valley Automall in 1996.
"The Valley Automall started small. We were located in a remote, deserted part of town," said Cliff Findlay, who helped start Valley Automall. "The idea was to create a master-planned automotive mall that gave Southern Nevadans the convenience of one-stop centralized shopping."
Previously, locals were forced to crisscross the valley, traipsing from dealer to dealer in order to find a full selection of automotive makes and models. Well, no more. Today, the Valley Automall consists of 24 brands across 19 dealerships, including seven Findlay dealerships. And despite the downturn, Valley Automall continues to grow and improve.
"We're seeing steady improvement in the economy," said Tyler Corder, chief financial officer of Findlay Automotive Group. "It's encouraging to see people car shopping once again. We are seeing double-digit sales increase in 2011 over the previous year. "
Indeed, Valley Automall recently expanded by adding 28 acres in the last five years. The growth carries the mall east past U.S. 515/95 Highway in Henderson. Findlay Toyota, for example, opened a new 65,000-square-foot dealership on 12.4 acres at 7733 Eastgate Road in 2007.
A year later, Findlay opened the Audi Henderson dealership across the street. The 30,000-square-foot facility rests on 5.3 acres at 7740 Eastgate Road. Audi Henderson this summer will expand its line by offering a new Lamborghini showroom — the ultra-posh Italian sports car.
Meanwhile, Saturn of Henderson was recently completely refurbished into the Findlay Lincoln dealership. It is located at 310 N. Gibson Road.
It joins Findlay's growing family of seven dealerships inside the automall, including Findlay Acura, Audi Henderson and Lamborghini Las Vegas, Findlay VW, Findlay Toyota, Findlay Cadillac-Saab and Findlay Honda.
"People have spent the last few years scrimping and saving during the recession. It's great to see a renewed, albeit, cautious optimism emerge," Corder said. "Valley Automall has survived and thrived during the last 15 years. We look forward, growing together to meeting the automotive needs for Southern Nevada during the next 15 years."
The Valley Automall, the state's largest and oldest automotive mall, offers thousands of new and used vehicles. It is located off U.S. 93/95 at Auto Show Drive, or exit I 215 at Gibson Road in Henderson.
Valley Automall dealers include Audi Henderson, Chapman Chrysler-Jeep, Courtesy Imports, Courtesy Mazda, Desert BMW, Desert Pontiac-GMC, Findlay Acura, Findlay Cadillac-Saab, Findlay Honda, Findlay Lincoln, Findlay Toyota, Findlay Volkswagen, Ford Country, Henderson Chevrolet, Henderson Nissan, Lexus of Henderson, Mercedes-Benz of Henderson and Towbin Dodge.