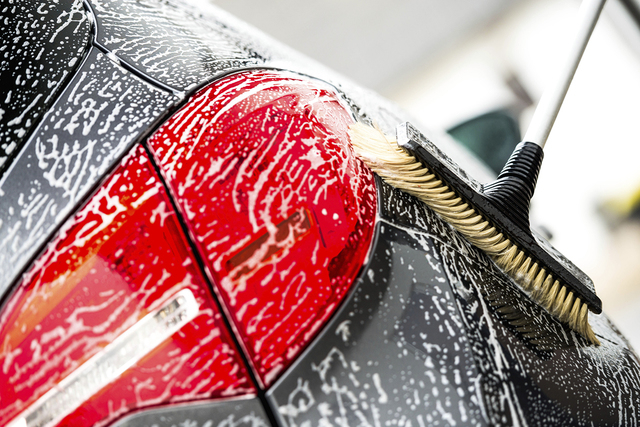 Las Vegas officials cracked down on mobile carwashes Wednesday, picking up an ordinance meant to keep unlicensed mobile carwash operators from setting up shop in front of brick-and-mortar businesses.
Mobile carwash and auto detailing business owners are now barred from plying or advertising their trade without obtaining an annual $250 city license per business vehicle. They are also banned from operating within 150 feet of all stationary carwashes.
It remains unclear whether the ordinance — which applies to all carwash business "conducted from other than a fixed place of business" — might hamper fundraisers held by Little League teams, high school booster clubs or other nonprofit groups.
The new bill applies to all mobile operations that wash cars "primarily by means of human effort," as opposed to mostly automated or mechanical operations.
City leaders didn't say how many mobile carwash operators might be affected by the move nor how many could be exempted.
Human-operated mobile carwashes will now need written permission to operate on private property and can only operate for a three-hour stretch daily.
Mobile operators will also be banned from private driveways without written consent, thanks to a complementary ordinance also passed Wednesday.
That ordinance, first introduced at a recommending committee meeting last month, goes on to impose a citywide ban against all car washing on public rights of way.
Officials say the ordinance is aimed at keeping caustic car washing chemicals out of Las Vegas' sewer drains and keeping regulators away from the city's state-issued sewer system permits.
Both carwash rules passed Wednesday's agenda with little or no comment after hours of exhaustive deliberations over a proposed $200 million downtown soccer stadium.
Violation of either car washing ordinance is a misdemeanor punishable by up to $1,000 in fines and as many as six months in jail.
"I have washed my car on the street, back before it was a criminal activity," said Councilman Bob Beers, sole opponent of the new public car washing rule. "It doesn't matter if you're on private property washing a car or on a public street: the runoff is going to hit the storm sewer either way.
"So this is not about the sewer system or water conservation. That's why I voted against it."
The move does not apply to those washing a car in their own driveway — or those invited, for noncommercial reasons, to wash a car in someone else's driveway — but could drastically limit mobile carwash operators' ability to do business on clients' private property.
Staffers did not elaborate on the city's definition of other "commercial transactions" barred under the new rule.
Councilman Bob Coffin, who voiced concerns of his own over possible exemptions to the new carwash regulations, said it's not the city's intent to harass nonprofits looking to raise a few bucks.
He suspects city leaders will "probably be revisiting" the item soon.
Contact James DeHaven at jdehaven@reviewjournal.com or 702-477-3839. Find him on Twitter: @JamesDeHaven.