'Violin of Auschwitz' an important story of hope
September 17, 2010 - 10:53 am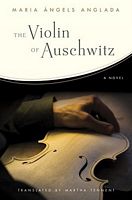 Once in a great while a book comes along that touches the mind, heart and soul. "The Violin of Auschwitz," a slender but powerful novel, is one such book with its simple narration and memorably beautiful ending.
Opening in 1991, a musician meets an older lady who was the first violinist at an orchestral concert in Krakow, Poland. The violin which she played was amazing, and the musician is curious as to its origin. She tells him the heart-wrenching, disquieting and unforgettable story of how the violin came to be.
The instrument was handcrafted by the woman's uncle, Daniel, a renowned luthier, whose violins and violas were popular before the beginning of World War II. A Polish Jew, Daniel was imprisoned at one of the subcamps at Auschwitz, the notorious concentration camp. Claiming to be a carpenter, he survives by working for the camp commandant, building cabinets in the mornings and spending his afternoons laboring in the I.G. Farben factory, the chemical company that created the gases used in the deadly killing chambers of the camp. Living circumstances are horrifying, but Daniel manages to stay alive, if only barely.
One day, Daniel hears a fellow inmate playing a violin, but the instrument sounds off-key. He remarks that he might be able to repair the instrument, an impulsive comment that brings him to the attention of the commandant, who then orders Daniel to produce a violin modeled on a Stradivarius. Given the tools and equipment he needs, Daniel begins to craft an instrument so sublime and special it actually becomes his ticket to survival.
Only after the instrument's completion does Daniel learn that a bet had been made between the commandant and the camp's doctor: If Daniel had failed to produce a superior violin, he would have been handed over to the doctor for use in ghastly medical experiments, which few survived.
But Daniel does survive the camps, and amazingly enough so does the violinist whose life Daniel saves by crafting a fine instrument. The violin was recovered and eventually passed back to Daniel's niece, a rare and treasured piece of history with an astounding provenance.
"The Violin of Auschwitz" holds a powerful message within its 108 pages — and it's one of hope. Daniel never lets go of his hope that he will survive, that he will be reunited with his wife, and that he will once again return to the world of music. This man's astonishing story is a tribute to perseverance and faith during a time when thousands upon thousands died from sheer hopelessness.
First published in 1994 by the late Spanish author Maria Angels Anglada in the rare and often banned romance language of Catalan (a combination of French, Spanish and Italian spoken in different parts of Europe), this book has been translated into English by Martha Tennent for more readers to enjoy.
"The Violin of Auschwitz" is a story that should be savored, pondered, shared and remembered.