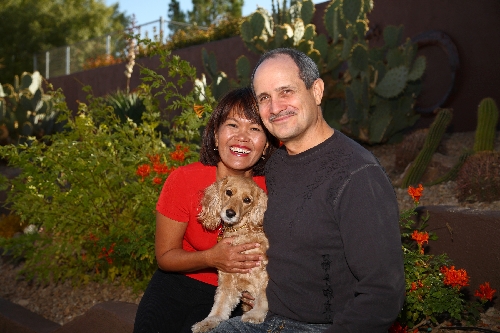 Think you can't have an aesthetically pleasing yard without using a ton of water? Think again.
Winners of the 13th annual Southern Nevada Water Authority Landscape Awards competition have torn out thirsty grass and plants in favor of desert-loving yards.
The water authority recognized 12 winners in five categories. A panel of judges selected the winning landscapes based on overall beauty, efficient water use, plant selection and design.
Dave and Kathy Oder took first place in the residential category for yards designed by a professional. They used the Schilling Horticulture Group.
The Oders have a half-acre lot in The Ridges. Formerly from Tustin, Calif., the pair had to make what Kathy Oder called "a mental transition." That transition took three different landscape configurations before they went totally turf-free. Plans for a golf tee area, for example, would have used too much water, said Dave Oder, "so we went, kicking and screaming, with synthetic turf."
Now he likes the synthetic grass. They were so taken with the transformation, the couple took things a step further. They got rid of the silk plants on the inside of their home and replaced them with real cactuses.
They weren't the only Summerlin-area winners. George and Suzanne Levine's do-it-yourself efforts garnered a third-place award for the competition.
Suzanne Levine hails from Hawaii and got the green-thumb gene from her mother. Growing things in the desert, she said, just takes educating oneself on what can grow here.
"Some things actually grow better than in Hawaii because of the bugs and the humidity there," she said.
She and her husband took out about 1,000 square feet of water-hungry grass in their northwest home and replaced it with desert-tolerant plants and rock. They incorporated staggered elevations, included a socializing area and added potted plants to play off the color of the outdoor furniture.
Spring Valley resident Michael Williams bought a home with an all-grass lawn. He let it die, then set about transitioning it to a desert delight. He added elevation changes, stepping stones and plants native to the area. He said he likes to meditate in his yard.
"I have this palo verde tree," he said. "It has these little yellow blossoms in the spring, just hundreds of them. When the wind blows, it's like it's snowing, snowing blossoms."
The Schilling Horticulture Group had multiple wins. Owner/operator Norm Schilling has been designing landscapes for more than 20 years. He credited his staff and designer Cornia Van Gorkum for much of the winning work.
He said mixing color and texture in the plants one chooses makes for an interesting yard.
Schilling said one had to take into account "different viewpoints, including from inside the house."
The overall intent, of course, is to promote water-saving yards, especially important as the Southwest is still in a drought state.
"A stewardship ethic can't be effectively cultivated with numbers and statistics," said Doug Bennett, water authority conservation manager. "These awards take the issue of landscaping to a tangible, human level. When people who've done these projects talk passionately about the reasons and rewards, it motivates others."
When properly irrigated, water-efficient landscapes can use up to 75 percent less water than turf, the water authority reports. Since 1999, thousands of residents and businesses have upgraded to water-smart designs, converting more than 152 million square feet of lawns to water-efficient landscaping and collectively saving more than 50 billion gallons of water.
For more information about the awards, visit snwa.com or call 862-3400.
Contact Summerlin and Summerlin South View reporter Jan Hogan at jhogan@viewnews.com or 387-2949.