Woman develops water fitness program after surgeries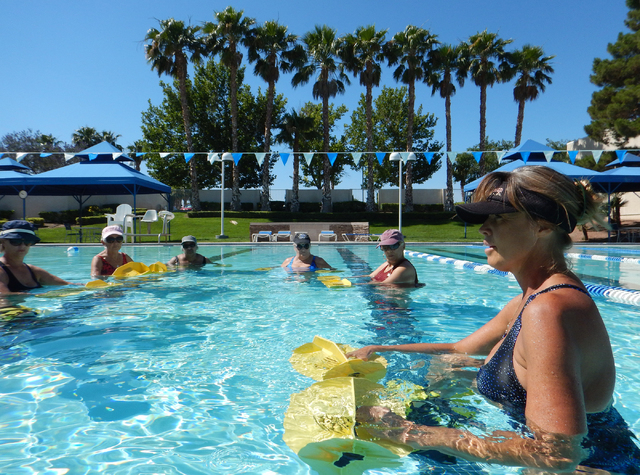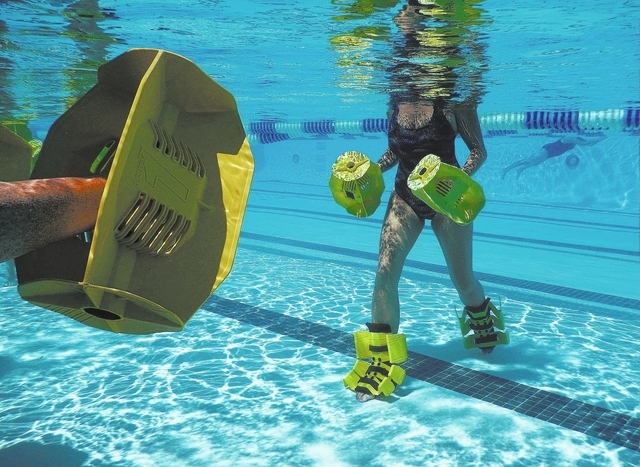 It's no coincidence that Lorelei Sprott was named for a mermaid. The 54-year-old southwest resident was born to be in the water.
"I grew up in Southern California around the water surfing and swimming," Sprott said. "Water has always been a very familiar thing to me. What's not to love about it?"
After a long stretch of illnesses and injuries, Sprott turned to the water for rehabilitation.
"The last doctor I saw told me that I was completely temporarily disabled pending neck and back surgery. That's what they felt would be the best route," Sprott said. "I decided to take a stab at rehabbing in the water, and the last two years have never felt better."
Determined to help others, she developed a program called Aqua-tone and teaches it at ClubSport Green Valley, 2100 Olympic Ave., and in private homes.
Using Hydro-Tone equipment, Aqua-tone combines kickboxing; Pilates; the Feldenkrais Method, which connects movement and thought; and the Alexander Technique, which focuses on releasing tension throughout the body.
"With the equipment, you look like a little transformer or a superhuman being," Sprott said. "The fins and crevices in the equipment change the currents of the water, and you can get up to nine times the resistance just by moving faster."
Henderson resident Bill Paxton started taking Sprott's classes three months ago and said he immediately felt the difference.
"I've had seven surgeries on my shoulder, hip, knee and ankle," Paxton said. "The water is good for my joints because of its low impact."
Kristine Edgley, who lives in Henderson, bought her own Hydro-Tone equipment for her personal pool after learning the moves from Sprott. She said she has lost about 35 pounds since January.
"It's so easy and fun," Edgley said. "(Sprott) is very supportive and even calls me up to see how I'm doing."
Growing up, Sprott devoted herself to fitness. She modeled for sports equipment companies and designers, worked with bodybuilders Jack LaLanne and Mike Sable and coached swimnastics.
But Sprott said she was disemboweled in 1997 while giving birth to her youngest son John in Arizona.
"My regular doctor was out riding horses when I went into labor, so (a different doctor) showed up. He put the cap on my son's head and basically yanked him out," Sprott said. "It's a miracle that my son had no spinal or head injuries. He had some optical problems and a few cuts on his scalp, but my body just ripped up like confetti."
Over the years, Sprott underwent 16 surgeries to repair the damage, including four medical slings to support her organs.
"My life at that point consisted of a lot of nurses, medications and an abdominal ace wrap bandage," Sprott said. "I had all these side effects from the medications, and I just hated the way I felt every single day."
Unhappy with her quality of life, Sprott turned to the only thing that felt natural: the water.
After her last surgery in 2011, Sprott moved to Las Vegas and began rehabilitating at the Desert Breeze Aquatic Facility, 8275 Spring Mountain Road, while her son attended swim practice.
In the last two years, Sprott has dropped three clothing sizes and leaned out her arms and legs "without starving (herself)."
Sprott credits her daughter Renee and sons Joe and John for motivating her to always do better.
"I had my pity party days where I begged God to just take me," Sprott said. "I lost my hair and my marriage. I was overweight, but I learned to suck up the bad days and really appreciate the good days. I'm going to be living until I'm 100, and I'm looking forward to it."
For more information, visit aqua-tone.com or call Sprott at 928-514-1421.
Contact Henderson and Green Valley View reporter Caitlyn Belcher at cbelcher@viewnews.com or 702-383-0403.