DVDS

  "Greenberg" (R): On the (very) short list of 2010's best movies (so far), this edgy comedy focuses on a post-breakdown, midlife New Yorker (Ben Stiller) who's house-sitting for his brother in Los Angeles — and trying to fathom his unfathomable life. Noah Baumbach ("The Squid and the Whale") writes and directs.
  Jennifer Aniston and Gerard Butler, meanwhile, headline "The Bounty Hunter" (PG-13), about an ex-cop who gets the chance to bring in, and get back at his ex-wife — a reporter chasing a murder cover-up, until everybody starts chasing them. In the culture-clash comedy "Our Family Wedding" (PG-13), feuding fathers (Carlos Mencia, Forest Whitaker) reluctantly come together when their children ("Ugly Betty's" America Ferrera and Bonanza High School graduate Lance Gross) become engaged. A gynecologist (Julianne Moore) who suspects her professor husband (Liam Neeson) of infidelity hires an escort ("Dear John's" Amanda Seyfried) to test him in "Chloe" (R). Rounding out today's recent releases: "Saint John of Las Vegas" (R), an offbeat comedy that opened last year's CineVegas film festival, about a reformed gambling addict (Steve Buscemi) turned Albuquerque insurance claims adjuster who returns to Sin City — and temptation.
  Moving on to movies that never played local theaters, the Sundance film festival hit "The Greatest" (R) stars Pierce Brosnan, Susan Sarandon and "An Education's" Carey Mulligan in a drama about a couple mourning their son's death in a car accident — and wondering what to do when his pregnant girlfriend shows up. Sarandon also stars with her real-life daughter, Eva Amurri, in the comedy "Middle of Nowhere" (R), while Toni Collette and Keisha Castle-Hughes star in the Australian coming-of-age comedy "Hey Hey It's Esther Blueburger" (PG-13). On the foreign front: the award-winning Italian mystery "Girl By the Lake" (not rated) and the dark Danish comedy "Terribly Happy" (not rated). And leading the week's documentaries: "8: The Mormon Proposition" (not rated), which examines the Mormon church's involvement in the promotion and passage of California's anti-gay marriage Proposition 8; plus "America the Beautiful" (not rated), about impossibly idealized contemporary standards of beauty.
  For movie buffs, Warner Home Video's eight-title "Film Noir Classic Collection, Vol. Five" (not rated) includes Dick Powell out for revenge in "Cornered" (1945) and Richard Kiley battling hometown corruption in "The Phenix City Story" (1955). "Mystery Science Theater 3000: XVIII" (not rated), meanwhile, presents the DVD debuts of some legendary cheesefests, notably the 1961 (atomic) bomb "The Beast of Yucca Flats." And for something completely different, the Criterion Collection salutes a Japanese master with "The Only Son/There Was a Father: Two Films by Yasujiro Ozu" (not rated). Tuning in to TV transfers, Jonathan Pryce stars in the British comedy "Selling Hitler" (not rated), inspired by the Hitler diary hoax, while "Sesame Street: 20 Years ... and Still Counting!" (not rated), originally broadcast in 1989, features interviews with series creators and guests including Ray Charles and Placido Domingo (alongside his Muppet counterpart, Placido Flamingo). Also debuting (all unrated): "Saving Grace: The Final Season," "White Collar: Season One," "The Lucy Show: The Official Second Season," "Psych: The Complete Fourth Season" and "Street Hawk: The Complete Series."

CDS

  Danger Mouse & Sparklehorse, "Danger Mouse & Sparklehorse Present 'Dark Night of the Soul' ": "Dark Night" is a reflection of even darker days: Two of the album's contributors, Sparklehorse (aka shadowy singer-songwriter Mark Linkous) and the similarly brooding Vic Chestnutt both committed suicide in the past year.
  And there's been plenty more tumult in getting this record out, as it was scheduled for release in the spring of 2009 but was held up because of a dispute between producer Danger Mouse and record label EMI.
  But now the album is finally seeing the light of day, and it's a compelling one, an equally broken and beatific collection of torch songs featuring such guest vocalists as Iggy Pop, Jason Lytle, Julian Casablancas, Black Francis, Nina Persson, Suzanne Vega and more.
  Despite its heavy overtones, this one is worth the weight.    
  Also in stores: Tracy Bonham, "Masts of Manhatta"; Crowded House, "Intriguer (CD/DVD)"; Great Big Sea, "Safe Upon the Shore"; HELLYEAH, "Stampede"; KoRn, "KoRn III: Remember Who You Are"; Jane Krakowski, "The Laziest Gal in the World"; Kula Shaker, "Pilgrim's Progress"; M.I.A., "/\/\/\Y/\"; New Politics, "New Politics"; The Ready Set, "I'm Alive, I'm Dreaming"; Sting, "Symphonicities"; Sun Kil Moon, "Admiral Fell Promises"; and Paul Wall, "Heart of a Champion."

BOOKS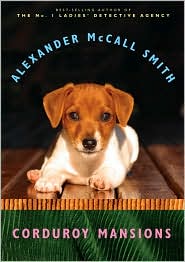 "Fly Away Home" by Jennifer Weiner: After the discovery of her senator husband's extramarital affair, a woman and her two adult daughters re-examine their lives and relationships with each other.
  Alexander McCall Smith begins a new series with "Corduroy Mansions," featuring a cast of quirky characters including a vegetarian terrier named Freddie de la Haye who can fasten his own seat belt.
  Also hitting shelves this week: "Captive Queen of Eleanor of Aquitaine" by Alison Weir; "Damaged (Maggie O'Dell Series No. 8)" by Alex Kava; "Faithful Place" by Tana French; "The Glass Rainbow (Dave Robicheaux Series No. 18)" by James Lee Burke; "Johannes Cabal the Detective" by Jonathan L. Howard; "Layover in Dubai" by Dan Fesperman; "Live to Tell" by Lisa Gardner; "Red Hook Road" by Ayelet Waldman; "Rules of Betrayal" by Christopher Reich; "Savages" by Don Winslow; "Talking to Girls about Duran Duran: One Young Man's Quest for True Love and a Cooler Haircut" by Rob Sheffield; "Tongues of Serpents of Temeraire" by Naomi Novik; and "The Whisperers (Charlie Parker Series No. 9)" by John Connolly.