2 Las Vegas Strip hotels upgraded to 5 stars by Forbes
Updated February 20, 2020 - 5:33 pm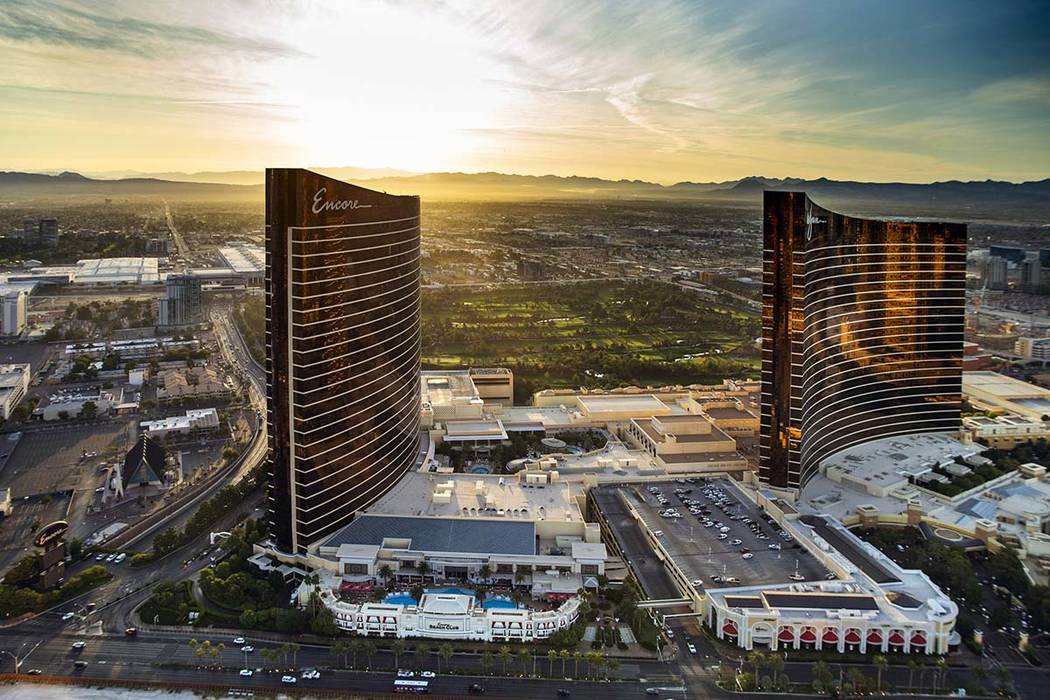 On Feb. 12, Forbes Travel Guide announced that two Las Vegas hotels — the Wynn Las Vegas and Encore — had been upgraded from a four-star rating to five stars.
This makes the two properties the largest and second-largest Forbes-rated five-star resorts in the world, according to a news release from Wynn Resorts Ltd.
Forbes now ranks Nevada fourth in the U.S. for the greatest number of five-star hotels, third for the number of five-star spas and third in the number of five-star restaurants. Experts say these ratings could be a boon to business and Las Vegas tourism as a whole.
"A lot of people just automatically go to those (review) sites, look at what that rating is," said Murray Mackenzie, an assistant professor in residence at UNLV's college of hospitality. "It's going to generate income for (the businesses), generate interest and make sure they have higher room occupancy, a higher amount of people coming to their restaurants."
Impact from ratings
Forbes Travel Guide, which started as the Mobil Travel Guide in 1958 and has inspected facilities in more than 70 countries, has awarded Las Vegas six five-star hotels, six five-star restaurants and four five-star spas.
The two five-star additions to the Forbes Travel Guide "really help propel (Las Vegas) to one of the strongest performing five-star cities and states in the USA," said Amanda Frasier, head of rating for Forbes Travel Guide. "Nevada as a state is so strong."
For the companies that are bestowed a five-star rating, Filip Boyen, CEO of Forbes Travel Guide, said it "means the world to them."
"Five-star hotels in their destination are the market leaders when it comes to average (room) rate and (revenue per available room)," he said. "Clients and travel trades recognize that a five-star Forbes hotel is without a doubt one of the best hotels in this destination."
One 2014 study from the Cornell University School of Hotel Administration found a 1 percent increase to a hotel's online reputation leads to a 0.99 percent increase in revenue per available room.
It "is clear that online reviews impact the performance of hotels and restaurants," said Ben Lawrence, an associate professor at Georgia State University who co-authored the Cornell report.
Lawrence said the word-of-mouth advertising from these ratings can convince consumers that the purchase is less risky by providing "credible and trustworthy information."
These top-notch rating can also save a company money on marketing since the review creates more credibility for the business, according to UNLV hospitality professor Mehmet Erdem .
"You don't have to prove yourself and depend on word-of-mouth," he said. "If a hotel is going through the burden of meeting five-star qualifications, it's assumed that it's a satisfactory guest experience. When guests are happy, they spend more money."
LVCVA spokeswoman Lori Nelson-Kraft said high ratings are able to not only elevate the profile of the property, but also Las Vegas as a whole.
"It's a badge of pride," she said. "It's good for all of Las Vegas to have resort products in those award winning categories. … Having reviews, having designations and awards is a big part of how visitors shop for their experience."
Where Las Vegas stands
Another popular review organization is AAA, which has been reviewing thousands of North American hotels and restaurants for its travel guide for more than 80 years.
The company gave five diamonds — its highest designation — to five Las Vegas restaurants and six Las Vegas hotels in 2020.
Shannon McCallum, the vice president of hotel operations for Aria, said accolades from organizations like Forbes and AAA validate the service the properties provide every day. The Aria and its Sky Suites both have AAA's five-diamond resignation.
"Both organizations have been around for decades as a trusted travel source and set the standards very high when it comes to earning the prestigious Five-Star Award or Five Diamond Rating," she said.
Sergio Avila, a spokesman for AAA Nevada, said a five-star rating is a "lofty goal" for most businesses. Only 0.2 percent of AAA-inspected restaurants and 0.4 percent of hotels are awarded five diamonds.
"Las Vegas has some of the best resorts in the world. Having that reputation really means that a lot of these properties try to go the extra mile for their guests," he said. "They have to keep up with their reputation."
Only one Nevada hotel, Skylofts at MGM Grand, was demoted to a four-diamond designation from a five-diamond designation in the AAA's latest report, which was released Wednesday.
Avila said AAA cannot disclose why a property would have gained or lost a diamond, but the company's website classifies five-diamond properties "world-class luxury" experiences with "amenities and indulgence for a once-in-a-lifetime experience," while four-diamond properties have "upscale style and amenities enhanced with the right touch of service."
Erdem said dropping from a four to five diamond rating "is not considered a devastating drop in service quality standards." He added that a drop from a five to three diamond designation would be a different story.
"Mainly, it means that the property is no longer enjoying the prestige of being among a very select few, but … still offers pretty impressive service and amenities," he said. "Such drops can be remedied after a period of time."
Contact Bailey Schulz at bschulz@reviewjournal.com or 702-383-0233. Follow @bailey_schulz on Twitter.
Forbes Travel Guide's five-star Nevada hotels:
— Aria Sky Suites
— Encore Tower Suites
— Wynn Tower Suites
— Wynn Las Vegas
— Encore
— Skylofts at MGM Grand
Forbes Travel Guide's five-star Nevada restaurants:
— Joël Robuchon
— Wing Lei
— Le Cirque Las Vegas
— Picasso
— Restaurant Guy Savoy
— Twist by Pierre Gagnaire
Forbes Travel Guide's five-star Nevada spas:
— The Spa at Wynn Las Vegas
— The Spa at Encore Las Vegas
— The Spa & Salon at Aria
— The Spa at Vdara