A large robot now serves up tea drinks on the Strip
Updated July 9, 2023 - 11:02 am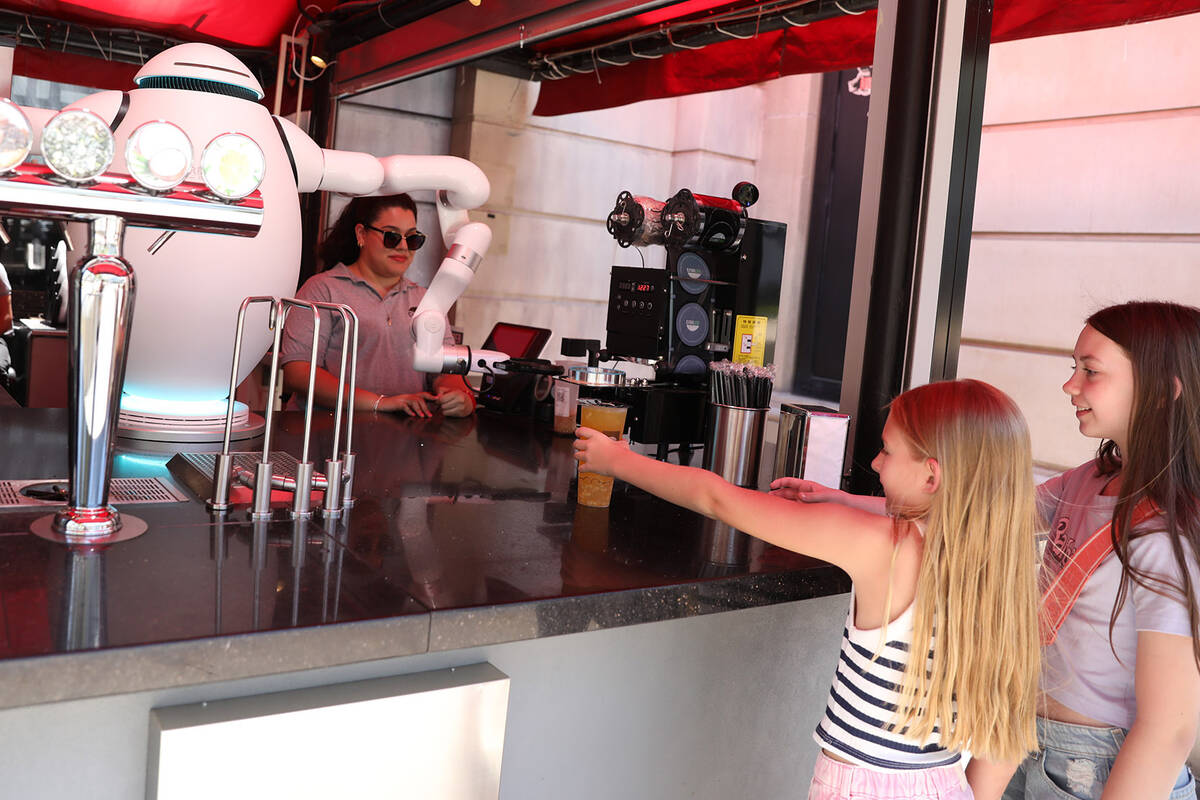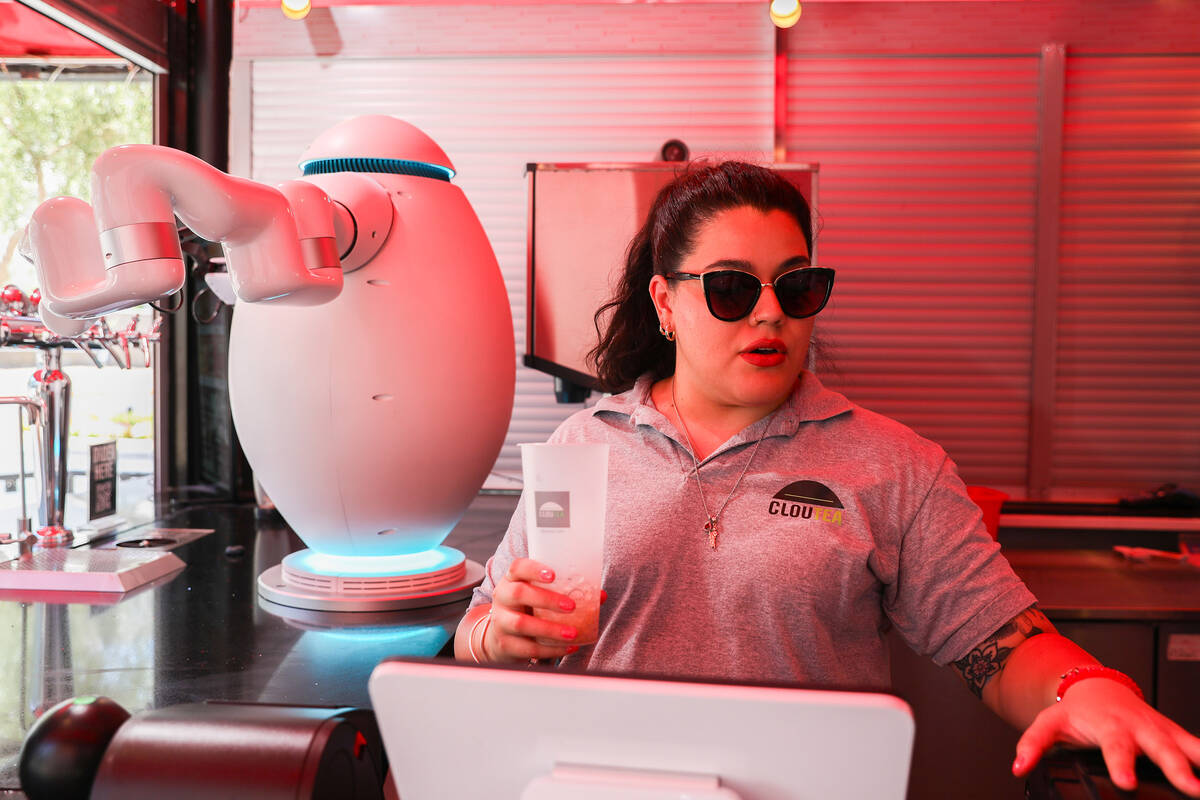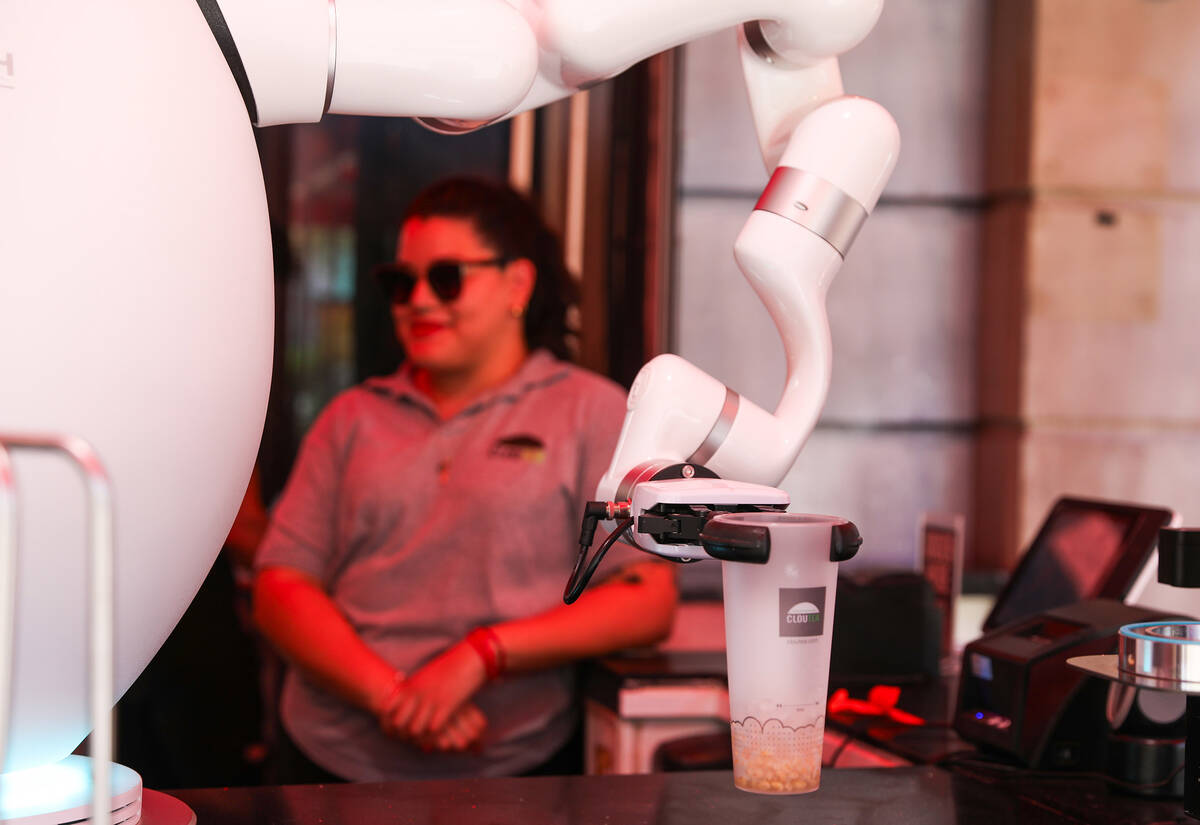 Amber Querubin has years of experience making boba tea drinks, but she isn't making so many anymore as a robot is serving up the beverages at her current job on the Strip.
Querubin leaves the actual making of the drinks to Adam — a large robot with two arms that has the capabilities to make different combinations of boba tea.
"When people come up, I just go, 'Here is Adam, the very first robotic boba barista, and here are our drinks, he makes everything here,'" said Querubin, who serves as the lead barista at Cloutea, a new boba tea shop. "It is actually still really fun to watch out and make all the drinks. It's reminding me of when I used to work at boba shops and made the drinks and I'm like, 'Aw, he's just learning.'"
Adam is the invention of Las Vegas-based Richtech Robotics, which makes robots for the restaurant and hospitality industry. The company has opened two Cloutea locations to test drive the Adam robot in real-world situations, Timothy Tanksley, marketing director for Richtech Robotics, said.
"We're always working within the hospitality industry, specifically the food industry, so to be able to have our own business that's in the beverage industry, we really get to kind of understand the ins and outs of the business," Tanksley said.
'Now I have to get one'
Currently, there are two Adam robots operating on the Strip, one in an outdoor booth near the replica Trevi Fountain and the other is just steps away inside a retail space in the Forum Shops at Caesars Palace. Cloutea has been in operation for a little over two months, Tanksley said.
Adam takes up about an 8-by-4-foot section of counter space and moves its arms to make different drinks. It can make seven signature boba drinks and customized orders, Tanksley said.
Kathy Ranka was visiting Las Vegas from Miami on Friday and is a fan of boba tea. She said she was drawn to the outdoor Cloutea booth because of the menu and Adam being front and center. She shared the Jasmine Mango Tango drink with her husband, Chris, and filmed the process on her phone.
"It was pretty cool seeing a robot make this, and it's delicious," Kathy Ranka said.
Querubin said having a robot front and center can make it easier to sell drinks.
"When people see the robot, they're like, 'Oh, my gosh, now I have to get one,'" she said.
With the Cloutea location being on the Strip, most customers are tourists, Tanksley said. But Richtech Robotics plans to open up Cloutea locations across Las Vegas while also adding coffee drinks to the menu.
"We really want to become the kind of store where people stop by every day on their way to work," Tanksley said.
Currently, Adam can be programmed to make boba tea and basic coffee drinks and to be a bartender. Although there are only two Adams operating on the Strip, Richtech Robotics has two other Adams working as baristas, at a Marriott hotel in Los Angeles and at Botbar Coffee in New York City.
Adam's growth plan
Richtech Robotics hopes to get about 100 Adams out in the public space over the next 12 months, Tanksley said. He said the company plans to achieve this by franchising its Cloutea stores across Las Vegas and the nation and directly selling the robots to restaurant, cafe and food truck owners. There is also an option for Adams to be rented.
Richtech Robotics has been working on bringing Adam to the market for the past two and a half years, Tanklsey said. The company also works on a suite of other robotic offerings for the restaurant and hotel industry that can help supplement areas where staffing may be low.
"It's not just contained to the beverage-making aspect of hospitality businesses," Tanksley said. "People are struggling to find janitorial staff, they're struggling to find servers, they're struggling to find hostesses. Our goal is really to address all of the needs of the hospitality industry's labor shortages, and not only help to stabilize their operations."
Tanksley said Richtech Robotics isn't looking to replace workers in the hospitality and restaurant industries but rather make work in those industries easier for humans. Other robots made by the company can deliver food trays in restaurants and certain items to hotel rooms and vacuum and clean floors.
Even with Adam being the barista who hands customers their drinks, humans are needed to prepare ingredients, clean the space and ensure Adam is functioning properly. Querubin said that it takes about two employees to work with Adam on a shift and that working with the robot can be less stressful than working at all-human boba tea shops.
"It's nice to have a couple of people here because you have one person ordering, another person putting the toppings in and then setting up Adam," Querubin said. "Then Adam just takes over everything, and it actually does get rid of a lot of stress."
Richtech Robotics is still working on new features for Adam, including adding a generative artificial intelligence component that would allow the robot to speak with customers, "so that Adam becomes a completely interactive robot, where you can talk to Adam about your problems, you can ask Adam what you should wear today and he will give you a good answer," Tanksley said.
Tanksley estimates it should take about six months to add this AI feature to Adam's capacity.
Contact Sean Hemmersmeier at shemmersmeier@reviewjournal.com or follow @seanhemmers34 on Twitter.