As holidays near, retailers and call centers ramp up seasonal hiring
October 18, 2018 - 5:36 pm
Updated October 18, 2018 - 5:37 pm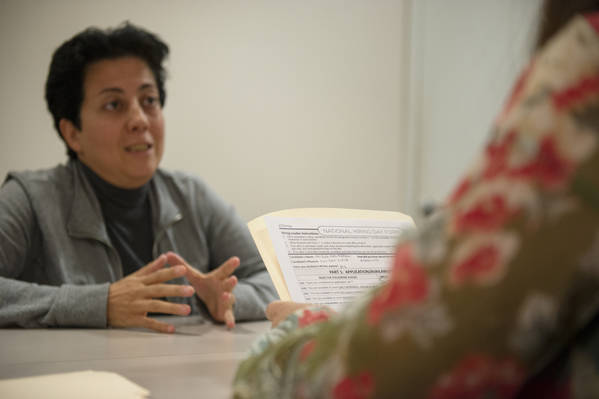 Fourteen years ago, Maria Williams sat on the other side of the interview table.
She started as a seasonal worker at J.C. Penney's Henderson location, training on a cash register replica and helping with the crowds.
This year marks the first time Williams, now an operations supervisor for the department store chain, gets to interview candidates and decide who to hire.
"This brings back memories," she said Tuesday during a six-hour job fair at the Henderson store.
Another year, another round of seasonal hiring for retailers and other businesses in the Las Vegas area.
With J.C. Penney, several national retailers and local call centers are looking for workers to help with the holiday rush. Experts forecast a slight uptick in holiday hiring this year, both locally and nationally.
Tight labor market
The Retail Association of Nevada predicts 7,000 workers will get hired between October and December. Those jobs include in-store work, logistics and warehousing.
That would represent a slight increase from last year, when the holiday season brought 6,400 more jobs to the state.
Nationwide, experts expect between 585,000 and 650,000 seasonal workers to be hired, according to the National Retail Federation. Last year, 582,500 seasonal workers found employment.
Record-low unemployment spurred retailers to start seasonal hiring campaigns earlier this year to break through the tight labor market, according to the retail association.
The state's unemployment rate was reported at 4.5 percent in September, while the national unemployment rate fell to 3.7 percent.
To attract workers, retailers have advertised employee discounts, competitive wages and other incentives. J.C. Penney hopes to woo 200 local workers for the holiday season this year through a 25 percent employee discount on items and a drawing for eight employees to win a $5,000 trip.
"This trend has been apparent in Nevada's retail industry, where average weekly wages climbed 7.7 percent year over year in August 2018," according to the RAN statement. "That growth rate outpaced the statewide average of 5.1 percent and was the second-highest annual increase since 2014."
Recession bust
In Nevada, hiring between September and December hovered around 10,000 jobs in the years before the Great Recession, according to a report by the state Department of Employment, Training &Rehabilitation.
Hiring bottomed out in 2008, with about 1,000 jobs cut that year. The number of seasonal jobs increased from there, reaching 11,500 jobs in 2014 but have since been declining.
Transportation and warehousing jobs saw the typical staff gains. But retail trade added half as many jobs, a sign of structural changes in the industry and the expansion of online shopping, according to the report.
"The big question is to what extent the structural changes noted previously will continue to impact seasonal retail hiring," according to the report.
J.C. Penney's 200 open jobs locally are part of 39,000 it hopes to hire nationwide. The numbers are down from last year because the store hired more people during the year, company spokesman Joey Thomas said.
Some other retailers hiring locally include:
— Gap, which also operates Banana Republic, Old Navy and Athleta, will hire 35 local workers and offer 50 percent off to employees at select stores.
— Target wants 1,300 local employees, starting them at $12 an hour. The employees will receive a 20 percent discount on select items.
— Online retail giant Amazon, which opened a distribution center in North Las Vegas in August 2017, wants 500 local employees. All employees would receive at least $15 an hour.
Call center bump
The local call center industry is also adding to its seasonal staff count.
Alorica will hire 415 people locally for the season, an increase over last year thanks to a newly opened second site.
Sitel said it wants 486 local employees for seasonal and full-time jobs. Last year, the company hired 259 seasonal workers, a spokeswoman said.
At Tuesday's job fair, Williams, the J.C. Penney supervisor, interviewed a high-schooler looking for her first job, a former Walmart customer service manager and a retired school janitor, among others. She said she wanted to see people with energy and interest in the job.
"We need a lot of help this time of year," she said.
Contact Wade Tyler Millward at 702-383-4602 or wmillward@reviewjournal.com. Follow @wademillward on Twitter.
Statewide hiring
The Retail Association of Nevada reported the following statewide hiring estimates:
— Kohl's: 940
— Gap: 680
— Macy's: 570
— Michael's: 140