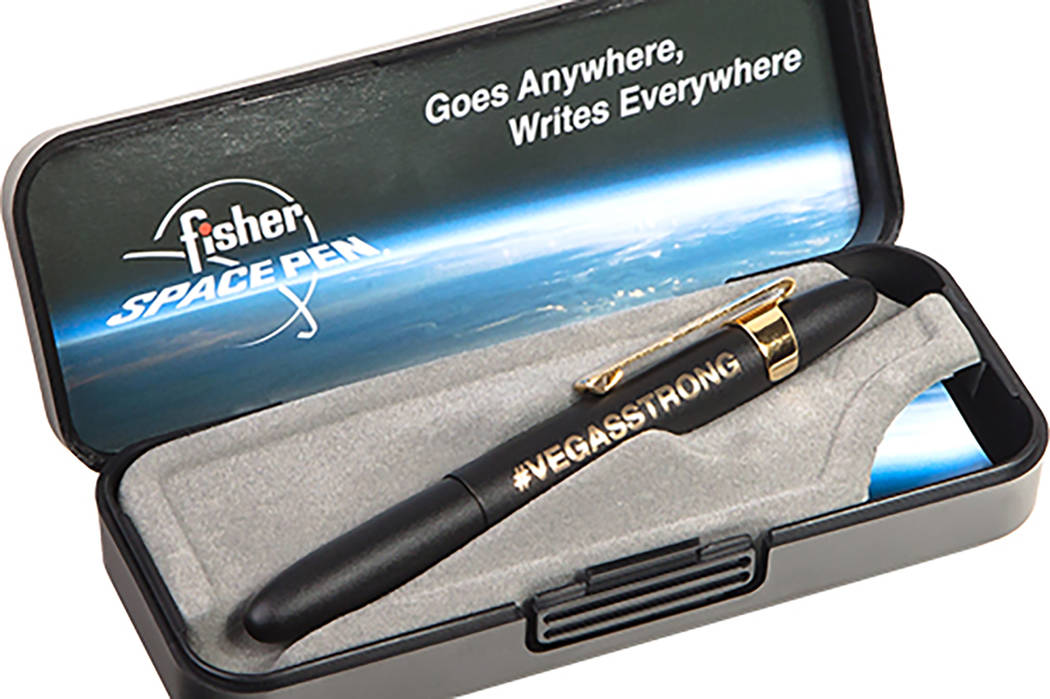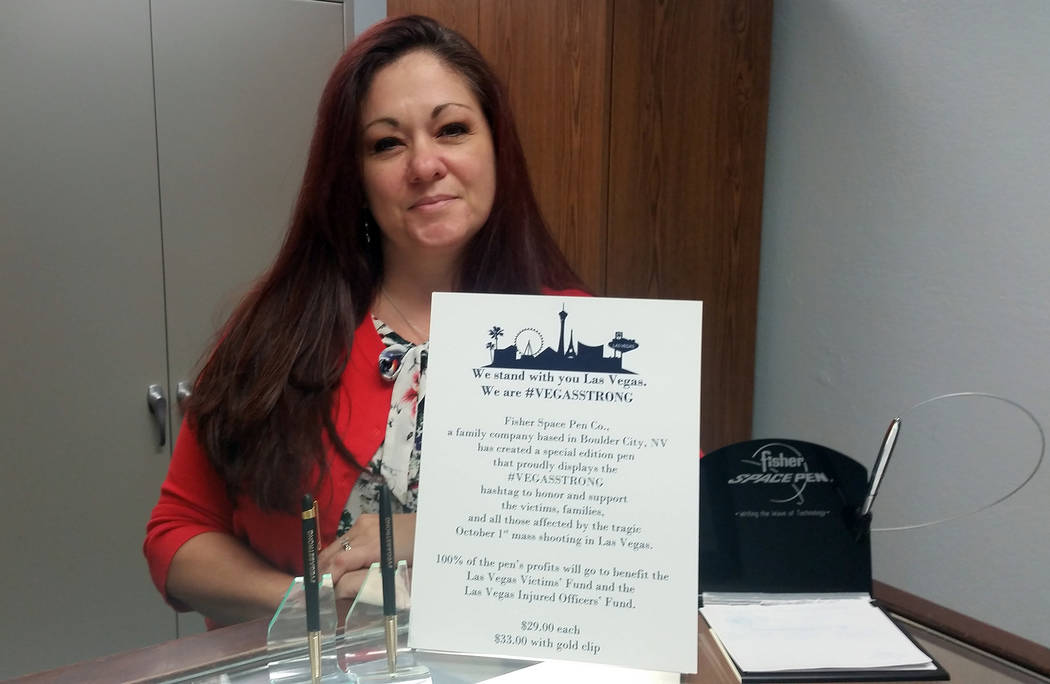 A Boulder City business has created a new way to give back to the community and to help those affected by the Oct. 1 shooting in Las Vegas.
Like many others in the Las Vegas and Boulder City communities, Fisher Space Pen and its employees were emotionally affected by the shooting at the Route 91 Harvest country music festival. Among those was the company's social media manager, Christi Olsen.
"It affected my community, and it tore me up," she said.
Olsen said two of her friends were at the festival, and the night of the shooting she was hysterical trying to find out if they were OK. Both of her friends were fine after being saved by two strangers.
After the shooting, Olsen wanted to help those who were affected by the tragedy.
"I work for a company that's local," she said. "We're a family. It's only right, as part of the community, to help those in need. The pain does not stop."
To figure out how to help, Olsen talked to Matt Fisher, vice president of marketing and sales at Fisher Space Pen.
"I urged Matt that we had to do something," she said. "We had to show them we care."
After talking with Fisher, she came up with the idea to have a gold and black VegasStrong space pen. The colors are also a tribute to the NHL's Vegas Golden Knights.
"Of course, we are all devastated by this crazy tragedy," Fisher said. "We wanted to support the community. … We figured this is best way to do that."
Fisher Space Pen has been in Boulder City since 1976. Its pens are designed to write in the harshest of conditions, including zero gravity, over grease, at any angle and underwater. In 1968, one of its pens was used on the Apollo 7 mission, and since then a space pen has flown on every manned space flight.
Olsen and Fisher came up with the idea of a VegasStrong pen on a Monday, and by Wednesday the pens were ready to sell.
Pens sell for $29, or $33 with a gold pen clip. All proceeds will be evenly divided between the injured police officers fund and the Las Vegas Victims Fund for as long as the pen is sold.
Fisher said there is not a specific goal set for the amount of money raised. Rather, the company will manufacture the pens as long as people are buying them. If any are left over, they will be donated to police officers.
"These guys are our first responders," Olsen said. "We have to support our first responders."
Olsen said she hopes people will buy one or several pens to help provide for the victims' hospital bills, grocery bills, travel expenses and other costs incurred from the shooting.
"There is still such a need where these people are concerned," she said.
Contact reporter Celia Shortt Goodyear at cgoodyear@bouldercityreview.com or 702-586-9401. Follow @csgoodyear on Twitter.