INSIDE GAMING: $5.5 million fine keeps CG alive
January 22, 2014 - 11:36 am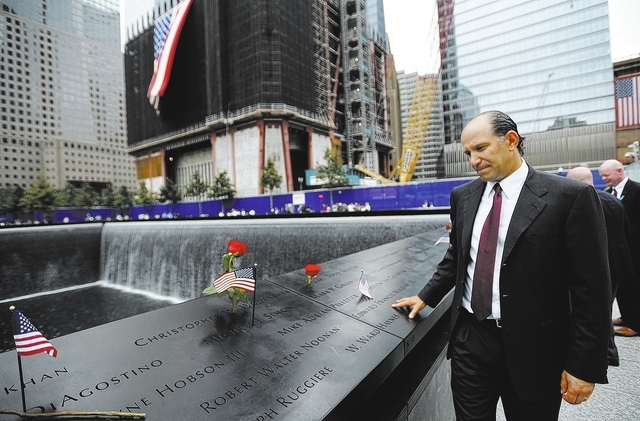 There is a reason officials from CG Technology (formerly Cantor Gaming) said they were "glad to have reached a resolution" with Nevada gaming regulators and will pay the largest fine ever leveled against a casino or affiliated company.
The Las Vegas-based bookmaker — a subsidiary of Wall Street financial giant Cantor Fitzgerald LP — faced a potential death sentence by the state Gaming Control Board.
That prospect gave CG/Cantor's leadership a "Sophie's Choice" quandary.
Instead of watching a decadelong, billion-dollar investment go down the drain, CG Technology CEO Lee Amaitis and Cantor Fitzgerald Chairman Howard Lutnick accepted the stipulated agreement to the 18-count complaint, which included the $5.5 million fine.
The deal amounted to a plea of "nolo contendere" on the four most egregious charges. Gaming regulators said CG/Cantor leadership should have known the company's top race and sports book official was also an agent for an illegal betting operation and had accepted almost $35 million in illegal wagers.
CG/Cantor admitted guilt to the other 14 counts.
The settlement requires approval from the Nevada Gaming Commission at a public hearing Thursday. The five commissioners may also exact their own pound of flesh from the company.
By the time a deal was hashed out more than a week ago, CG was humbled.
The company, coincidentally, changed its name from Cantor Gaming on the same day the control board handed down the complaint. It took a week for the settlement to be finalized as lawyers argued over language.
CG/Cantor Gaming reportedly still faces a federal investigation over potential illegal wagering activities, so the settlement with Nevada needed to be crafted in a way to avoid the all-out admittance of guilt.
More than a year ago, New York state and federal authorities uncovered the illegal betting ring run out of Cantor's Las Vegas sports book operations.
New York authorities charged Michael Colbert, the company's now-former risk management director and vice president, with seven felony counts ranging from enterprise corruption to money laundering for his role in recruiting and retaining bettors, collecting losses and paying out winnings. Most of the action was run out of the M Resort sports book.
At the time of his arrest, an outside public relations representative for Cantor tried to paint Colbert as a minor player within the company. But Colbert, who in August pleaded guilty in a New York federal court to a single charge of conspiracy, nearly brought down the entire company.
Colbert is finished in Nevada's legal sports wagering business.
CG/Cantor, which operates race and sports books at eight Las Vegas casinos and claims more than 30 percent of Nevada's sports wagering market, lived to see another day.
Future endeavors by the company, including its mobile wagering technology and a potential initial public offering, will be heavily scrutinized.
Some observers wondered how Amaitis survived with his job intact. He isn't the most popular person in the state's bookmaking industry and was dinged in the complaint for not better supervising Colbert.
He also at the center of two Cantor Gaming lawsuits.
Cantor sued former Cantor managing director Joe Asher four years after he left the company and created Brandywine Bookmaking, which he built into a network of 16 Nevada race and sports books in Nevada under the Lucky's label.
The lawsuit claims Asher stole trade secrets, but the action was filed only after London-based William Hill PLC bought Brandywine for $15.7 million in 2011 and named Asher as CEO for its U.S. operations.
In 2013, Cantor Gaming sued William Hill for stealing trade secrets and potential clients in buying Brandywine.
Amaitis' depositions could be a fun read, especially when the $5.5 million settlement comes up.
Asher in court papers said his final year at Cantor was marred by "vitriolic tirades" from Amaitis in a disagreement over regulatory matters. Court filings describe Amaitis' "history of being intolerable, hostile and abusive towards subordinates."
It's unclear whether Lutnick will attend the Gaming Commission settlement hearing. He became a national figure following the Sept. 11, 2001, terrorist attacks. Almost 700 of the firm's employees — including Lutnick's brother — died in the collapse of the north tower of the World Trade Center. He took care of the families of those who perished.
Amaitis was running Cantor's operations in London in 2001. Lutnick was at the forefront of rebuilding the company.
The casino industry is seeing the CG/Cantor complaint and settlement as a sign of a new direction by the Gaming Control Board under A.G. Burnett's the chairmanship.
Many wonder whether a bigger case might soon eclipse the $5.5 million fine.
The nightclub business continues to put casinos under an unwelcome spotlight. There were two high-profile Strip shootings last year, one at a nightclub at Bally's, the other with roots in a club at Aria. Four years ago, Planet Hollywood Resort paid a $750,000 fine because the resort was lax in policing illegal activity in the now-closed Privé nightclub.
In the past few months, the control board has settled complaints with Bally Technologies and Golden Gaming. But the fines were a pittance compared with what CG/Cantor will fork over.
In August, Las Vegas Sands Corp. paid U.S. officials $47.4 million to end a federal money-laundering investigation and avoid criminal charges over the casino play of a Chinese-Mexican businessman linked to international drug trafficking in 2006 and 2007.
Las Vegas Sands and Wynn Resorts Ltd. have been under investigation for the past two years by the U.S. Justice Department and the Securities and Exchange Commission for possible violations of the Foreign Corrupt Practices Act.
Time will tell how long CG/Cantor keeps the record for Nevada's largest gaming fine.
Howard Stutz's Inside Gaming column appears Sundays. He can be reached at hstutz@reviewjournal.com or 702-477-3871. Follow @howardstutz on Twitter.