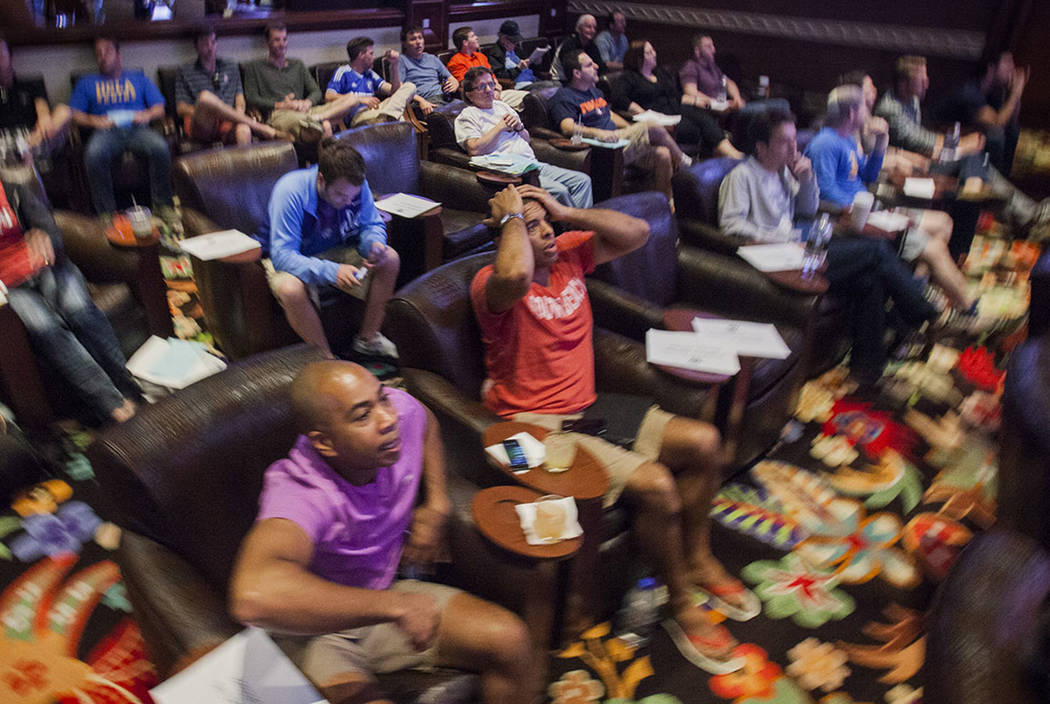 March Madness is upon us, another time of the year when people who almost never set foot inside a race and sports book become sports experts and serious gamblers.
It was only a month ago that twice-a-year bettors showed their expertise on Super Bowl Sunday.
But come this Sunday afternoon — now known as Selection Sunday — college basketball fans will be glued to their televisions to learn how a committee constructed the brackets for the 68-team NCAA Tournament that will last through April 3.
How significant is March Madness? It's big enough that both proponents and opponents of gambling point to it as an important symbol of their respective causes.
For those who support legalizing sports wagering nationwide, the tourney is viewed as an event with interested parties from beyond traditional sports fans, those who participate in office pools and bracket contests.
Think of all the people outside Nevada's borders who want to make bets on individual games, but won't because it's illegal. Some resort to betting at offshore online books. Others go to illegal neighborhood bookmakers.
While supporters of national legalized sports betting love March Madness, problem gambling experts view the tournament as a high-profile event for compulsive gamblers to fall off the wagon and place a bet.
The American Gaming Association, an advocate for nationwide sports wagering, estimates that the public will bet $9.2 billion on the NCAA Tournament through office pools, Nevada sports books, illicit offshore sites and illegal bookies. The association expects 70 million brackets to be filled out — more than the number of votes cast for Donald Trump, Hillary Clinton or any other candidate on the November ballot.
Problem gambling experts, meanwhile, say they receive four times more calls for help as a result of March Madness.
Arnie Wexler, a problem gambling expert who recently published the book "All Bets Are Off: Losers, Liars and Recovery from Gambling Addiction" and manages the 1-888-LASTBET (427-8238) toll-free help line, said college students start down the road to compulsive gambling by making their first bet on March Madness games.
"According to a Harvard study a few years ago, 4.67 percent of young people have a gambling problem," Wexler said. "Experts tell us that the earlier a person starts to gamble, the greater the risk of them becoming a compulsive gambler."
As for Las Vegas' tourism economy, March Madness is a colossal draw.
Thousands will be filling the city's race and sports books, especially Thursday, Friday, Saturday and Sunday when there are a full slate of televised games that will be on big screens in the books. Nearly three-quarters of the tournament's games will be played in those four days.
Las Vegas is home to four basketball conference tournaments in March, drawing thousands from across the West to our city.
It wouldn't be too hard to imagine the NCAA some day permitting Las Vegas arenas to host regional tournament games. And, of course, the biggie: When an NFL-worthy stadium is built, it would be a perfect venue for the Final Four.
For or against, March Madness means big things for our leading industry.
Contact Richard N. Velotta at rvelotta@reviewjournal.com or 702-477-3893. Follow @RickVelotta on Twitter.
MARCH MADNESS BY THE NUMBERS
Estimated total expected to be bet on March Madness games: $9.2 billion
Estimated total expected to be bet in Nevada: $262 million
Number of brackets expected to be filled out: 70 million
Number of votes cast for Barack Obama in 2008: 69 million