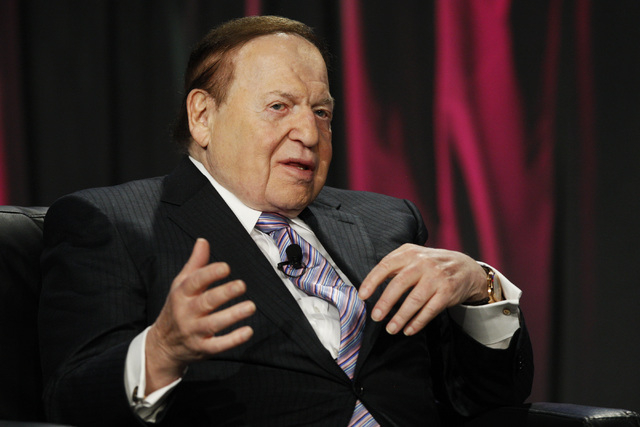 Since Secaucus, N.J., "no longer smells like pig farms," Sheldon Adelson wouldn't mind building a casino in the nearby Meadowlands sports complex.
The Las Vegas Sands Corp. chairman said the location in Northern New Jersey — across the Hudson River from New York City — would be "a very attractive place" for a hotel-casino.
Adelson's interest in New Jersey was part of his keynote discussion at the Global Gaming Expo last week, although the comments were overshadowed by his verbal beatdown against the legalization of Internet gaming.
But they weren't lost 3,000 miles away in New Jersey.
State and local leaders are dealing with a plummeting gaming business in Atlantic City.
Four Boardwalk casinos closed this year. A fifth, the Trump Taj Mahal, could shut down next month. Revel, which closed after Labor Day, is being bought by ownership of the Hard Rock Hotel in Las Vegas, and is expected to reopen. Meanwhile, Atlantic City gaming revenue has fallen more than 60 percent since 2006.
The idea of Adelson and Las Vegas Sands setting up shop in New Jersey might appeal to Gov. Chris Christie.
Last month, during a two-and-a-half-hour gaming summit in Atlantic City, Christie said a casino located in northern New Jersey was an option still in discussion.
Christie is potential 2016 GOP presidential candidate. Adelson spent $100 million to try to put a Republican in the White House in 2012 and is gearing up for the next race. So there is that possible connection.
A spokesman for Christie didn't return an email request for comment.
The Meadowlands already houses a racetrack and MetLife Stadium, home to the National Football League's New York Jets and New York Giants. The stadium also hosted the 2014 Super Bowl.
Adelson told the G2E audience he likes the idea of opening his company's business model — hotel, casino, convention and meeting space, retail, dining and other entertainment attractions — within a short drive of Manhattan.
When he was in the U.S. Army, Adelson was stationed at Governor's Island in New York City.
"I could smell Secaucus," Adelson said of the area's pig farms that have long since disappeared. "It used to rain the odor of pig farms on the Meadowlands. We don't have that anymore. So it would be a very attractive place."
Secaucus Mayor Michael Gonnelli told John Brennan of The Record in Bergen County that the city should be proud of its roots. Secaucus was the military's largest supplier of pork during World War II.
"I wish (Adelson) would come back and take a look at the town now," Gonnelli said.
Adelson said the Meadowlands could have drawbacks, such as competition from New York.
The state is adding four casinos in three counties, the closest being 50 miles from Manhattan. New York City could be next on the list, but it will be seven years before the issue is revisited.
New York also has five Indian casinos and nine racetracks with slot machines.
"It's a two-edged sword," Adelson said, adding that a Meadowlands casino "sucking up all the money" could be the catalyst for a New York City resort.
New Jersey has a ban on casinos anywhere but Atlantic City. A repeal on that stipulation is supported by northern New Jersey politicians and the state's horse racing industry. Atlantic City and southern New Jersey politicians have long fought the idea.
Adelson has kept Las Vegas Sands away from Atlantic City.
As a youngster, he worked for an uncle who ran a business at the Million Dollar Pier. Adelson would also visit Atlantic City when he was in the Army.
During his G2E talk, Adelson said he predicted Atlantic City's demise. He thought the market would eventually lose business to other states. Las Vegas Sands operates the Sands Bethlehem at the former Bethlehem Steel Mill in Lehigh Valley, Pa., which is less than 100 miles west of New York City.
"It was my conviction that someday the abutting states were going to legalize gaming and suck out all the business that Atlantic City was taking from adjacent states," Adelson said.
Atlantic City gaming revenue peaked at $5.2 billion in 2006. In 2013, casino revenue fell to $2.86 billion. It's expected to decline more this year.
Two years ago, Las Vegas Sands wanted to build a hotel-casino in downtown Miami if Florida had approved gaming expansion. The company stayed away from Boston because Adelson wasn't going to be allowed to build a property in the downtown region.
"I didn't think I could scale down my integrated resort plan," Adelson said. "What we build now are iconic buildings."
Las Vegas Sands is in the center of the gaming expansion debate in Japan.
As far as the United States goes, Adelson said Texas, South Florida and possibly Tampa, Fla., would be attractive for his company.
"Our model has to put us in a major city," Adelson said.
Preferably, one without a pig farm.
Howard Stutz's Inside Gaming column appears Wednesdays and Sundays. He can be reached at hstutz@reviewjournal.com or 702-477-3871. Follow @howardstutz on Twitter.