Will falling gas prices, rising consumer confidence help regional casinos?
January 31, 2015 - 8:34 pm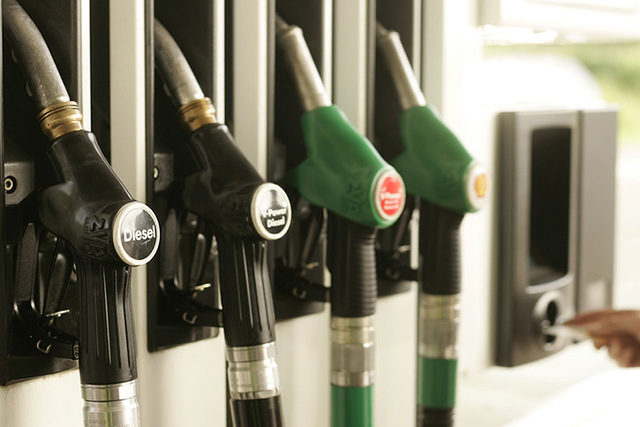 Falling gasoline prices and rising consumer confidence mean good news for regional casino operators.
Whether this translates into more dollars in casino drop boxes is still up for debate.
Two analysts say the regional gaming markets — primarily those in the South and Midwest — are poised for a rebound in 2015, which could help the bottom lines of Boyd Gaming Corp., Pinnacle Entertainment and Penn National Gaming.
"Several data points have developed which could point to the beginning of a recovery," Morgan Stanley gaming analyst Thomas Allen told investors last month.
Macquarie Securities gaming analyst Chad Beynon, who wrote in December that regional markets were poised for a comeback, reiterated that belief in January. A month earlier, combined regional gaming revenue jumped 5 percent.
"Solid data points continue to trickle in," Beynon said.
According to travel services organization AAA, gasoline prices have fallen to an average of $2 per gallon nationwide, a level unseen since March 2004. In 27 states, average gasoline prices are below the $2 per gallon mark.
Allen said regional casino operators have seen signs of improved consumer spending and encouraging sentiment among low-end customers.
Morgan Stanley's economic team, he said, predicts 2015 to be the best year since 2006 for the consumer, driven by improving liquidity, steady wage growth and rising home values.
Allen expressed some caution.
"Prior periods of improving trends have (proved) to be short-lived," Allen said. "There are also several headwinds that could continue to negatively impact the industry."
Regional gaming states have trailed the Strip in the recovery.
In Mississippi, gaming revenue fell 3.2 percent in 2014 and has decreased six of the past seven years. Ohio's four casinos saw gaming revenue decline 1.5 percent last year. Colorado casino revenue fell less than 1 percent in the past 12 months.
In Pennsylvania, total gaming revenue exceeded $3 billion for the fourth consecutive year, but the market suffered a 1.4 percent drop compared with 2013.
There were signs of hope.
In Louisiana, Tilman Fertitta's Landry's spent $700 million to open the Golden Nugget on Dec. 7 in Lake Charles.
Instead of decimating the competition, the property boosted the western Louisiana market, which draws much of its customer base from the Houston area.
Lake Charles increased gaming revenue 66 percent in December, according to the Louisiana Gaming Control Board.
Both Pinnacle's L'Auberge Lake Charles and the Isle of Capri Casino posted gaming revenue results in line with historical averages. The Golden Nugget exceeded the expectations Fertitta made public leading up to the opening, collecting $27.5 million from gamblers.
L'Auberge Lake Charles, which accounts for nearly a quarter of Las Vegas-based Pinnacle's annual revenue, posted $32.8 million in December, which was in line with the property's historical monthly average.
The initial results boosted Pinnacle's prospects in the eyes of some analysts and investors.
The company, which doubled in size in 2013 when it acquired Ameristar Casinos for $2.8 billion, is moving its 15 casinos in eight states into a real estate investment trust.
Most analysts place Pinnacle high on their recommended investment opportunities.
"Given the favorable early trends at L'Auberge post the Golden Nugget opening, we believe the early results will allow management to reinforce its view that (Lake Charles) has considerable depth to absorb the new capacity," Deutsche Bank gaming analyst Carlo Santarelli told investors.
Beynon also has a positive view of Pinnacle, which is dependent on regional markets. The company does not have a casino on the Strip and operates two small properties in Northern Nevada.
"We look to continued synergies and adoption of best practices from the Ameristar acquisition, the highest quality regional properties and healthy clientele to propel low-to-mid-single-digit cash flow growth in 2015," Beynon said.
Boyd Gaming operates nine casinos in the Las Vegas area and the Borgata in Atlantic City, but the company also has 12 casinos spread across six regional markets.
Boyd said its regional properties grew cash flow 4 percent in the third quarter, but it was still seeing "softness" in casual gaming activity.
Beynon said he improved his outlook for Boyd, based on the Borgata's market-leading position in Atlantic City. But the analyst sees the company growing results because of the "broadly improving" regional environment.
"For investors with a bullish economic outlook, we believe Boyd has the highest risk-versus-reward, given that a 1 percent increase in revenue results in $1 (of earnings per share) to the company's stock," Beynon said.
Boyd is also exploring dividing the company into a REIT, a move Santarelli does not favor. He would rather see the company sell under-performing properties and acquire better-producing regional casinos.
In 2011, Boyd spent $278 million on the IP Biloxi. A year later, the company spent $1.45 billion to acquire regional rival Peninsula Gaming, which operated five casinos in three states.
"We continue to believe a REIT structure is a long shot for Boyd and believe the company will instead focus on running the core business, deleveraging the balance sheet and pruning the portfolio," Santarelli said.
"We view Boyd as both a buyer and seller of assets and believe the company could be aggressive in 2015 on this front," he added.
Howard Stutz's Inside Gaming column appears Wednesdays and Sundays. He can be reached at hstutz@reviewjournal.com or 702-477-3871. Find him on Twitter: @howardstutz.