AGA pursues full interest deductibility in tax reform legislation
November 13, 2017 - 2:44 pm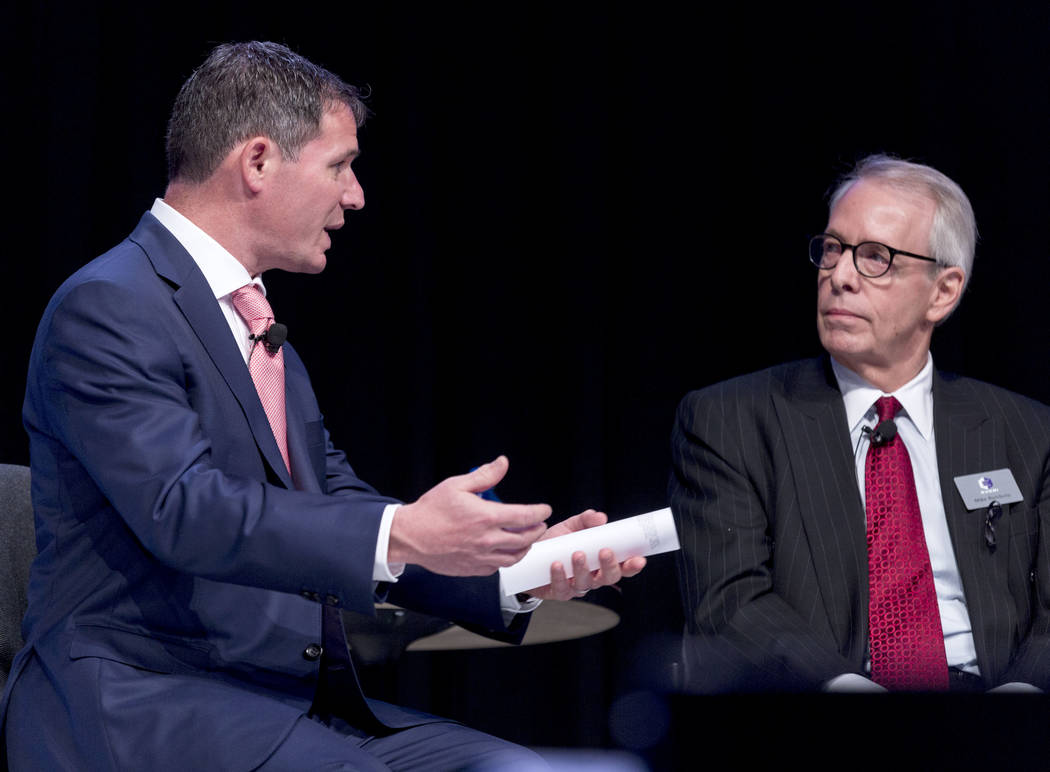 The American Gaming Association has joined a coalition of business-related organizations emphasizing the need to maintain full interest deductibility for growth investments in tax-reform legislation being debated in Senate and House committees.
The 14-member Businesses United for Interest and Loan Deductibility Coalition sent letters to Sen. Orrin Hatch, R-Utah, and Sen. Ron Wyden, D-Ore., respectively the chairman and ranking member of the Senate Finance Committee, asking them to preserve interest deductibility in tax reform legislation expected to be completed by Christmas.
The House version of the bill would limit those deductions.
"In addition to having a negative impact on economic growth, limits to interest deductibility amount to a harmful new tax on businesses that borrow to invest and grow," the coalition's letter says. "To avoid this new tax, the appropriate solution is to maintain full interest deductibility for all businesses across all sectors."
American Gaming Association President and CEO Geoff Freeman said his organization's presence on the coalition, which includes the Mortgage Bankers Association, the International Council of Shopping Centers and the American Investment Council, represents an important perception shift by recognizing the gaming industry as growth, development and jobs providers in their communities.
"This is the first time since 1986 that we've taken a serious look at tax reform," Freeman said of Congress. "The gaming industry is so vastly different than it was in 1986 in terms of our big-business nature and in terms of our omnipresence around the country. These issues will have a much more significant effect on us today than they would have in 1986 and it's good for the AGA to be able to work with other allies on this issue."
Freeman said congressional leaders are looking at numerous ways to pay for some planned tax cuts and full-interest deductibility is on the list of possible solutions.
"In the absence of finding other ways to pay for this, they're now looking at eliminating interest deductibility, which is something that unites the gaming industry with the real estate industry, with the private equity community and a host of others," Freeman said in a phone interview Monday. "I think it's significant that the gaming industry can work so collaboratively with these other very significant industries in our country and we're optimistic that we'll be able to make some headway here."
Freeman said he's hopeful that Sen. Dean Heller, R-Nev., a member of the committee, can be helpful by taking a leadership role on the industries' behalf.
Freeman also said the AGA is keeping an eye on changes that could affect the deductibility of gambling losses, a longtime feature of the federal tax code. Individuals who file returns are able to offset taxes on their gambling winnings with an accounting of their losses — a feature of the code that once was on the table for possible elimination but that the AGA lobbied to preserve.
Freeman said another aspect of taxation on gambling winnings is that an increase in the standard deduction on taxes could mean fewer people will itemize deductions to determine their taxable income which would mean fewer people could offset their losses. The AGA supports the planned increase in the standard deduction as long as the code maintains the ability to offset losses for those who itemize.
Contact Richard N. Velotta at rvelotta@reviewjournal.com or 702-477-3893. Follow @RickVelotta on Twitter.
Las Vegas stadium issue
American Gaming Association President and CEO Geoff Freeman said the AGA and the BUILD Coalition has not taken a stance on the proposal to remove tax-exempt status from bonds used to finance the construction of stadiums used by professional sports teams.
"It has been raised with me by folks in Las Vegas," he said. "Right now, we're talking with some of our allies in the association community and determining that. At this point in time, we don't have a position on it, but we're learning more about it and determining what, if anything, our position should be."
If approved as presented in the House version of the bill, bonds for the Las Vegas Stadium project would cost an additional $3 million a year without the tax-exempt status, according to the Las Vegas Stadium Authority.