First skill-based gambling games headed for New Jersey
October 13, 2016 - 3:13 pm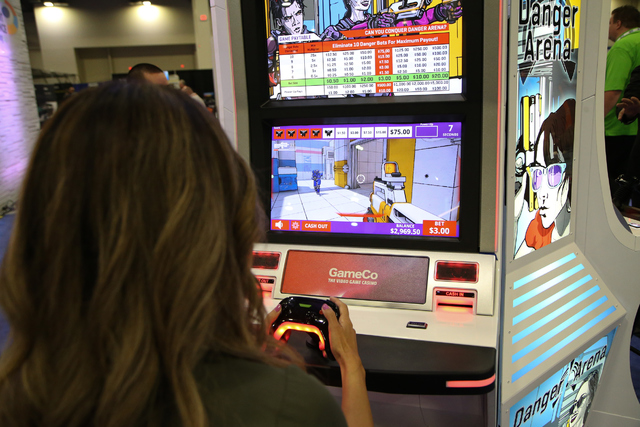 New Jersey gambling regulators are the first in the country to give the green light for the first skill-based video game machine.
However, Blaine Graboyes, CEO and co-founder of GameCo Inc., said he hopes to have the machines in Nevada casinos in early 2017.
"We're just finishing up our Nevada application," he said, adding he plans to submit it in November.
The Associated Press reported the New Jersey Division of Gaming Enforcement gave approval late Wednesday to GameCo Inc. to deploy machines at three Atlantic City casinos owned by Las Vegas-based Caesars Entertainment.
Roger Gros, publisher of Global Gaming Business magazine, said New Jersey has "bent over backward" to get the first of the skill-based games on the floor.
"Nevada is taking their usual time, while New Jersey has sped up," he said.
David Rebuck, director of the New Jersey Division of Gaming Enforcement, said in a statement, "We have been at the forefront of encouraging innovation and are pleased that the efforts of GameCo and Division staff have culminated in this skill-base video game becoming available in Atlantic City before any other jurisdiction in the United States."
It's an "anomaly" that New Jersey regulators beat Nevada, Gros said, adding that Rebuck committed to doing so after the state had a reputation of being the last to approve new technology.
"It's not a big deal that Nevada isn't getting on the bandwagon as quickly, but I'm sure they will next time," Gros said.
A.G. Burnett, chairman of the Nevada Gaming Control Board, said anomaly is right.
"We created the bandwagon, we actually started creating (regulations for hybrid and skill-based games) back in 2005 when we started loosening up a lot of requirements to add elements of skill," Burnett said. "If I recall correctly, New Jersey enacted temporary regs essentially mirroring what we've already done here in Nevada."
Nevada's regulations for skill-based games were published in September 2015.
The Nevada Gaming Commission in 2014 granted license approval to Gamblit Gaming as a distributor, manufacturer of gaming devices, manufacturer of interactive gaming systems and an interactive gaming service provider. Gamblit announced a deal to bring two skill-based games to Caesars properties in September.
"Gamblit has made a deal with Ceasears here in Nevada, and for other properties around the country, that does a similar thing (as GameCo)," Gros said. "The difference between GameCo and Gamblit, though, is that GameCo is a more traditional-looking slot machine."
The traditional aesthetic "is not so dramatically different that people are going to wonder what it is."
CEO Graboyes said two machines will be installed next week and 21 will be installed by early November across Ceasars, Harrah's and Bally's Atlantic City.
"Our first game is called Danger Arena. It's a first-person action game," he said. "You're fighting danger-bots, or robots, and the game lasts 45 seconds. If you take out six or more robots you're in the money, 10 robots for the highest payout."
GameCo has a patent on its math model and game design, which gives the same return to players as slot machines. Return-to-player ratios range between 89 and 92 percent, giving casinos a choice between an 8 to 11 percent hold.