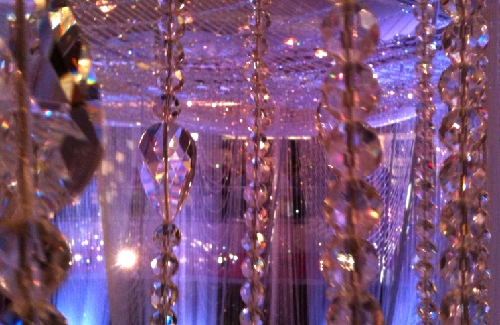 The Cosmopolitan of Las Vegas opened in December to generally rave reviews from critics, locals and tourists alike.
What stood out to most of them, however, were not the upscale restaurants and boutiques, one-of-a-kind bars or a swimming pool overlooking the Strip. It was a three-story chandelier within the casino that has become the hotel's main attraction.
The chandelier, which took about a year to complete, combines more than 2 million crystal beads and three bars within a 10,000-square-foot space. The 65-foot tall fixture is made up of large crystal curtains combining layers of string that work to create a semitransparent skin around the interior.
Interior designer and architect David Rockwell of the Rockwell Group conceived the original concept for the chandelier. Rockwell also completed The Cosmopolitan's interior design with the Las Vegas-based Friedmutter Group.
But to pull this project off, Rockwell and the resort's contractor, Perini Building Co., turned to Themeing Solutions Inc.
Themeing Solutions, a Henderson-based company of about 50 employees, occupies a 47,000-square-foot facility. The company is well known within the industry for the design and construction of unique architectural projects.
"The Rockwell Group presented this theme and developed some drawings, but needed help to make it work," Themeing Solutions Senior Vice President Jim Howard said. "We were already working on The Cosmopolitan as a design assistant to Perini, so we took their drawings and engineered them."
Christian Nelson, a manager with the Themeing Solutions, said it was the work on the drawings that led Perini and Rockwell to "hire us to work on the project." The original design called for a chandelier with 4 million crystal beads.
Nelson explained that after calculating the impact on the hotel's structure, changes were made to reduce the size and weight of the chandelier. The chandelier is anchored to a steel structure within the ceiling of The Cosmopolitan's casino.
"Computer drawings didn't accurately reflect how (the beads) would look, so we took every strand and hung it on a grid in our shop to determine how the beads would hang," he said. "We also did 3-D models of every strand of beads."
The octagon-shaped crystal beads were handmade in China, a company executive said.
"These beads were engineered not to wear out," said Joseph Vernola, president of Daina Construction & General Contracting, a Themeing Solutions division. "We also coated the cable running through the beads so it won't wear the beads out."
Vernola, also a co-owner of Themeing Solutions, said research and development to complete of the project took just more than a year. He declined to discuss the costs related to the chandelier's construction.
Peter Mensching and Vernola founded Themeing Solutions in 1999.
"Peter is third generation in stage and set design following his father and grandfather, who both worked on set construction on Broadway," Vernola said.
Before coming to Las Vegas in 1991, Mensching was vice president and general manager of Showtech in Connecticut. The company prefabricated and installed Siegfried and Roy's stage at The Mirage.
Mensching also built the pirate ships for Treasure Island. It was that project, Vernola said, that prompted his business partner to move to Las Vegas to avoid dealing with the logistics of transporting projects across the country.
Vernola, who moved to Las Vegas in 1990 from New York, met Mensching while he was building and installing stage projects for hotels.
"I just decided at the time to get into this niche aspect of the business," he said.
Those Connecticut ties helped Themeing Solutions survive the early days.
"A multimillion-dollar job was brought in from the Mohegan Sun," he said. "It's interesting that someone from Connecticut starts his own business in Las Vegas to cut down on shipping cross-country and his first project is for a casino back East."
The project for the Mohegan Sun Hotel and Casino was a canopy consisting of giant 10,000 pound indoor stylized steel trees with woven canopies using millions of colored glass beads.
Vernola said Themeing Solutions is truly a team effort, with his responsibility focused on construction, Mensching concentrating on design and Howard focusing on finishes and Themeing of projects.
"There are plenty of times Peter and I have called each other at 3 a.m. and said I've just figured this out," Vernola said. "It was a tremendous team effort to complete the chandelier for The Cosmopolitan. It was all of us collectively working together to finish that project."
Contact reporter Chris Sieroty at csieroty@reviewjournal.com or 702-477-3893.