Las Vegas tourism slips in wake of Oct. 1 shooting
November 30, 2017 - 8:08 am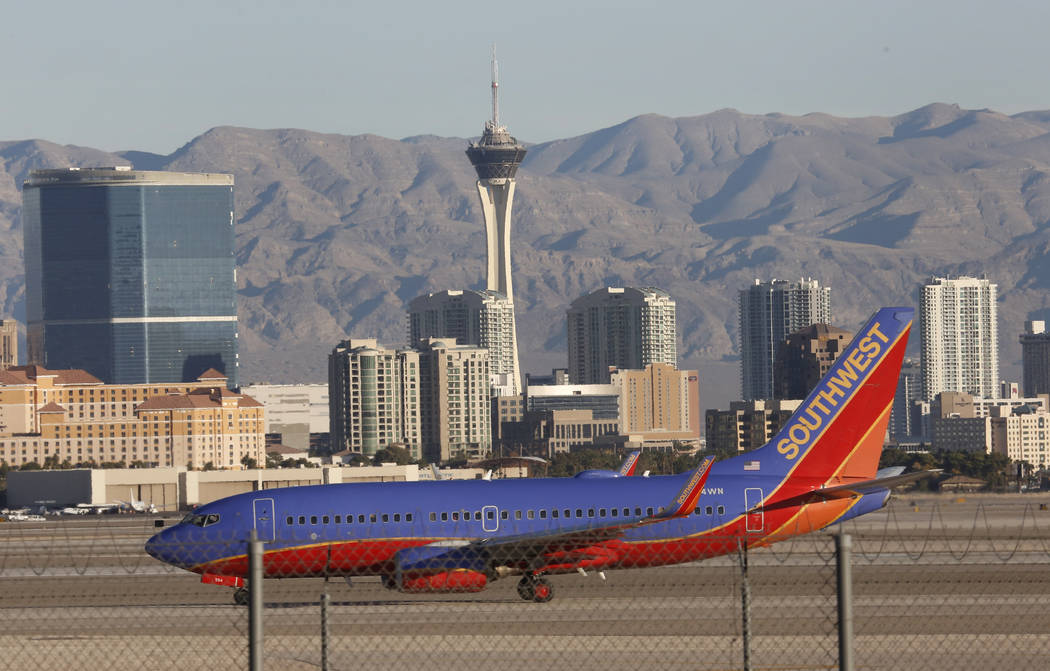 Visitation fell 4.2 percent to 3.6 million tourists in October, the Las Vegas Convention and Visitors Authority reported Thursday, the second steepest year-over-year drop of 2017.
The decline, resulting from cancellations and postponements of trips in the wake of the 1 October shooting, jeopardizes the LVCVA's bid to best 2016's record visitation year of 42.9 million. With 10 months in the books, visitation is off 1.4 percent to 35.7 million people.
It is the first direct statistical data to reflect the direct financial impact of the 1 October shooting on Southern Nevada's economy. McCarran International Airport earlier reported record passenger numbers in October.
Tourism numbers fell despite the third-best month of 2017 for convention attendance. The LVCVA reported 687,209 convention attendees in October, a 35.9 percent increase over a year ago.
Most of the increase resulted from this year's Global Gaming Expo shifting from September to October (26,000 people) and this year's appearance of the National Business Aviation Association's 25,600 attendees, 6,100 for the Emergency Medical Services Association and 6,000 for MetalCon International.
While citywide occupancy was down 2.7 percentage points to 90 percent, the average daily room rate trended upward 0.4 percent to $139.62 with Strip rates up 1.3 percent to $152.24, the third-highest this year.
The November drop was second only to the 5.5 percent decline in February, which fell primarily as a result of there being one fewer day in the month than in February 2016, a Leap Year.
Gaming win holds its own
Gaming win in Las Vegas held its own in October as increases across Clark County offset a 6 percent downturn in revenue on the Strip, the state Gaming Control Board reported Thursday.
John Decree, a gaming analyst with Las Vegas-based Union Gaming, said expectations about October's gross gaming revenue varied widely.
"While the airport traffic numbers released last week (a 1.5 percent increase for the month) alleviated some concerns about the worst-case scenario, many had feared gross gaming revenue could be down double digits in October in the face of a difficult comparison (up 14 percent in October 2016) and the Oct. 1 tragedy," Decree said in a report to investors. "However, a 6.1 percent decline in revenue on the Strip for October is a relatively resilient outcome in our view."
MGM Resorts International warned its investors in early November about a potential downturn in business for the quarter and in their earnings call, Caesars Entertainment executives said they had detected a drop in high-end play from Asian customers after the shooting.
While Strip win fell 6 percent from October 2016 to $528.7 million, other Clark County locations were strong, leaving a decline of 0.3 percent to $854.3 million. Downtown Las Vegas was up 10 percent to $63.6 million, North Las Vegas climbed 11.6 percent to $27.1 million and the Boulder Strip soared 17.1 percent to $78.7 million.
Statewide, win was flat at 0.3 percent to $988.7 million for the month.
Tough comparison with 2016
Michael Lawton, the Control Board Tax and License Division's senior analyst, said October Strip gaming numbers already were up against a tough comparison from the previous year because the calendar had one fewer weekend date.
"We aren't surprised the Strip was down 6.1 percent," Lawton said. "The decrease on the Strip was driven by decreases in both slot volume, down 3.8 percent, and game and table volume, down 6.5 percent. Still, overall the trend line remains intact as the Strip is up 2.6 percent for the calendar year to date with much softer comparisons ahead for November and December."
Downtown Las Vegas casino executive Derek Stevens predicted a strong October for downtown after a lukewarm September that he attributed to the timing of the revenue count.
The more revealing three-month win total that evens out the volatility of the timing of reporting showed Strip win up 5.6 percent, downtown up 7.7 percent and Clark County up 5.7 percent. Statewide, win was up 5.8 percent over three months to $2.96 billion won.
Contact Richard N. Velotta at rvelotta@reviewjournal.com or 702-477-3893. Follow @RickVelotta on Twitter.
October tourism indicators
October 2017 October 2016 Change
Visitor volume 3.604 million 3.762 million -4.2%
Citywide occupancy 90% 92.7% -2.7 points
Average daily
room rate $139.62 $139.06 +0.4%
Room nights occupied 4.091 million 4.262 million -4%
Convention attendance 687,209 505,603 +35.9%
Air passengers 4.339 million* 4.277 million +1.5%
Average daily highway
auto traffic 112,350 112,118 +0.2%
Clark County
gaming revenue $854.3 million $856.9 million -0.3%
*Highest level of 2017