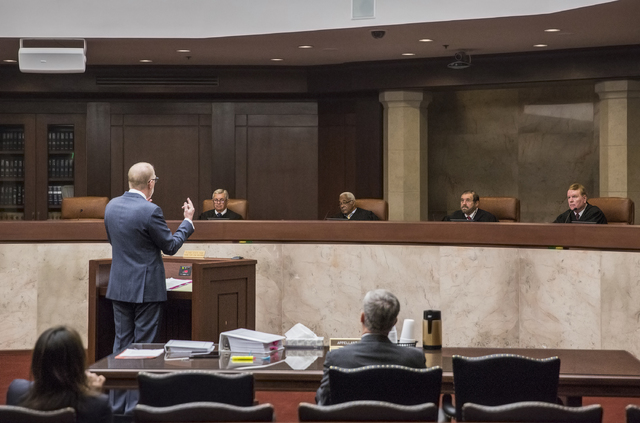 CARSON CITY — An attorney for Wynn Resorts Ltd. asked the Nevada Supreme Court on Monday to overturn two district court orders compelling the gaming company to turn over documents to Japanese billionaire Kazuo Okada in a long-running legal dispute over his ouster as a majority shareholder.
The information was used by the Wynn board of directors in February 2012 to determine that Okada and his related companies were unsuitable parties that could jeopardize Wynn Resorts gaming licenses.
The board voted to redeem all of the outstanding shares of Wynn Resorts stock held by Okada in exchange for a promissory note with a principal value of approximately $1.9 billion.
In the two combined cases heard in oral arguments in the capital, Wynn's attorney said that Clark County District Judge Elizabeth Gonzalez erred when she required that some information used by the board in its decision be turned over to Okada, Aruze USA Inc. and its parent corporation, Universal Entertainment Corp., known as the Okada Parties.
One order requires Wynn to turn over work product that led to a document called the Freeh report that contributed to the board's decision. The other order requires communications between the legal firm of Brownstein Hyatt and the Wynn shareholders to be turned over to Okada.
Attorney Todd Bice, representing Wynn, said Okada had made comments suggesting that "greasing the skids" with government regulators in Asia was an acceptable way of doing business.
The Freeh report was produced by Louis Freeh, a former federal judge and director of the Federal Bureau of Investigation. It found that Okada and his associates had "engaged in a longstanding practice of making payments and gifts to his two chief gaming regulators at the Philippines Amusement and Gaming Corporation" in substantial amounts.
Bice said Gonzalez's ruling goes against Nevada's "business judgment rule" that says directors are presumed to act in good faith.
In the appeal, Wynn Resorts argues that if the district court's ruling stands, "Nevada will be isolated on a corporate law island as the least attractive place for corporate governance."
Bice said it does not matter if the information provided to the board is right or wrong. The business rule does not let Okada "get behind" the decision, he said. The district court ruling undermines this rule, Bice said.
Okada attorney Steve Morris said Gonzalez's order is limited and does not create a wholesale waiver of Nevada's business judgment rule. The petitions are talking about voluntary waivers of attorney client privilege and work product privilege, he said.
"Wynn Resorts has spent an inordinate amount of time trying to present to you a dispute that does not exist," Morris said. "We have here only a simple discovery case."
But Bice said the orders, if upheld, are "sweeping."
The two gaming developers have hired big guns in their ongoing legal battle over Okada's investment in the global Wynn empire, which is pending in Clark County District Court.
In 2013, former Homeland Security chief Michael Chertoff said in a 45-page report prepared for Okada that the Freeh report was "structurally deficient, one-sided, and seemingly advocacy driven."
The court took the two cases under submission and will rule later.
Contact Sean Whaley at swhaley@reviewjournal.com or 775-461-3820. Follow @seanw801 on Twitter.
RELATED
Okada claims against Wynn Resorts ruled baseless
Judge rules Wynn properly redeemed Okada shares
Judge dismisses motions in ongoing Wynn legal battle
Wynn: Okada's denial is an admission of wrongdoing
Wynn exercises forced buyout of board member Okada