CenturyLink expands to 1 gigabit Internet speeds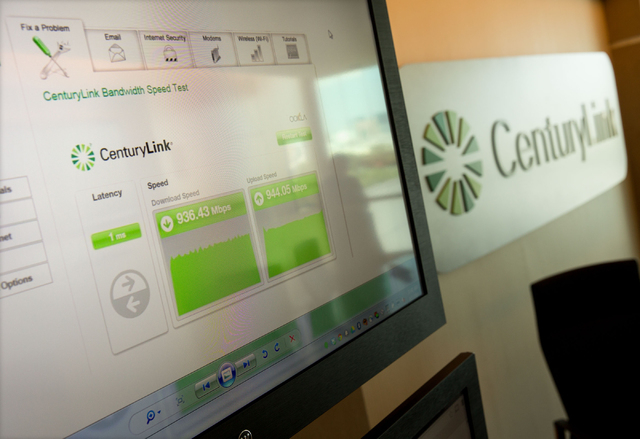 CenturyLink announced that it has expanded its 1 gigabit Internet speeds to residential customers and businesses throughout Las Vegas.
"The massive scale of our 1 gigabit fiber network expansion for both residential communities and local businesses now provides game changing network access and broadband speeds in the Las Vegas area," CenturyLink Vice President and Las Vegas General Manager Jeff Oberschelp said in a statement.
CenturyLink's 1 gigabit service, which launched last fall, is up to 100 times faster, boasting 1,000 megabits per second, as compared with national average broadband speeds of 10 Mbps or less.
According to CenturyLink Market Development Manager Jason Chan, the company decided to upgrade Internet speeds all at once instead of a little at a time.
"Vegas has a need for speed," he said. "We took 10 Mbps and went straight to 1,000."
CenturyLink, which offers Las Vegas-based residential customers broadband speeds up to 40 Mbps and 100 Mbps, now offer the option to buy 1 gigabit service for a monthly recurring charge of $79.95 with a 12-month term commitment when bundled with additional CenturyLink services such as television and telephone.
"It comes down to a need for speed, and we need a faster connection," Chan said. "There are now multiple devices in one household, and we wanted to add these speeds so everyone can enjoy it."
Chan added that 1 gigabit speeds are capable of streaming up to 333 television shows or movies on Netflix at once.
"I don't believe that Internet is a luxury, everyone should be able to be connected," he said. "We want to share connectivity across the valley."
CenturyLink's expansion includes spreading faster Internet speeds to all Las Vegas businesses located in multi-tenant unit office buildings.
"We've previously reserved gigabit speeds for bigger businesses and now we're able to share this and make it more available," Chan said.
"CenturyLink is advancing economic development in a big way with this Business Fiber network," said Tom Skancke, CEO and president of the Las Vegas Global Economic Alliance, in a statement. "This infrastructure gives the Las Vegas Valley a competitive advantage in our economic diversification efforts, and it shows this community is serious about growing its technology sector. Put simply, this infrastructure makes Southern Nevada more globally competitive, and that's good for everybody who calls the Las Vegas Valley home."
Cox Communications announced in late May that it would be offering 1 gigabit Internet speeds to its residential customers in Las Vegas by the end of 2016 and as early as December for residents moving into the 326-unit Dream apartment homes on Wigwam Parkway in Henderson.
Contact reporter Ann Friedman at afriedman@reviewjournal.com or 702-380-4588. Follow @AnnFriedmanRJ on Twitter.