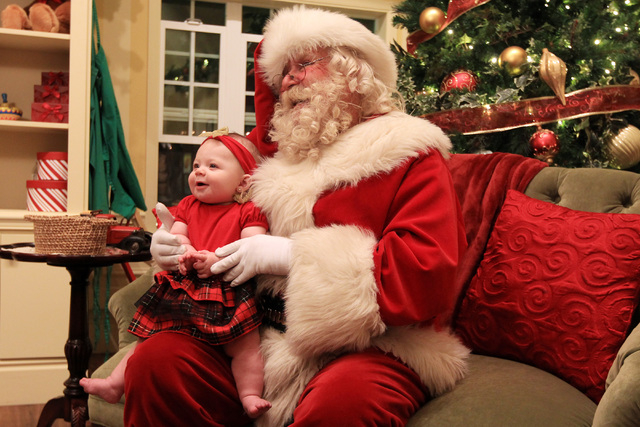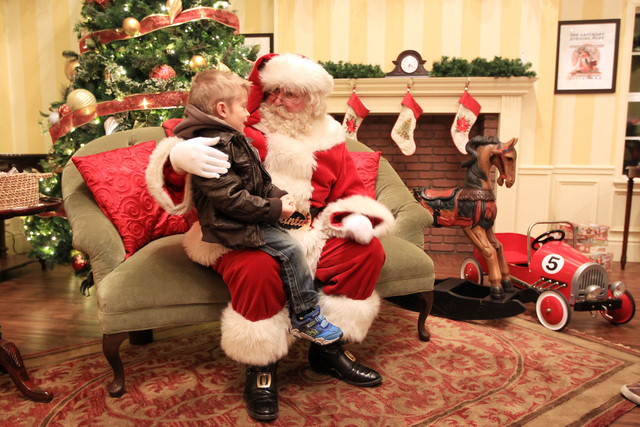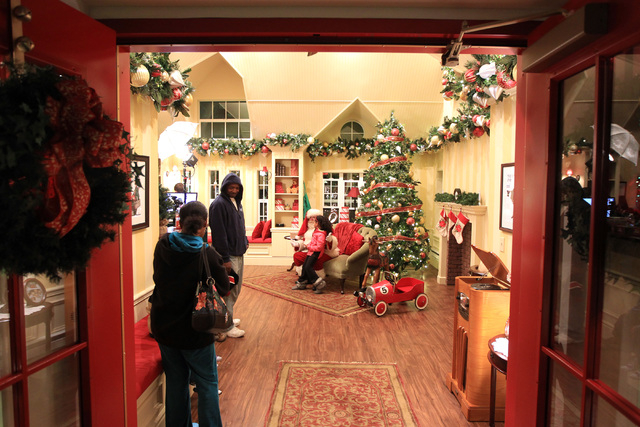 Christmas shopping season at Town Square Las Vegas came to a less-than-festive end in 2013: Santa Claus' house and tree burned down in an electrical fire.
Neither reindeer nor elves nor Santa were hurt.
But this year, Saint Nick is already back in the business with a home and a fresh tannenbaum.
"Everything is brand-new," Town Square marketing director Jaimesen Mapes said. "There is no faulty wiring."
But new digs aren't all there is to notice this season. Kris Kringle got back in the wish list business a full 41 days before Christmas, on Nov. 14.
"We've always done that Friday," Mapes said of the second Friday in November. "It's kind of a tradition."
And Town Square is not the only valley retail destination hanging its tinsel and lights earlier, with care.
The Galleria at Sunset in Henderson began its "Light up the Night" event promptly on Nov. 8. The same day, Meadows mall started offering photos with Santa. Fashion Show mall held out till Nov. 14 to open the "Adventure to Santa" experience.
The holiday season front-loading is happening earlier nationwide, observers say. Putting Santa and his elves to work before December increases chances of cashing in on Americans' holiday spending. What used to be a post-Thanksgiving celebration has now become a two-month season for retailers.
"Malls and retailers use atmospherics to promote shopping. Garlands, music, Santa Claus are ways to inspire and energize shoppers," said Deborah Fowler, who directs Texas Tech University's retail management program.
Apparently it works.
Americans will spend an average of $720 on Christmas shopping this year, according to Gallup projections. While 9 percent of Americans won't buy any gifts this season.
Using emotional connections to the sounds and sights of the season for longer can help businesses with their bottom lines, said Roger Beahm, executive director at the Center for Retail Innovation at Wake Forest University School of Business.
"A prolonged season allows for retailers to offer deep discounts to do more volume," Beahm said. "Some merchants have slashed ticket prices so much that they have shaved the already-thin total dollar margins. The only way for those retailers to make it up is by doing more volume sales."
The 2014 calendar gives stores a slightly smaller window of opportunity.
"Thanksgiving is a week later than normal this year," Fowler said, "which means retailers need to make their sales goals in a shorter period of time."
Town Square and others have goals.
In 2013, Mapes said, more than 10,000 people visited Santa at Town Square. With the return of a 45-foot Christmas tree, Santa's Norman Rockwell-inspired house and new features such as an interactive light show and same-day reservations with Father Christmas available via text message, the outdoor mall south of the Strip expects at least that many visitors this year.
Contact reporter Kimberly De La Cruz at 702-383-0381 or kdelacruz@reviewjournal.com. Find her on Twitter: @KimberlyinLV.