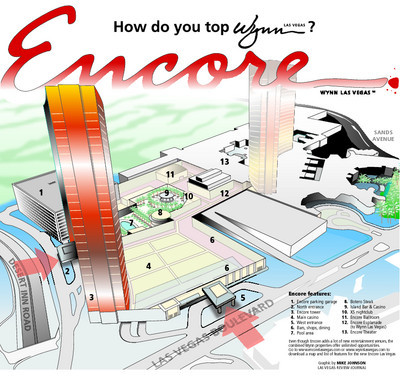 Ask Steve Wynn why he believes the $2.3 billion Encore is the prettiest resort he has ever built and the answer will arrive about half an hour later.
Wynn needs to recite a history lesson of his development projects, from The Mirage to Treasure Island to Bellagio to Wynn Las Vegas, before he lands on Encore, which opens Monday at 8 p.m.
He's somewhat apologetic.
"I think that way," said Wynn, 66, the chairman and chief executive officer of Wynn Resorts Ltd., which is opening its second Strip hotel-casino in 42 months. "I go from a big idea to a specific application. That's my discipline. I don't know how to answer a question or solve a problem except that way."
It's the process he used to come up with exactly what Encore would entail. The 2,034-room resort is being marketed as the newest offering in the Wynn collection. The rooms are all suites, the smallest starting at 700 square feet. The casino is 72,000 square feet while Encore has five restaurants, 11 retail outlets, a nightclub and a luxury spa.
"In this business, there was nothing left for us to do except to do the basics better," Wynn said. "That's what we set out to accomplish with Encore."
These days, Wynn, one of the most important figures in the development of the Strip over the past 20 years, seems more at home in the world of architecture and design. He'd rather talk structure and aesthetics than cash flows and earnings per share.
Noted designer David Rockwell accompanied Wynn on a 45-minute walk through the public area of Encore about two weeks before its opening. Rockwell, whose New York City firm is part of the collection of eight world-renowned architects working on MGM Mirage's $9.1 billion CityCenter development, came away impressed.
"Beautiful. Simply stunning," said Rockwell, whose credits include the Elinor Bunin Film Center at Lincoln Center in New York and the Kodak Theatre in Hollywood.
David Schwartz, director of the Center for Gaming Research at the University of Nevada, Las Vegas, said the opening of a new Strip resort can be an industry-shaping event in Las Vegas. Wynn openings, however, rise to a different level.
"He's been doing it more and doing it better than anyone else in the market," Schwartz said.
Wynn said completing Encore has been his focus much of this year. Last month, a television commercial showing Wynn sitting atop the Encore tower began airing nationally.
Across the Strip from Encore, Wynn Resorts construction crews dismantled the marquee from the since-demolished New Frontier. Wynn asked the owners of the property if the sign could be removed and he reportedly paid for half of the cost. Wynn is also providing landscaping for the empty lot.
The stakes for Encore were raised, Wynn said, because of his opening of the 2,700-room, $2.7 billion Wynn Las Vegas in April 2005. That is why he looked to the past in designing Encore.
Wynn Las Vegas was a resort completely different from anything Wynn had ever developed. Instead of mirroring his previous Strip resorts, which displayed a volcano, pirate ship battle and spectacular water fountain for the audience along the Strip, Wynn Las Vegas hid its attractions behind a $125 million man-made mountain.
With Encore, it was decided early that the resort would be more upscale than Wynn Las Vegas. By definition, an encore is a demand by an audience for an additional performance, usually expressed by applause. Wynn said he couldn't just do another familiar song.
"We weren't going to replicate Wynn, which was designed to have its own voice and interior design," Wynn said. "We were going up-market, but we wanted more intimacy. The question was how to make a 2,000-room hotel look and feel like a boutique."
Wynn Las Vegas took its inspiration from New York City. Different "neighborhoods" were designed to give customers the idea of exploration and discovery. Encore, Wynn said, takes a page from St. Tropez in the south of France, with its over-the-top party atmosphere. He believes the designers, led by longtime Wynn designer Roger Thomas, re-created the feel of some of St. Tropez's famous restaurants.
A large portion is dedicated to the nightlife that Wynn discovered on his trips to St. Tropez. The Botero restaurant and XS, the signature nightclub, overlook the adult pool that has its own bar and "European-style" bathing area.
"We've created Nikki Beach and Cinquante-cinq (Club 55)," Wynn said. "It's a wonderful freedom and a tremendous energy level. The clubs have become important in Las Vegas. That's the energy level we found at Tryst and we're bringing that to Encore."
From the outside, Encore looks like Wynn Las Vegas, with its 45 degree curved brown-glass tower. But that's by design because of the site configuration. The Wynn Las Vegas and Encore towers are 805 feet apart. Wynn wasn't going to give Encore a new look.
"We weren't going off into another direction and we weren't going to do any replicas," Wynn said.
The inside is where he needed to be different. The casino is bathed in natural light with large windows offering a view of the outside gardens and pool areas.
Wynn took a page from Wynn Macau in designing the casino. Half-walls and design work give the casino a chamber effect, making the gaming areas seem smaller and more intimate. Also, bright red, a color for luck in China, is used throughout the casino.
"Encore is more user-friendly and has a high energy brought about by our use of natural light," Wynn said. "It has a more intimate feeling inspired by the south of France rather than New York City."
Wynn has already selected his favorite location in Encore, Sinatra's restaurant.
It was originally going to be called Theo's, after its chef, Theo Schoenegger, until the family of the late entertainer Frank Sinatra got involved.
Thomas changed the design and the restaurant is now a tribute to the Las Vegas legend.
The family gave Wynn some of Sinatra's memorabilia. Last week in his office, Wynn displayed Sinatra's Academy Award for best supporting actor in "From Here to Eternity," his Emmy Award for his NBC special, "Sinatra, A Man and his Music," and one of Sinatra's Grammy Awards for "Strangers in the Night." He was also given a four-hour digital recording of Sinatra's music in which the singer recorded introductions to his songs.
The memorabilia will be displayed in the restaurant and the music will run on a continuous loop.
Wynn, who recorded a series of television commercials with Sinatra for the Golden Nugget in the 1980s, said the restaurant isn't a museum or a library with photos.
"We're creating a moment where Sinatra's presence and charisma is alive and, thanks to the family, it has tremendous authenticity," Wynn said.
Contact reporter Howard Stutz at hstutz@reviewjournal.com or 702-477-3871.
Slideshow IN FRIDAY'S NEON The restaurants at Encore are being billed as more spectacular than those at sister property Wynn Las Vegas, and include one with Botero sculptures and paintings and one with walls and a ceiling that change to another set every 25 minutes. And considering the chefs who are in charge of the kitchens, it's a good bet the food will be equal to the settings. On the entertainment front, Danny Gans bounces back from shoulder surgery to relaunch the former "Spamalot" theater, now redecorated and branded as part of Encore.