Las Vegas small businesses see advantage of CES in 'backyard'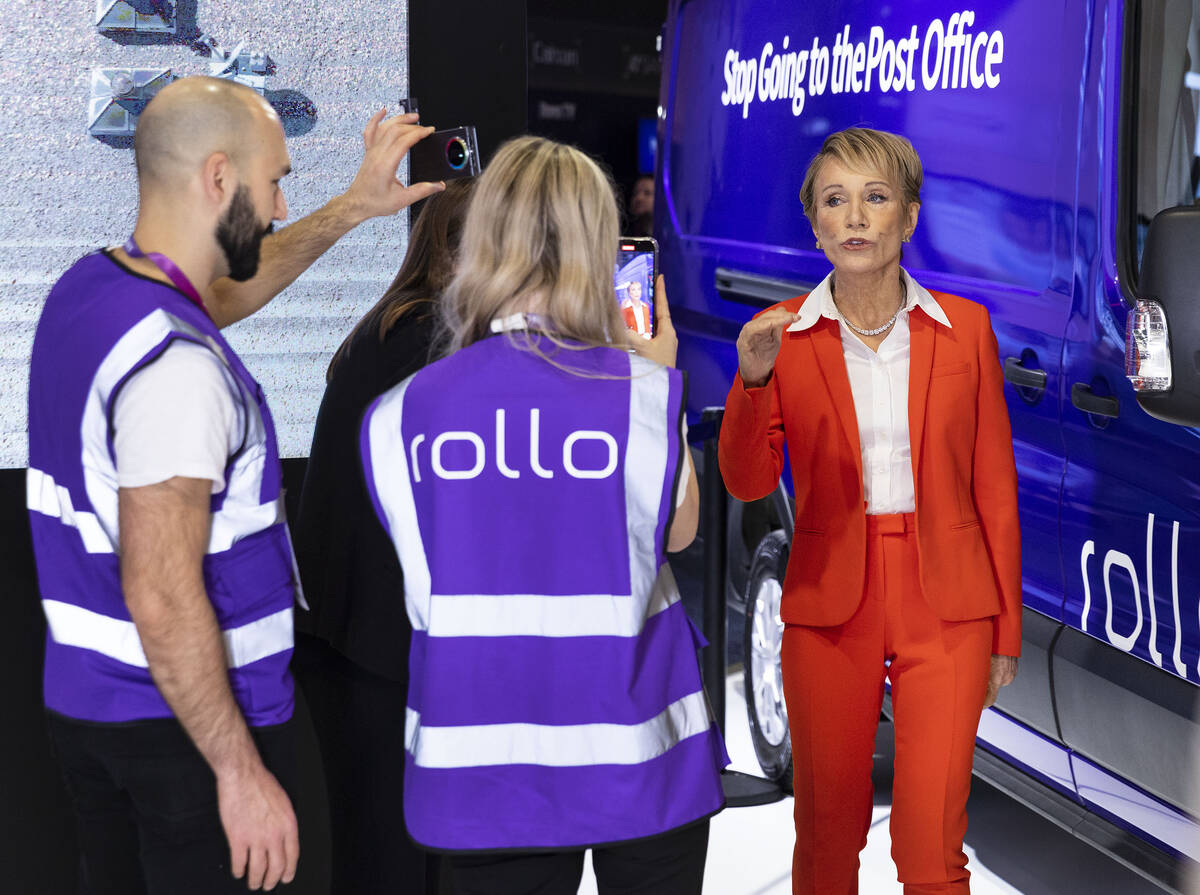 Thousands of companies from around the world make the long trek to Las Vegas for the annual CES — seen as the tech industry's go-to event to take in the latest innovations as well as a place that can help a company gain worldwide notoriety.
This year's four-day show, which ends Sunday, brought about 3,200 exhibitors to eight venues on the Strip, but some firms only needed to travel a few miles to set up their display for the estimated 100,000 CES attendees.
That's because a number of Las Vegas-based companies planted their own flag on the show floor in an effort to grow their business and connect with other industries. Plus, as one company said, it made perfect sense since the massive trade show that helps launch new brands is in its backyard.
North Las Vegas modular home manufacturer Boxabl was displaying its 20-by-20-foot casitas, a studio-style home that can be folded into a box and shipped worldwide or hitched to the back of a large pickup truck.
Its decision to attend CES was driven by convenience and a chance to connect with more people, according to Boxabl founder Galiano Tiramani.
"It was kind of a last-minute decision," Tiramani said. "Because it's in Vegas, and it was convenient we said, 'Why not?' There's going to be a whole lot of people. We'd love for them to check out what we're doing."
He said having a presence at conventions can be pivotal for companies looking to develop their brand. Its own pivotal moment came in 2019 when it showcased its product at the International Builders' Show. The residential construction industry event is returning to Las Vegas at the end of January.
"Literally, that is what got us started," he said. "That's what got us from the idea into the initial prototype — was being invited to that first Builder Show and getting the feedback from people, real world feedback, and gathering interest."
Another Las Vegas company was looking to garner interest by using some star power. Rollo, a shipping tech firm, hosted ABC's "Shark Tank" judge and New York real estate mogul Barbara Corcoran at its booth Friday morning to sign autographs and take photos with attendees.
Inside the Las Vegas Convention Center, Rollo founder Kevin Faro said because its clients are mostly small businesses it made sense to welcome Corcoran, as "Shark Tank" tends to have small businesses on the reality TV show. He added that her presence helps bring attention to its booth.
"I think if you are a company that wants to be seen and heard and be serious, you need to be at CES," Faro said.
Rollo used CES to announce it would be building a fleet of electric vehicles for last-mile delivery services, which will initially launch in the Las Vegas area as a pilot program in the coming months.
'Emerging tech city'
Southern Nevada's tech community has grown in recent years and a number of business incubators and accelerator programs have recently launched to support its growth.
And Timothy Tanksley said CES is an event that can help develop tech firms in the state.
"I think that Las Vegas is an emerging tech city," said Tanksley, digital marketing manager at Richtech Robotics, a Las Vegas-based company that makes robots for the restaurant and hotel industry.
"Since (CES) is the leading tech exhibition, it's just a really cool opportunity for it to be in our backyard, and for Las Vegas companies to be able to easily show up and kind of spread the word. And show some local pride."
Of the 3,200 exhibitors at CES, at least 19 were from Nevada, according to the CES website.
Richtech Robotics has attended several CES shows. Its products include robot bussers that can collect dishes, autonomous floor cleaning robots and robotic butlers that can be used by resorts to deliver items to a guest's room. It's also launching a new boba tea feature for its two-armed Adams robot, which currently makes cocktails and coffee.
On the show floor at the Convention Center, Adams could be seen carefully pouring boba drinks for CES attendees, with many recording a video of the process.
Tanksley said the live demonstrations help people grasp the real-life applications of its robots.
"We're kind of transitioning from a place where robotics was something that was in sci-fi," he said. "But now, we're starting to see it in the real world. And for some people, it's still a little bit hard to grasp that concept if they haven't seen it and … CES is a great place for us to kind of unveil our robotic solutions."
CES-adjacent showcase
But CES also presents opportunities for local companies that don't attend the convention.
Halo.Car, an on-demand driverless EV car rental service, said it did not exhibit at the show but was still able to take advantage of the event. It offered demonstrations of its cars last week for CES attendees, while handing out a 20 percent discount for those using its CES-themed coupon code.
"CES is a great opportunity for smaller startups like Halo.Car to get in front of our peers, future investors, and more, to showcase what we're working on. This allows us to continue to be a part of the conversation, even if we're not a part of the official show," Halo.Car founder and CEO Anand Nandakumar said in an email.
And one business announced its own CES-related product — the "world's largest bouncer" outside of the gentleman's club Sapphire Las Vegas.
The 15-foot-tall, 8,800-pound human-controlled mechanical suit, called "Mech 'The Bot' Johnson," was on display during CES.
Sapphire Marketing Director George Wilson said the club wanted to stand out for people in town for CES, and it thought the mech suit would create a great opportunity for social media posts.
"Every business in town wants to attract convention attendees and exhibitors, and Sapphire is no different," Wilson said in an emailed statement. "We always try to come up with ideas to stand out to Vegas visitors and this looks like a great opportunity."
Mech 'The Bot' Johnson's first shift was Friday night and while he worked all weekend, any permanent employment opportunity has yet to be worked out.
"As for long-term employment of the Mech Bot, we're in deep negotiations to offer the bot a full-time gig," Wilson wrote. "Stay tuned."
Contact Sean Hemmersmeier at shemmersmeier@reviewjournal.com. Follow @seanhemmers34 on Twitter.