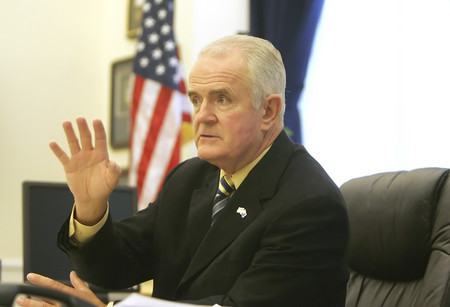 CARSON CITY — Gov. Jim Gibbons said Tuesday he won't decide before late December or January whether to call the Legislature into a special session to deal with about a $60 million shortfall in tax revenue during the July through September quarter.
"Nevada's revenue figures are in, but we must determine our spending levels," he said. "I have said many times that the state of Nevada must live within its means. This is the same challenge every Nevada family is facing."
Before calling a special session, Gibbons said he must determine whether his efforts to reduce state spending in recent months cover the revenue shortfall.
But Assembly Majority Leader John Oceguera, D-Las Vegas, said he does not see the need for a special session. He pointed out that the governor hasn't tapped into a $160 million line of credit that he was authorized by the 2009 Legislature to use, if necessary.
Oceguera added that the Legislature's Interim Finance Committee, which meets about every six weeks, could authorize the governor to allow state agencies to use some of the money set aside for the fiscal year that begins next July 1 during the current fiscal year.
Then when the Legislature begins its next regular session in February 2011, legislators could find ways to cover any shortfall, Oceguera said.
Under the state constitution only the governor can call the Legislature into a special session. He also has sole authority to set the agenda.
Gibbons has stated frequently that he will not propose any increases in taxes during his time in office.
In 2008, Gibbons called the Legislature into two, one-day special sessions. He and legislative leaders already had agreed on what would be approved at the special sessions
"There must be some talks beforehand," Oceguera added. "It would be very difficult to come to a consensus without preliminary discussions. He needs to talk with legislative leaders."
Senate Majority Leader Steven Horsford, D-Las Vegas, said it is hardly surprising that revenue has dropped, given the economy.
"In the last two years we have gone from the state that led the nation in job growth to the state with the second-worst unemployment," he said.
But he said the permanent solution is not more cuts, or tax increases, but finding a way "to grow the economy."
The group of 19 people recently appointed by the Legislature to come up with a vision of what Nevada should be like in 20 years will consider ways to boost the economy, Horsford said.
The citizens will work with Moody's, the public policy firm hired by the Legislature to do a study of Nevada's revenue structure between now and next summer..
"We need a comprehensive set of solutions from the best and brightest people," Horsford said, inviting Gibbons to join their effort.
Oceguera said legislative fiscal analysts have calculated the shortfall at $53 million, slightly different than what was extrapolated from a Department of Taxation report released early Tuesday.
The likely need for a special session became apparent in the report, which shows tax receipts for the July through September quarter.
Sales tax revenues are $12.5 million less than projected by the Economic Forum, the group of five business leaders who in May determined how much money would be available for the state to spend during the two fiscal years that began July 1. The forum's projections are binding on the Legislature and governor in creating the state budget.
Payroll taxes for the July through September quarter were down $15 million from Economic Forum projections. Cigarette-tax receipts are off $1 million from projections, while real property transfer and insurance premium taxes are down by about the same amount.
But the biggest decline, reported last week, is in gaming taxes, which are off by about $25 million. The Economic Forum projected a 3.7 percent increase in gaming taxes for the current fiscal year. But receipts are down 10 percent from the last fiscal year.
"This was hardly unexpected," said Daniel Burns, Gibbons' communications director. "Drive down the street and take a look."
Burns said the governor continued a hiring freeze and asked agency heads to not even buy paper unless it is really necessary.
The governor said he will meet with legislative leaders and discuss options before deciding whether to call a special session.
If there is going to be a special session, Assembly Minority Leader Heidi Gansert, R-Reno, said it should be conducted before Dec. 31.
Gansert said the Legislature needs to repeal a law enacted in 2003 that prevents school administrators from evaluating teacher performance based on student test scores. Because of this law, Gansert said, the state cannot qualify for about $30 million in grants offered through the federal stimulus law.
"We need to get every federal dollar we can," she said.
Contact reporter Ed Vogel at evogel@reviewjournal.com or 775-687-3901.