Developer asking $30M an acre for site on Strip
September 25, 2016 - 11:24 pm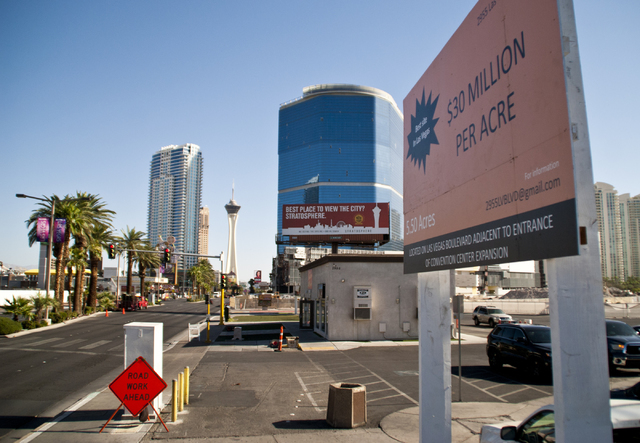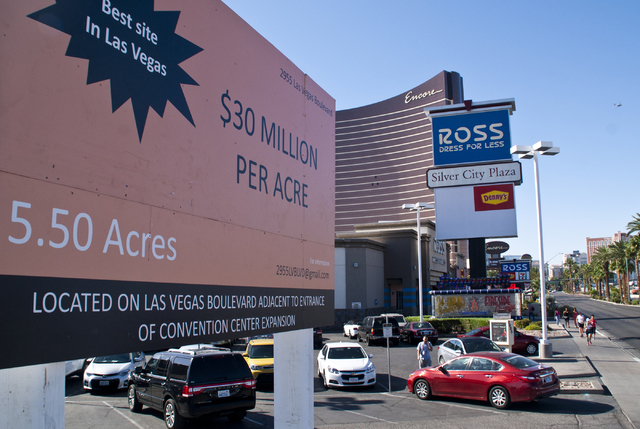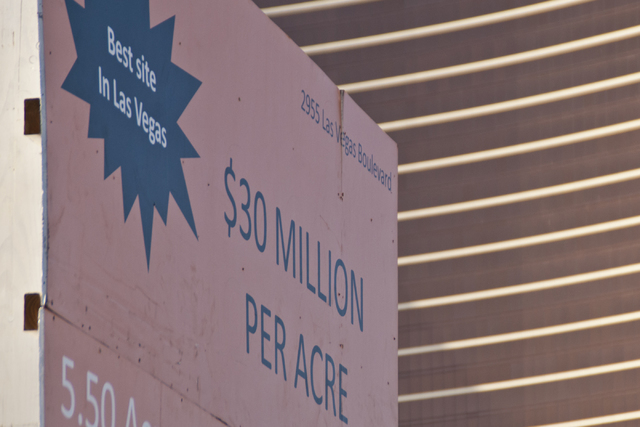 When developer Triple Five bought a five-acre slice of the Strip last decade, just before the economy crashed, it paid a sum landowners could only dream of today.
And now, that's exactly what it's shooting for.
The company wants $30 million per acre for a mostly vacant parcel on the north Strip between the Peppermill restaurant and where the recently imploded Riviera stood, according to a sign out front.
The total price tag: more than $160 million.
Triple Five's asking price is less than it paid but almost double what it tried to fetch a few years ago. Property on the resort corridor sold for more than $30 million an acre during the easy-money bubble years last decade, though for the most part, investors aren't paying even close to that level anymore.
If the land sells at that price, the buyer would likely have to build a densely packed project such as a condo tower or casino-resort to turn a profit. But getting funding for big projects is out of reach for many developers, brokers say.
Overall, the parcel is among the highest-priced real estate on the Strip today, if not the priciest for potential development sites. Local brokers, however, say it's all but impossible to find a buyer who would pay what the company wants.
"There's no market support for that price whatsoever," said broker John Knott, head of CBRE Group's global gaming group.
Land Advisors Organization broker Rick Hildreth said a buyer would "maybe" pay $5 million an acre for the site, but not $30 million.
"I don't think it's realistic at all," he said.
Mike Mixer, executive managing director of brokerage Colliers International's Las Vegas office, said the property is on a "very valuable street" but figures no one would pay more than $10 million an acre for it.
As with any business deal, a landowner might announce a big price tag but be willing to sell for less. After all, who wouldn't try to get the most money for their real estate?
Nevertheless, Triple Five's price might involve some "posturing," Mixer said, as the company may be trying to fend off time-wasters offering "unusually low" amounts. Because Las Vegas is an international destination, visitors might see a vacant parcel and try to buy it for a song, he said.
"We get calls all the time from folks all around the world, thinking they have the next great idea for the Las Vegas Strip," Mixer said.
Efforts to speak with a Triple Five representative were unsuccessful.
The parcel is next to the Riviera site, which the Las Vegas Convention and Visitors Authority plans to use for a $1.4 billion convention center expansion. It's also across the street from the planned Resorts World Las Vegas, a Chinese-themed megaresort that would pump in throngs of visitors, but has shown little progress getting built.
If a developer wanted to be next to the expanded Las Vegas Convention Center, Triple Five's property is "an unbelievable site," CBRE's Knott said. But $12 million an acre is a more realistic price, he said.
Triple Five has investments in real estate, banking and other industries. It developed the Boca Park retail center near Summerlin, though its best-known holding is probably the Mall of America in Bloomington, Minnesota.
The company bought the north Strip parcel, at 2955 Las Vegas Blvd. South, in fall 2007 for $180 million, property records show. The site was formerly home to the 1960s-era La Concha Motel, whose shell-shaped lobby is now the Neon Museum's visitors' center.
The sign advertising the parcel says it is 5.50 acres, but Clark County records say it is 5.43 acres.
In September 2014, Triple Five installed a sign out front asking $16 million an acre. At the time, it also tried selling 18 acres on the south Strip for $8 million per acre, though it's unclear if that property is up for sale now as well.
Land sales on the Strip are slow, and perhaps the most lucrative real estate deal in the past year on the resort corridor, measured by price per acre, involved a drugstore on the north Strip. The 1.6-acre Walgreens property at Las Vegas Boulevard and Convention Center Drive, near Triple Five's parcel, sold for $37 million last October.
Meanwhile, Malaysia's Genting Group had bought the abandoned, partially built Echelon resort — now Resorts World — in 2013 for $350 million, or $4 million per acre, and the LVCVA last year bought the Riviera for $182.5 million, or $7 million per acre.
Big paydays, for sure — but not when compared with the go-go years.
"Our market is strengthening," Colliers' Mixer said, "but it is nowhere the craziness we saw" a decade ago.
Contact Review-Journal writer Eli Segall at (702) 383-0342. On Twitter at @eli_segall.