Cox, MGM soak up sun, savings with their own solar arrays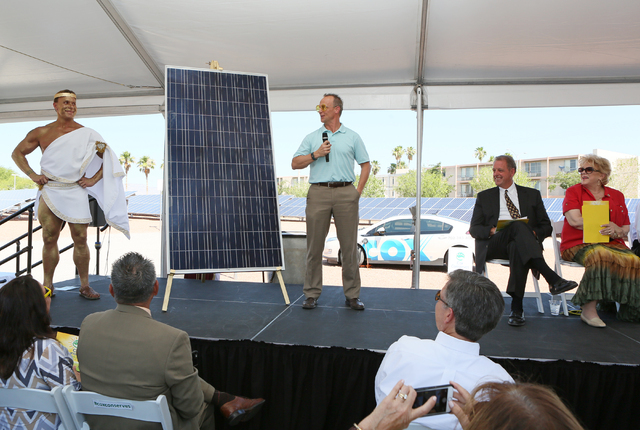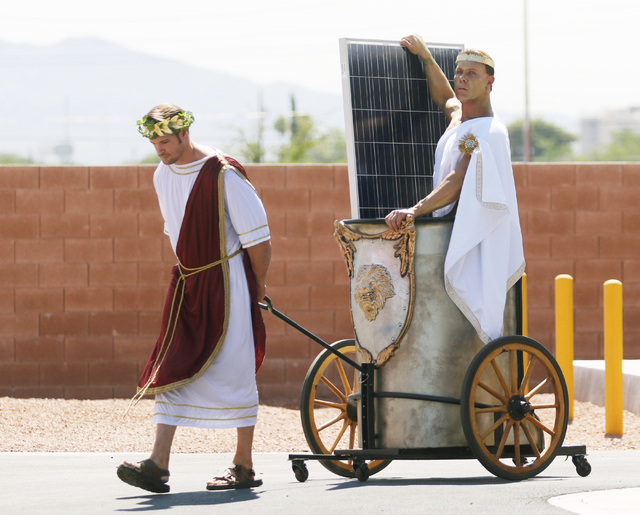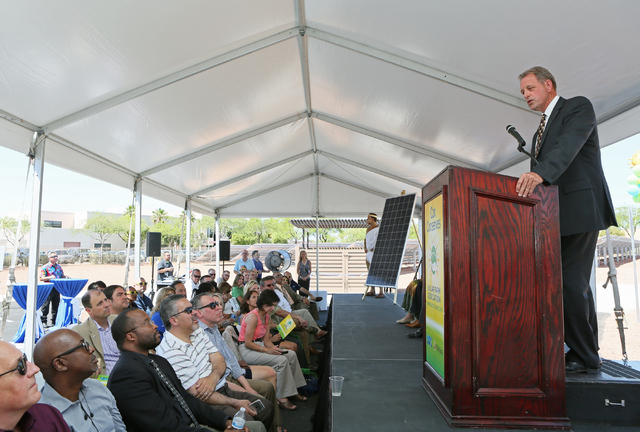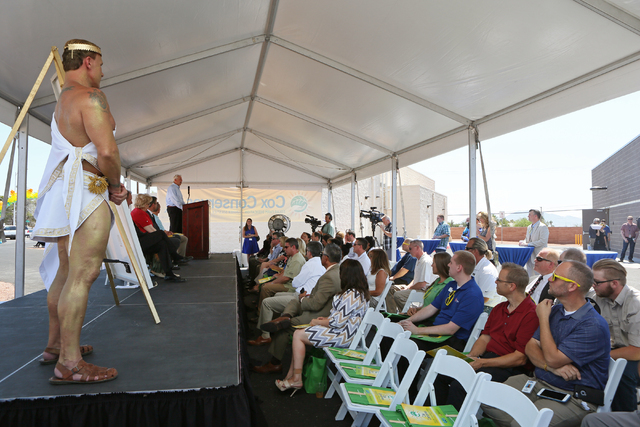 Cox Enterprises could have just flipped the switch on its two new solar power arrays in the Las Vegas Valley, but that would have been so basic cable.
Instead, a muscle-bound man dressed as the Greek god Apollo arrived by hand-drawn chariot to carry a solar panel onto the shaded outdoor stage and rub gold-painted shoulders with Las Vegas Mayor Carolyn Goodman, North Las Vegas Mayor John Lee and other dignitaries.
The dedication ceremony took place on the hot blacktop next to one of the arrays, a 427-kilowatt collection of photovoltaic panels at the Cox Communications of Las Vegas campus near Rancho Drive and Bonanza Road. The second solar array, a 1,096-kilowatt unit, is located off Interstate 15 near Las Vegas Motor Speedway, where it feeds power to the auto auction center run by Cox subsidiary Manheim Nevada.
Monday marked the first day of summer and the longest day of the year, so Cox handed out cool drinks, sunglasses and sunscreen to the small crowd, while a remote-controlled drone buzzed overhead filming the corporate event.
The two arrays actually went online several months ago. They have been shouldering about 65 percent of the power load for Cox Communication's downtown data center and about 62 percent of the load for Manheim Nevada's operation, project engineers said. On a long day of intense sun like Monday, that output jumps to more like 80 percent at the Cox data center.
Meanwhile across town, MGM Resorts is getting ready to power up an expansion of its solar array atop the Mandalay Bay convention center, which is being touted as the largest rooftop solar field in the nation.
With the addition of about 5,000 photovoltaic panels set to go online by the end of the month, the entire project covers about 20 acres of roof and can produce up to 8.3 megawatts of electricity when the sun shines.
"That's about as much as you need to power Monte Carlo at full peak," said Cindy Ortega, chief sustainability officer for MGM Resorts.
New Jersey-based NRG Energy built and operates the array and the expansion. MGM buys the power produced on its rooftops. Neither company would disclose the cost of the array or the terms of their business agreement.
The original array, which went online in 2014, includes about 21,000 panels and generates about 6.3 megawatts. Ortega said the system has operated exactly as advertised, offsetting about half the power needs at the resort's convention center.
When the project was first announced in 2013, she predicted it would lead to more solar panels on resort rooftops along the Strip. That hasn't happened yet, not even at MGM properties, but NRG has entered into agreements to build solar farms for Whole Foods markets and California health care giant Kaiser Permanente.
"I'm surprised we don't have more solar arrays," Ortega said. "I'm not sure why."
At the Cox event, Goodman said solar projects like the ones built are changing the image of a city mostly known for its excesses. "We are now a leader the rest of the country is looking to for renewable energy," she said.
The 1,523-kilowatts of renewable energy generated by Cox's two new arrays is enough to power 238 average homes. The projects are part of a $100 million, corporation-wide sustainability effort called Cox Conserves, which has led to the construction of almost 40 clean-energy projects in 15 states since 2007.
The multinational communications, media and automotive services company has set a goal of sending zero waste to landfills by 2024 and becoming carbon and water neutral by 2044.
Contact Henry Brean at hbrean@reviewjournal.com or 702-383-0350. Find @RefriedBrean on Twitter.