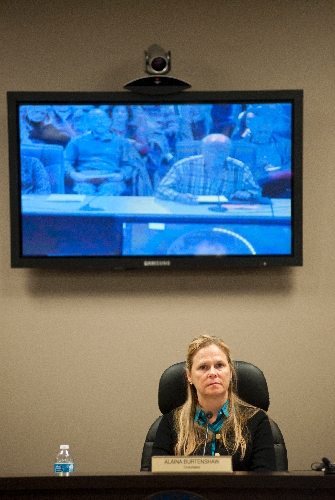 What we're about to tell you could change tomorrow.
At least today, though, Nevada has a smart-meter opt-out plan in place.
After a year of hearings, the Public Utilities Commission of Nevada settled Tuesday on opt-outs, but not without a twist late in the game that could upend the agency's decision.
Let's start with the basics: The commission voted 2-1 to approve a one-time fee of $98.75 and a monthly charge of around $9 for local ratepayers who choose to leave NV Energy's NV Energize smart-meter initiative. For opt-outs, the order requires NV Energy to replace smart meters that collect and wirelessly transmit power-use data with noncommunicating digital meters that the utility manually reads once a month.
The opt-out would be a four-year trial that would either become permanent or disappear after 2016.
The order called for opt-out fees because ratepayers without smart meters will keep NV Energy from realizing $35 million in meter-reading savings.
"By choosing to opt out of (NV Energize), participants are causing additional incremental costs to be incurred on NV Energy's system, including the cost to develop and maintain an additional meter-reading infrastructure," it said.
The 30 or so ratepayers who testified at Tuesday's meeting weren't buying it.
Their comments brought drama to the meeting, from complaints of a "Stalinist show trial" to laments of meter-caused ailments ranging from strokes to dizziness. One consumer warned NV Energy to brace for personal injury lawsuits. Another fretted that NV Energy could use her smart-meter data to tell sleep-aid makers that she's sometimes awake at night. Not only were ratepayers opposed to any digital meter, but they didn't believe they should have to pay to opt out.
After three hours of colorful testimony, the comments may have affected at least one commissioner.
Commissioner Rebecca Wagner threw what she called a "curve ball" into the proceedings when she said she didn't think the agency had given enough thought to letting ratepayers opt out by keeping their analog meters. Wagner voted against the order, and urged the case's parties – NV Energy, the Bureau of Consumer Protection or the commission's staff – to file a petition for reconsideration to weigh the analog issue.
The parties have 10 days to file a petition, and the commission would have 45 days to hear the request.
Wagner's move had some observers scratching their heads.
That's because the commission already looked at and dismissed the possibility in February of letting consumers keep their analog meters. The commission scrapped the idea after NV Energy experts testified that the older devices were becoming less accurate and more costly to maintain as they grew more obsolete.
"Over time, the commission kind of narrowed the options," said consumer advocate Eric Witkoski, of the Bureau of Consumer Protection. "The scope of this docket was to basically figure out the fees, because we'd already determined that there was going to be an opt-out."
Still, the bureau will look at the commission's invitation to petition for reconsideration. The commission rejected the bureau's plea to avoid opt-out charges, but "we may file something (a petition) and see what the commission wants to do," Witkoski said.
NV Energy began complying Tuesday with the commission's order. The utility is running the commission's suggested charges through its rate-modeling software, with plans to file official fees within five business days, spokeswoman Andrea Smith said. If there's no petition to reconsider, NV Energy would have 45 days to begin notifying the 9,000 people on its statewide postponement list about their options.
If someone does file a petition – and Smith said NV Energy expects someone will – the utility will ask the commission to suspend Tuesday's order until it hears the case, so the company doesn't have to switch out meters more than once.
The commission would have 45 days to consider a petition.
Regardless of the opt-out plan that wins out, Wagner said it would be important for commission staff, NV Energy and the Bureau of Consumer Protection to include detailed information on their websites explaining how to opt out.
"We want good, solid, factual information going forward so that everyone understands what they can and cannot do," Wagner said.
So what can you do? Essentially, if you pay an NV Energy bill, you have the right to opt out. That's true even if you rent. Tenants can choose an alternate meter over the objection of their landlord, as long as it's the renter who pays the power bill.
Barry Gold, AARP Nevada's director of government relations, testified that even if Tuesday's hearing is the last of the opt-out regulatory process, the real work is just beginning.
"This is not the end of the smart-meter opt-out experience in Nevada," Gold said. "We now need to make sure that anyone who wants to opt out for any number of concerns knows they have a choice, knows what they need to do and knows how to make it happen."
Gold said his organization would work to ensure the opt-out program becomes permanent after its four-year trial.
Contact reporter Jennifer Robison at
jrobison@reviewjournal.com or 702-380-4512.
Follow @J_Robison1 on Twitter.