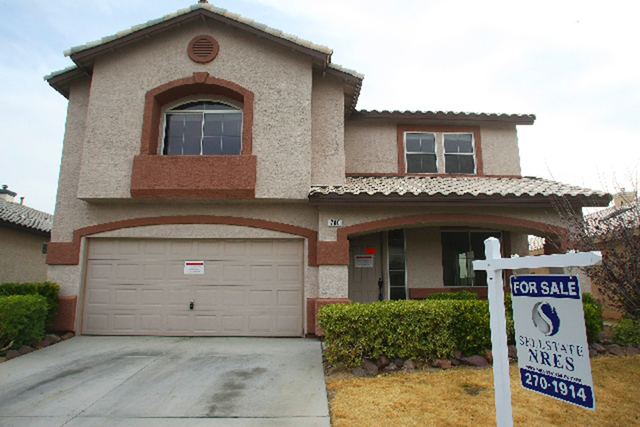 WASHINGTON — The number of people who bought existing U.S. homes in November declined for the third straight month. Higher mortgage rates have made home-buying more expensive, and the lingering effect of the October government shutdown might have deterred some sales.
Home resales fell 4.3 percent to an annual rate of 4.9 million, the National Association of Realtors said Thursday. That was the weakest pace since December 2012 and the first time since April that the pace has slipped below 5 million.
Still, the Realtors' group predicts total sales this year will be 5.1 million. That would be the strongest since 2007, when the housing bubble burst. But it still is below the 5.5 million associated with healthy housing markets.
Numbers from the Greater Las Vegas Association of Realtors also showed slowing sales locally.
The association said on Dec. 9 that area Realtors closed on 2,201 single-family units in November, down 16.2 percent from October, and off 17.9 percent from November 2012. Sales of condos and townhomes dropped to 493, down 12.7 percent month to month and 19.3 percent year to year.
The number of available listings was mostly flat. Local owners put 0.9 percent more single-family homes and 1.4 percent fewer condos and townhomes on the market year to year in November.
The Las Vegas Valley had 6,830 units available without offers in November. That was up 77.4 percent year over year, but still less than half the number a balanced market would have.
Home sales could rebound if the strengthening job market lifts incomes and builds confidence in the economy.
Over the summer, resales reached a pace of 5.39 million, the fastest in four years. But sales began to slow in September as the costs of buying a home rose.
Mortgage rates are nearly a full percentage point higher than in the spring, when they were near record lows. And a limited supply of homes on the market has driven up prices. The combination has made home buying less affordable, particularly for first-timers.
Sales in November were 1.2 percent lower than in the same month a year ago, the first year-over-year decline in 29 months.
The Realtors' group said the main factor in the sales decline was less affordability. It also cited fallout from a 16-day partial closure of the federal government, which might have delayed sales.
The median sales price of an existing home was $196,300 in November. That was a slight decrease from October but 9.4 percent higher than a year ago.
Home buying has declined 10.1 percent in Western states during the past 12 months. Sales in the Northeast and South have been strong.
The number of homes on the market in November fell 0.9 percent from October. But the supply has increased over the past 12 months. This could slow the rate of price increases, because more homes would be available for sale.
Builders broke ground on new homes last month at the fastest pace in more than five years. And builders' confidence in the market rose this month to match the highest level in eight years.
Mortgage rates have risen about a percentage point from historic lows earlier this year. The average rate on a 30-year fixed rate mortgage last week was 4.42 percent.
One concern is that first-time buyers accounted for just 28 percent of sales in November. That was down from 30 percent a year ago. In healthier housing markets, they typically make up at least 40 percent of buyers.
Many would-be buyers are struggling to qualify for loans, in part because banks have tightened standards and are requiring bigger down payments.
Cash purchases made up 32 percent of transactions in November, up from 30 percent a year ago. Investors made up 19 percent of sales.
Review-Journal writer Jennifer Robison contributed to this report.